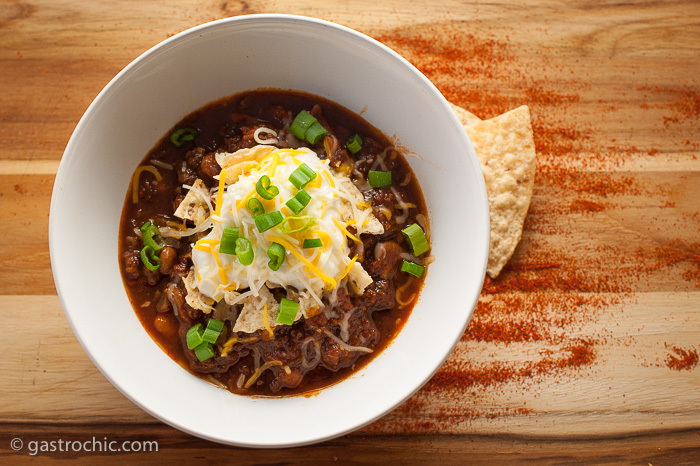 I am a terrible procrastinator, but this winter I found my salvation: the Instant Pot! Here's  a typical scenario: I am expecting 6 people for dinner in less than 24 hours and decide to make chili. Then I forget to soak the beans overnight, and I also have lunch plans the next day. I'd rather go to lunch. No problem! I made this chili in fits and starts with about 1 hour of effort spread out over the whole day. By 6pm the chili had already been warming for hours and tasted like many days of effort had gone into it. This is why I too am an Instant Pot convert. 
I couldn't find an Instant Pot chili recipe that was authentically Tex-Mex enough, so I combined Rick Bayless's Frontera chili recipe, which involves roasting the garlic and toasting and soaking the dried chilies – a time-honored tradition that you'll find in recipes for chilaquiles – plus the official Instant Pot chili recipe that contains beans and considerably less liquid, since almost none of the liquid you add to the Instant Pot will evaporate.
Here are the results.
Rick Bayless-Style Instant Pot Chili
Beans
1 ½ c dried beans – pinto, kidney, black, great Northern, or whatever your preference
Ancho Seasoning Base
8 cloves garlic, unpeeled
1 2-oz. package dried ancho chilies (available at Whole Foods and specialty markets)
1 ½ tsp oregano, preferably Mexican
1 ½ tsp cumin
1 ½ tsp chipotle chili pepper
1 ½ tsp unsweetened cocoa powder
1 tsp sea salt
¼ tsp ground cloves
1 tbsp tomato paste
½ c beef broth
Chili
2 tbsp bacon drippings or vegetable oil, divided
1 ½ lb ground beef
1 white onion, diced
Ancho seasoning base
½ c beef broth
1 c winter ale or other dark beer
2 tsp soy sauce
2 c cooked beans
1 28-oz can crushed tomatoes
Salt
Garnishes
Grated cheese
Chopped scallions
Crushed tortilla chips
Sour cream
Hot sauce
To prepare the dried beans, rinse them and add them to the Instant Pot with 6 c water and 1 tsp sea salt. Set the pressure cooker for 4 minutes on normal (medium) pressure and let the pressure release naturally. Keep the beans on the "keep warm" setting for at least an hour, then drain, rinse and reserve.
Meanwhile, make the ancho seasoning base. Roast the unpeeled garlic over medium heat in a dry skillet until brown patches appear on the skin, about 15 minutes, stirring occasionally. Remove and let cool. Peel open the dried chilies, pull off the tops and brush out all the seeds, then flatten the skins. Roast the chilies in the dry skillet, a couple minutes on each side, being careful not to burn them. Set them in a bowl and pour hot water over them to cover by 1 inch. Let soak for 30 minutes, then drain. Peel the garlic.
Put the chilies, garlic, oregano, cumin, chipotle chili pepper, cocoa powder, salt, cloves and tomato paste in a blender. Pulse a few times to break down the garlic and chilies, then add ½ c beef broth and purée until it becomes a smooth paste.
To make the chili, put the Instant Pot on the normal (medium) sauté setting and add 1 tbsp bacon drippings or vegetable oil. Add the ground beef to the pot in a single layer, working in batches if you have a smaller instant pot, and season liberally with salt and freshly ground black pepper. Sauté, stirring occasionally, until beef is just cooked through, about 10 minutes. Drain all the liquid that has accumulated at the bottom of the pot and reserve the beef, adjusting the seasoning as necessary.
Heat the instant pot on the normal or medium sauté setting again and add another tablespoon of bacon drippings or oil. Add the onion and stir until sizzling, then scrape out all the ancho seasoning base from the blender with a spatula into the pot and stir. Cook, stirring frequently so that the chili base does not burn, for 5 minutes or until the onions begin to wilt and the chili base is fragrant.
Add the remaining ½ c beef broth, dark beer and soy sauce to the onion and chili mixture and stir with a wooden spoon to deglaze the bottom of the pan. Add the ground beef and 2 c cooked beans and stir thoroughly. Taste and adjust the seasoning – this will be a raw version of your final product. Pour the crushed tomatoes on top – do not stir.
Set the Instant Pot to pressure cook for 10 minutes with the pressure on high. Let the pressure release naturally. Carefully open the pot and taste again – you may have to add a little more salt at this point. Add water, a quarter cup at a time, if it is too thick. Leave the chili on the "keep warm" setting for several hours if you want – it only improves with time. Alternately, make the chili a day ahead of time and reheat it.
Serve with garnishes: grated cheese, chopped scallions, crushed tortilla chips, sour cream, and hot sauce.
Serves 6-8
Note: You can double this recipe if you have an Instant Pot that is 6L or larger. Just be sure to brown the ground beef in batches.