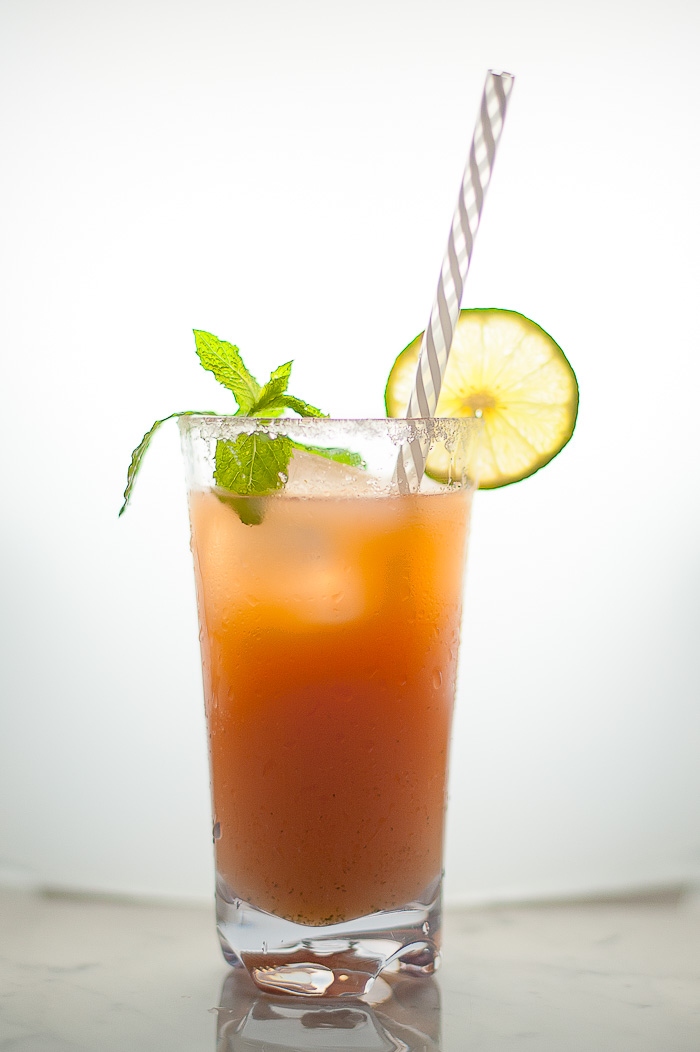 I will be forever indebted to Layla Pujol of Laylita for her vodka mint limeade recipe, which has been the drink of choice at more than one gathering this summer. It's great to throw a minimum amount of ingredients in a blender to make a big pitcher of drinks for a crowd. Moreover, it's a lot cheaper than buying enough Whispering Angel to serve 20 people for an afternoon – at least if those people are my friends.
This drink has proved so popular, though, that I found myself running out of ingredients on more than one occasion and had to make substitutions. When I was trying to get rid of a lot of leftover watermelon I threw in some watermelon chunks. The result that time was a winner, so here's the recipe, as perfected by me and Jeff Nesmith of the new vegan lifestyle blog Java Street Project. (Much tasting was involved.)
Vodka Watermelon Cooler
1/4 of an average-size (about 10-lb.) watermelon
2 limes, plus more for garnish
1/2 c. mint leaves, plus more for garnish
2 handfuls ice
1/2 c. sugar
2 c. vodka
2 1/2 c. seltzer
Cut the rind of the watermelon and cut the flesh into large chunks. You should have about 1 1/2 lb. watermelon without the rind. Quarter the limes. Add limes, mint, ice, sugar and watermelon to a large high-speed blender (the Ninja one is awesome) or Vitamix. You may have to pulse the mixture a couple of times to get all the watermelon to fit in.
Blend on high speed for a full 3 minutes. Strain the watermelon mixture through a fine-mesh sieve, stirring with a spoon to push the liquid through. Discard the solids.
Pour the watermelon juice into a large pitcher and stir in vodka and seltzer. (Leave out the vodka for a virgin cocktail.) Chill for 15 minutes to let the mint settle. Serve over ice, garnished with lime wheels and mint leaves.
Makes 8-10 cocktails.
Variations: swap out the watermelon, mint and lime for:
– 4 limes, 1/2 c. mint and 2 c. water
– 4 lemons, 1/2 c. basil and 2 c. water
You can also add gin instead of vodka, or add a combination of vodka and limoncello. Try it with all sorts of different fruit and herbs – your guests will not complain.