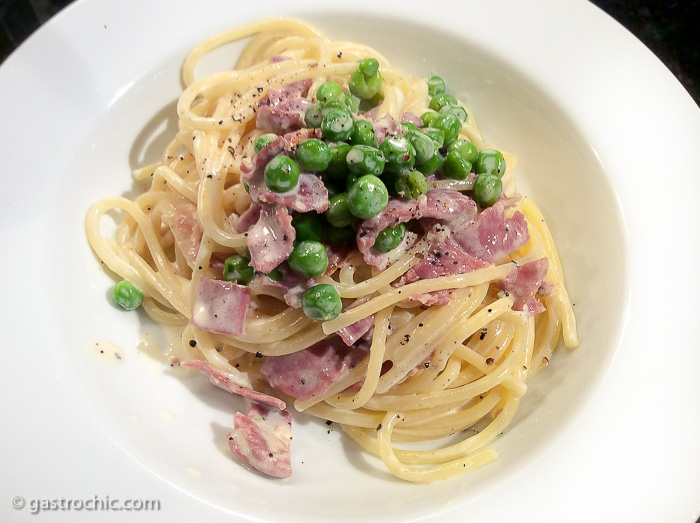 You know you're old when you've been making a recipe for literally 20 years, but that's when this recipe dates from – the '90s heyday of the Silver Palate cookbooks. It's so simple, so fast and so good, and I always return to it in spring. As with all Italian recipes, the quality of the ingredients is key. It's important to get the best quality prosciutto you can find, prosciutto di Parma or prosciutto San Daniele. Same with the cream, butter and pasta. The original recipe calls for capellini (or "angel hair pasta" in '90s speak), but I found that pasta to be too fine for the rich sauce, so I use spaghetti. Other variations from the original Silver Palate recipe: I leave out the flour, which can make the sauce gummy, and sneak in a smashed garlic clove for extra depth.
Pasta with Prosciutto and Peas
1 tbsp. butter
4 oz. prosciutto di Parma, sliced into thin strips
1/2 c. heavy cream
1/2 c. peas (not baby peas), fresh or frozen
1 clove garlic, peeled and lightly smashed
6-8 oz. spaghetti, depending on hunger levels
1/4 c. grated parmesan
black pepper
snipped chives, for garnish (optional)
Add a handful of kosher salt to a large pot of water and bring it to a boil.
Meanwhile, start the sauce. Melt the butter in a medium saucepan over medium-low heat. When it foams, add the prosciutto and stir to separate the strips. Saute for a minute or two until the edges start to curl but before the prosciutto is cooked through.
Add the cream, peas, and garlic, stir and bring to a simmer. Turn the heat down to low, until the sauce is bubbling just slightly around the edges, and let it cook gently. You want to slowly, gradually draw the prosciutto flavor into the cream without overcooking it.
Now add the spaghetti to the boiling water and cook according to package directions until al dente, about 9 minutes. Reserve some of the cooking liquid. Drain the spaghetti, fish out the garlic clove from the sauce and add the spaghetti to the sauce. Add parmesan and coarsely ground black pepper and toss with tongs to mix. If the sauce is too thick, add a little of the pasta cooking liquid. Serve, garnished with chives if you have them.
Serves 2