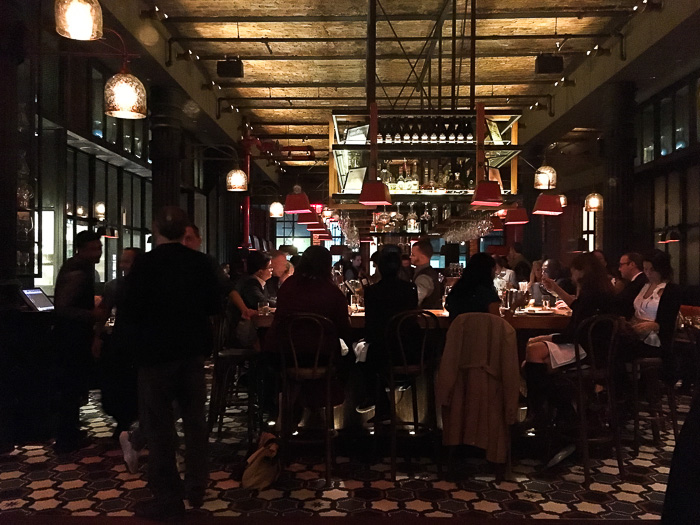 Take a tapas bar, a prime downtown location and popular celebrity chef Bobby Flay and you've got a winning combination for a place that will be packed seemingly all the time, as Gato has been since it opened earlier this year. By the time we got in the door, Bobby Flay had handed over the reins to executive chef Kenneth Carias, though according to the staff Flay circles back frequently. His flavorful imprimatur is still on all of the food here, though some dishes shine more than others, and previously unsung dishes are now rising to the forefront.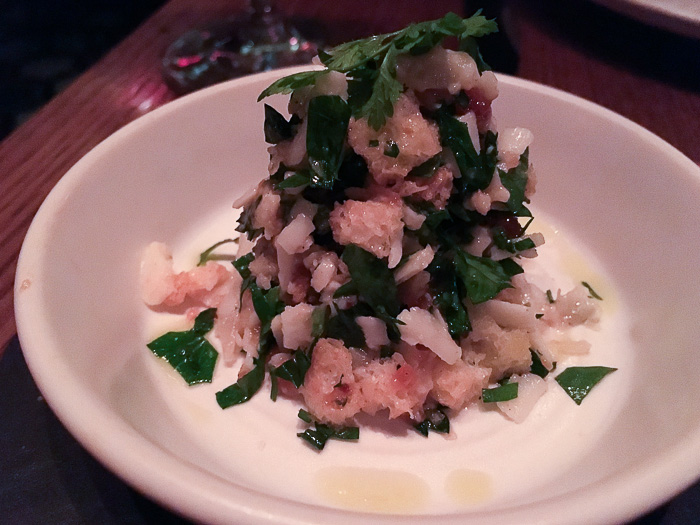 The extensive menu is somewhat overwhelming, so we decided to order most of it. The bar menu offers three small dishes for $19 and is a good way to sample some of Flay's greatest flavor hits. It's all about the clash of salty and sweet, smoky and citrusy, with a good dose of piquillo spiciness throughout. Salty garrotxa cheese with sweet quince and spicy horseradish hit a flavor trifecta, rounded out by the bread salad to spread the love around.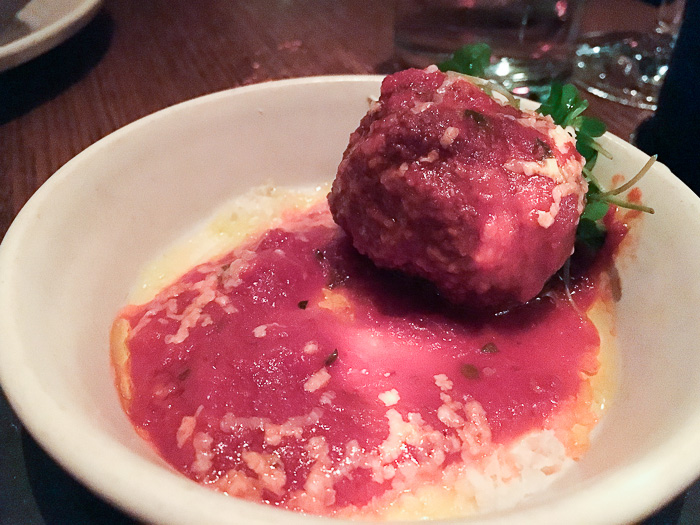 As a general rule, always order the meatballs, or albondigas, at tapas restaurants. They are almost always good, and here is no exception. At Gato, one gets supersized for a presentation that looks Italian but tastes Spanish because of that piquillo undercurrent in the tomato sauce and the sunny flavor of shaved goat cheese sprinkled on top.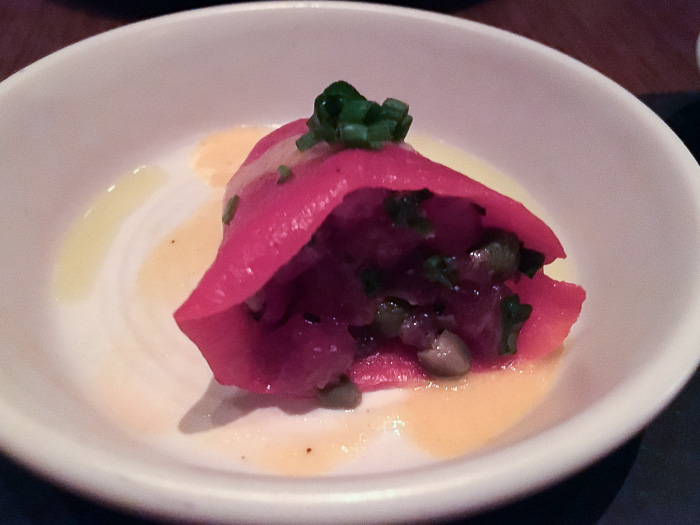 On the other hand the pepper stuffed with raw tuna was disappointing, relatively underseasoned and so cold it tasted like it had just come out of the fridge.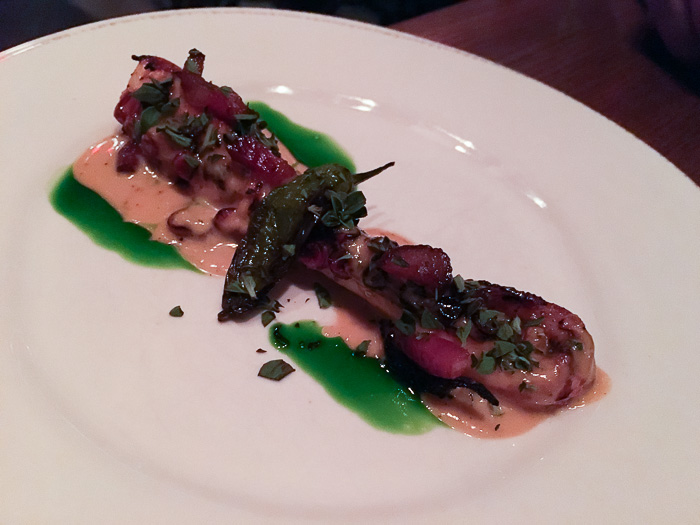 On to the appetizers. A tentacle of sweet octopus ($20)  lolled in a pool of sour orange sauce, topped bacon and oregano for a few more twists. Was it small for $20? Yes. Was it of the highest quality and delicious? Also yes.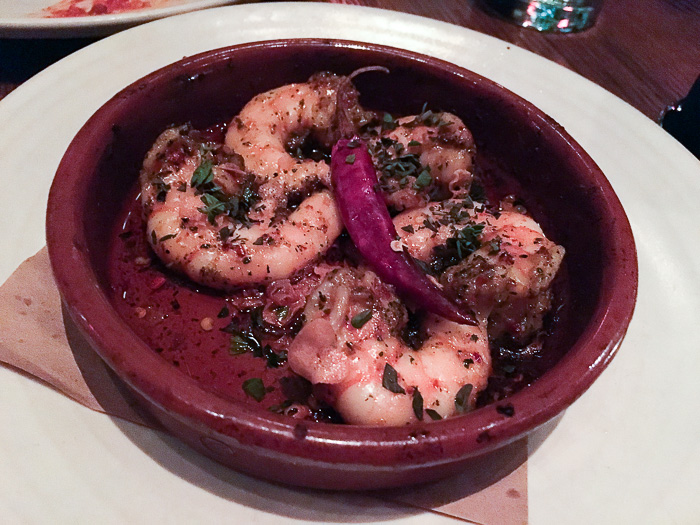 One of the best dishes here is a version of the classic standard gambas al ajillo. Gato's oven-roasted shrimp ($18) arrives bathed in a pool of excellent spicy Diavolo Oil from California, a worthy accompaniment to large Gulf Coast shrimp, plus a sprinkling of oregano, garlic and peppers. But there is a tragic flaw: it is not served with bread! As our dish cooled, we frantically flagged down a waiter, who had to disappear into the far reaches of the kitchen to track down this most unusual request: bread. When it finally arrived at the table, everything was quickly getting cold.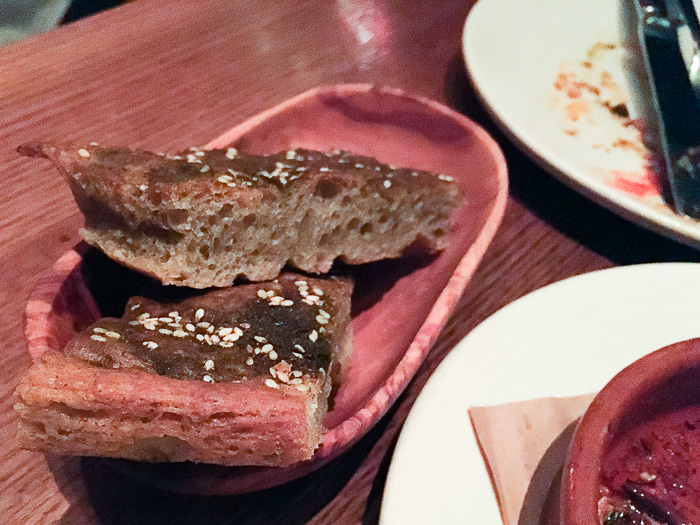 Which brings me to an East Village rant: Why don't NYC restaurants serve bread anymore? I understand the old logic, which was to drop the bread after diners had ordered, so that they didn't fill up on bread before running up a sizeable food tab. Then the Atkins diet made waste of bread diners wouldn't touch. But years after this fad, there seems to be no bread ever unless you order it, pay for it or generally plead for it. What is the harm in bringing bread after diners have ordered appetizers and mains, especially in a restaurant where even the appetizers top $20? Can restauranteurs not set aside a few cents for flour and water?? This pervasive trend in the NYC hospitality industry strikes me as horribly inhospitable.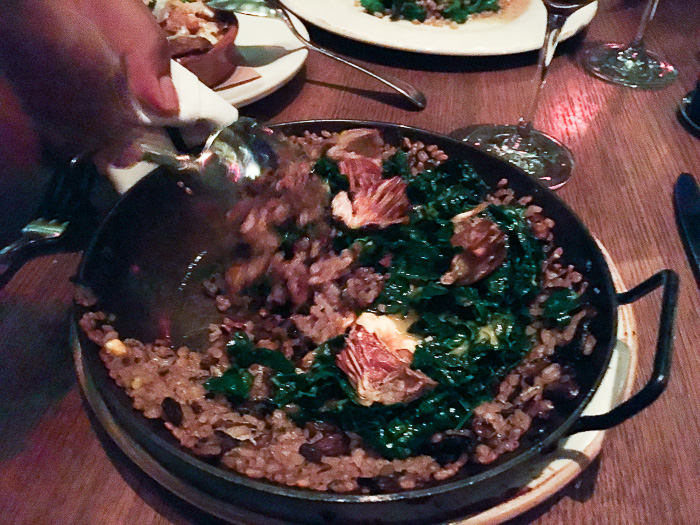 We consoled ourselves with more carbs. The much-ballyhooed kale and mushroom paella ($32) with crispy artichokes and an egg on top lacked some oomph, probably because it would have been better off cooked in a meat or fish broth but the kitchen had to make the whole thing vegetarian to please the vegetarians. Also, it lacked the soccarat crispiness we were craving. If I had to do it again, I would get the rabbit, which looked delicious when it landed on the table next to ours.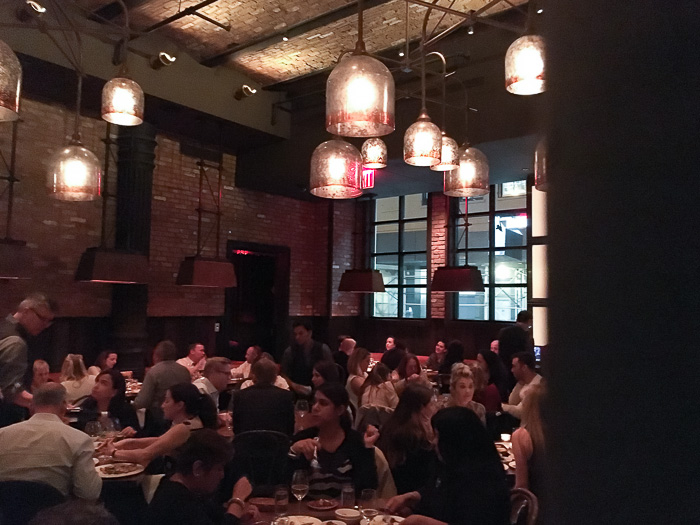 I always order things with eggs on top but the egg on top of the otherwise quite nice crispy, paprika-spiced potatoes ($14) was overkill even for me. Sometimes you just want the classic patatas bravas with spicy pimenton mayonnaise.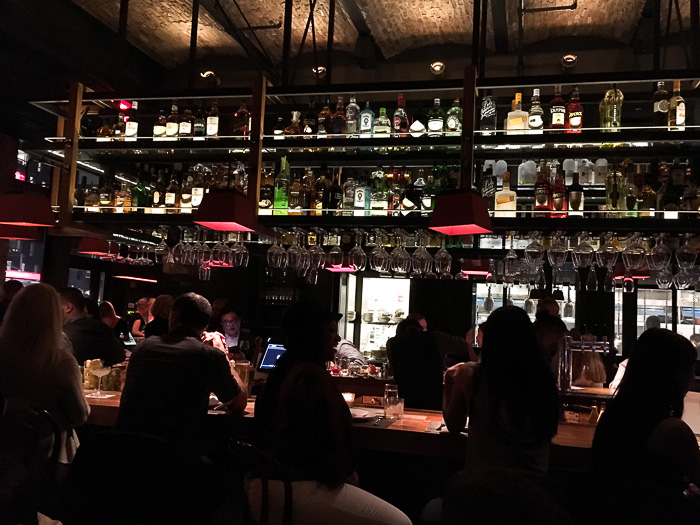 There's a nice, eclectic, though not inexpensive wine list at Gato that spans California, Italy, Spain and France and features several good choices by the glass. Despite admonishments from an icy hostess who ran the show when Gato first opened (she has since vanished from the front of the house, thankfully), you now can walk in and get a glass of wine or a cocktail at the bar with some of those bar bites, though you'll have more luck getting in before 6pm or after 9pm. Otherwise, be ready to call or hit refresh on Open Table for a table in the exposed brick dining room, the lofty interior of an old massive storefront on Lafayette street, now decked out with mottled glass lighting and centered around a large rectangular bar befitting a tapas place.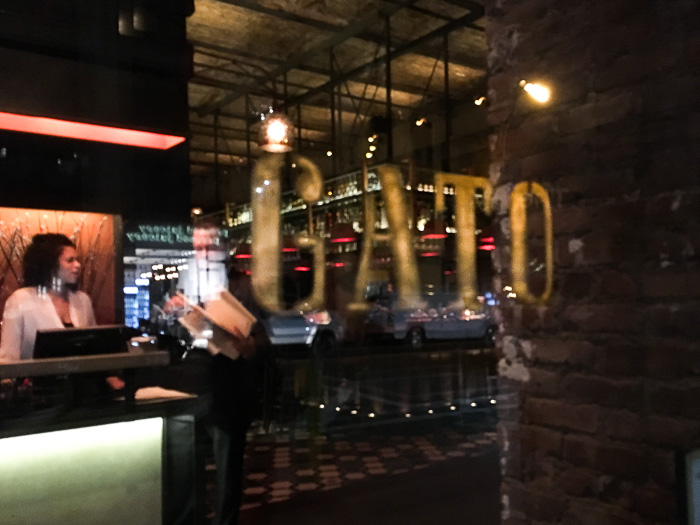 Bobby Flay may have left the building, but this place is still happening. Hit it up for a special occasion dinner and order most of the menu like we did, or hone in on a few items you like and treat it like the neighborhood restaurant it was meant to be.
Gato
324 Lafayette Street, between W. Houston and Bleecker
NoHo
New York, NY
212-334-6400
gatonyc.com