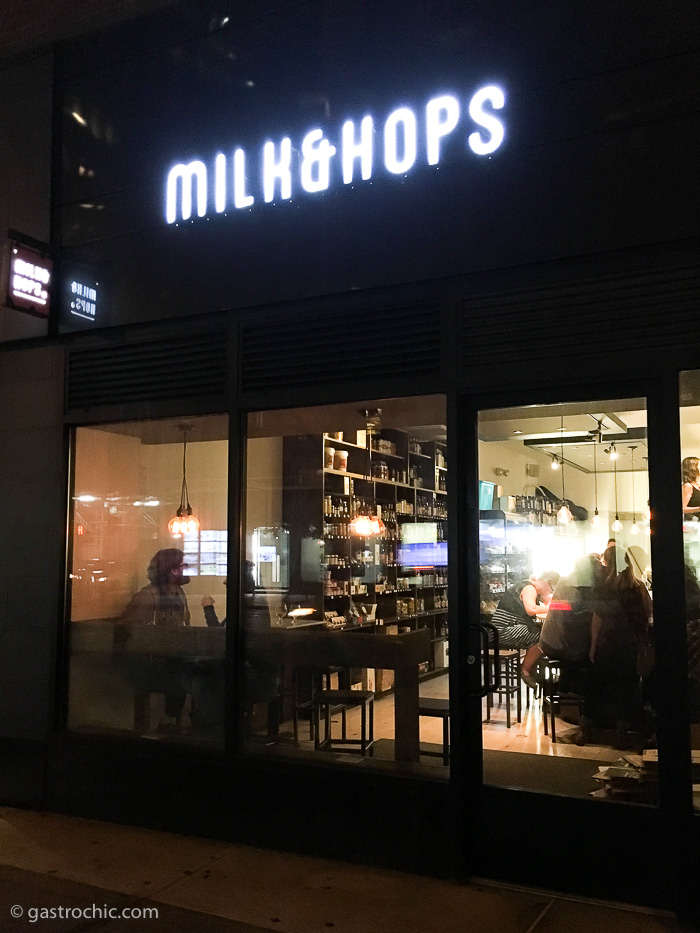 Wedged between a Starbucks and a Chase Bank is an unlikely interloper among the chain stores on lower Broadway: Milk & Hops, a sliver of a market and bar dedicated to all things cheese and beer.
This space has bottled beer and packaged food for sale on one side and a long marble bar running down the other. Here you can order up various spins on grilled cheese sandwiches, plus a selection of seasonally rotating cheese and beer. On a recent visit, there were some trusty cheese standbys like Bayley Hazen Blue and Kunik, but also a few rarities like Red Dragon, a Welsh cow's milk cheese made with ale and studded with mustard seeds.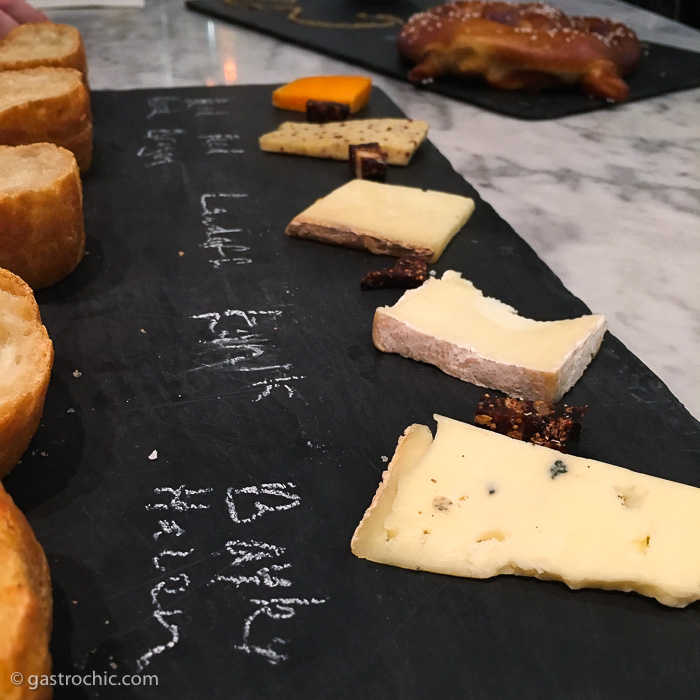 One must-order is the Bavarian-style soft pretzel, still hot from the oven, yeasty and speckled with salt. It comes with house-made bier cheese and a swirl of brown mustard.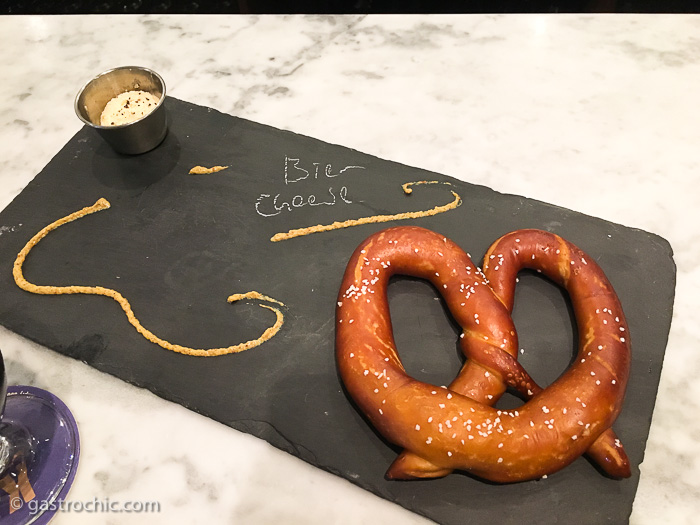 If you like IPAs, you will be in beer heaven; if you don't, it's not quite the opposite but still tough going. There are usually four or more IPAs or DIPAs on tap, with a couple non-IPA offerings thrown in: farmhouse ales (usually in the spring and summer), stouts, lagers or sours. We particularly liked the Elysian Dark o' the Moon pumpkin stout.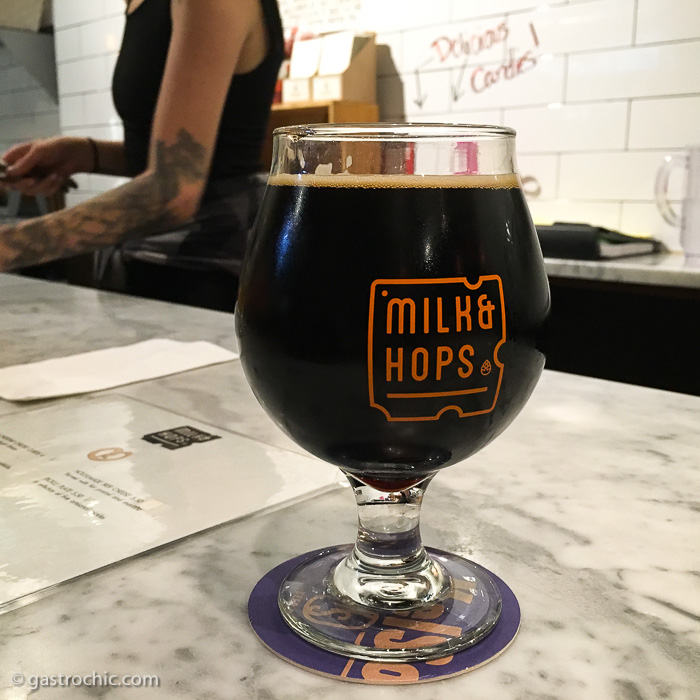 Several of the beers on tap have achieved cult status, like the offerings by Grimm Artisanal Ales. Fans of Joe and Lauren Grimm and their award-winning IPAs should make a pilgrimage here for these alone. Many of the other rotating beers come from local breweries like Finback or Threes.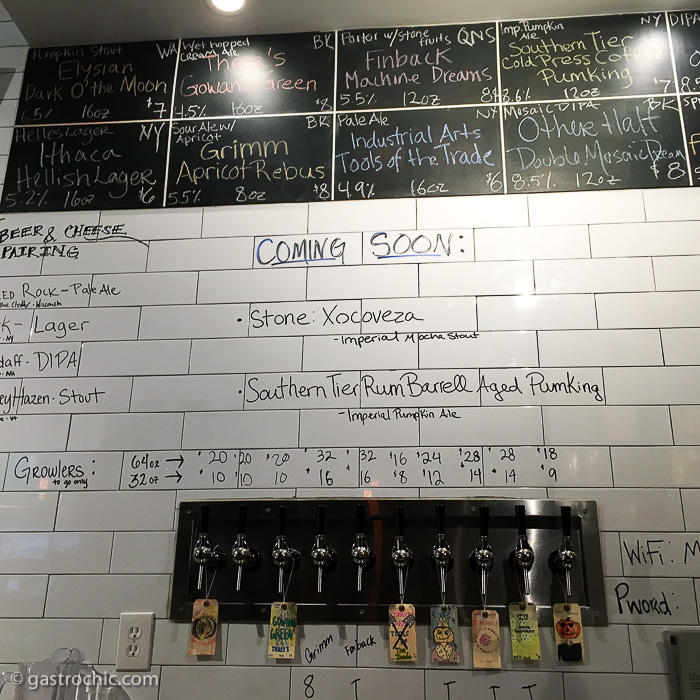 Because of New York State's liquor laws, Milk & Hops can't sell wine since it also functions as a food market, selling packaged food like cheese and fancy condiments. This place in particular highlights the weird and nonsensical quirks of our labyrinthine liquor laws. Sometimes you just want a glass of wine with that cheese. But no.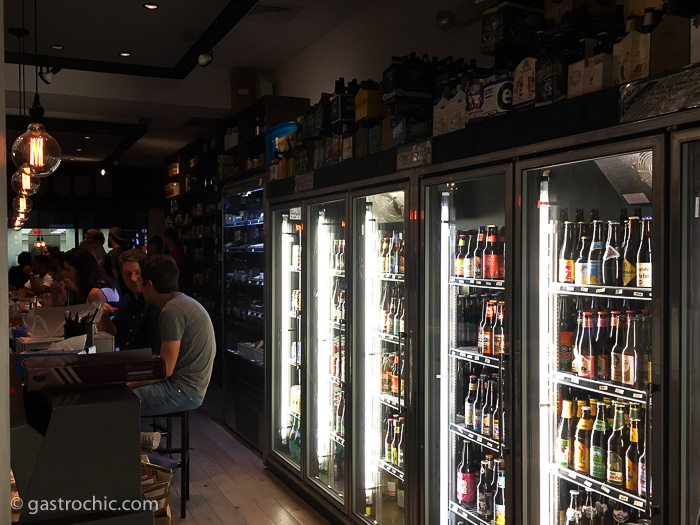 The focus on beer instead of wine does make this place feel pretty masculine, especially when the guys behind the bar decide to turn up the music to full blast, to the dismay of olds like me. The bright lighting is also not conducive to looking sexy, unless you have a beard, but it does get dimmer later in the night. Milk & Hops also has a nice neighborhood feel, with regulars stopping by and several who were in "the industry" in the mix.
It's worth coming back to Milk & Hops for the friendly vibe and seasonal cheeses and beers on tap. Since they're always changing, there's always something new to discover here. And the only thing more refreshing than a cold beer at the end of the day is an independently-owned business on Broadway.
Milk & Hops
779 Broadway between 9th and 10th Streets
Greenwich Village
New York, NY
212-995-5588
166 9th Ave at 20th Street
Chelsea
New York, NY
212-989-1999