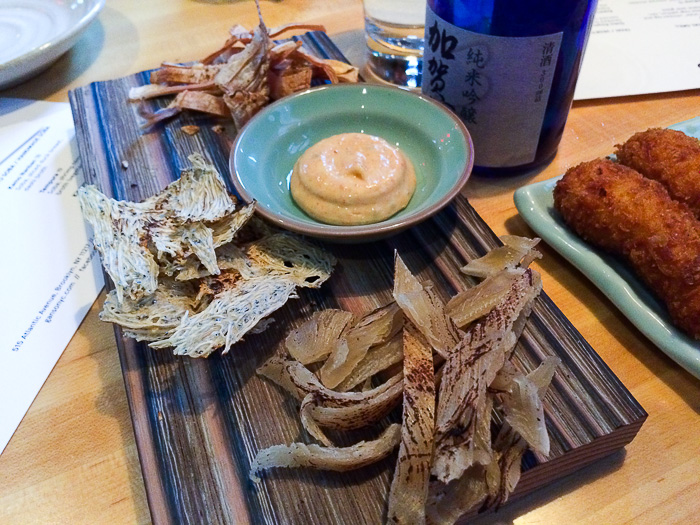 Located on a sunny corner right near Barclays Center in Brooklyn, this spin off of Ganso Ramen specializes in Japanese street food and grilled meats and vegetables – basically everything you need to go with beer or sake. There are big wooden booths and counter seating overlooking the grill. It's a set up that works well with what socializing New York diners seem to be craving right now: drinks and shared food.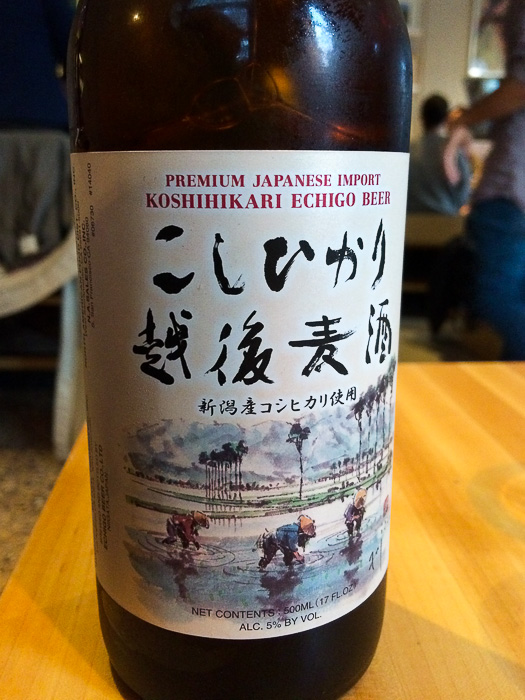 In true Japanese fashion, the stranger a dish sounds, the better it's likely to be. One of our favorite items of the whole night was the savory dry skate wing, baby anchovies and squid (Ei-Hire, Tatami Iwashi, Atarime, pictured at top, $12) – three dried seafood treats that were satisfyingly chewy and spicy, the perfect accompaniment to the interesting rice-based beer here, Koshihikari Echigo ($15 for 500ml). There are a number of American and Japanese beers on tap too. Of the bottled ones, Ganso was out of two Hitachinos when we visited, but they had a number of nicely curated American beers from New York to Hawaii.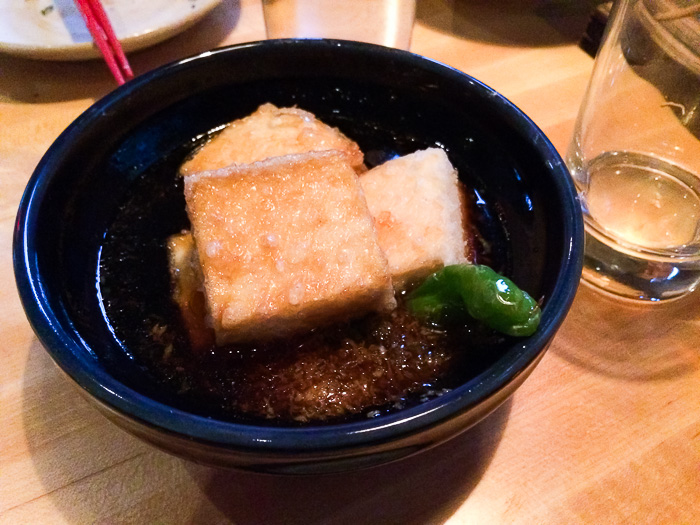 The agedashi tofu, deep fried tofu in dashi ($9), was also quite delicious, the slightly sweet and crispy tofu resting in a savory umami broth. Another favorite was the yellowtail collar with lemon-soy glaze ($15), consumed so quickly I didn't have a chance to photograph it.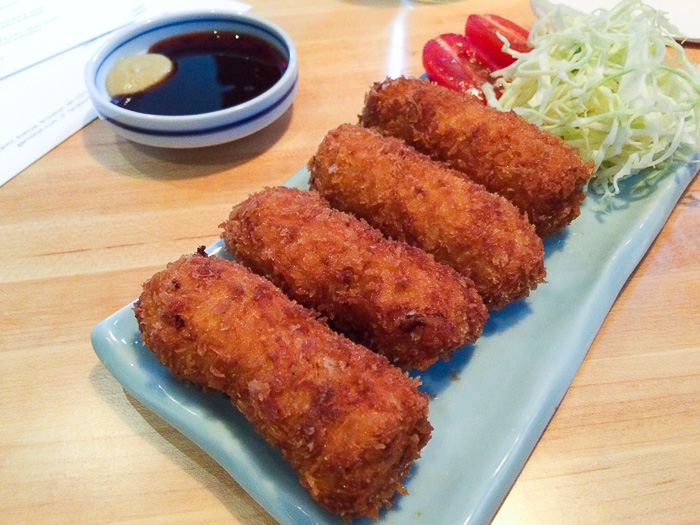 Crab meat croquettes ($12) were crunchy on the outside, creamy on the inside and served with a delectable tonkatsu sauce.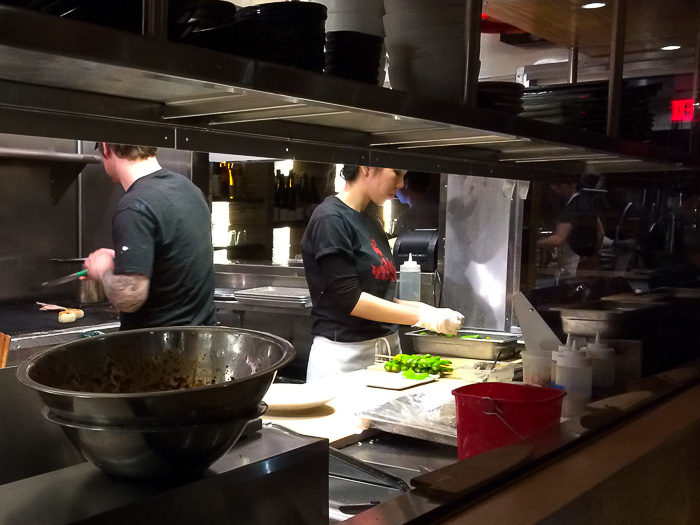 There is a whole column of yasai – vegetable dishes – on the menu for vegetarians, though some of them, like the agedashi tofu, do have fish-based sauces. The vegetarian at our table made do with beautifully blistered shishito peppers ($9) and a sesame-dressed shungiku salad ($11). Be forewarned that Ganso Yaki can be a tricky place to go if not everyone at your table eats mostly everything, however, since it is all shared dishes.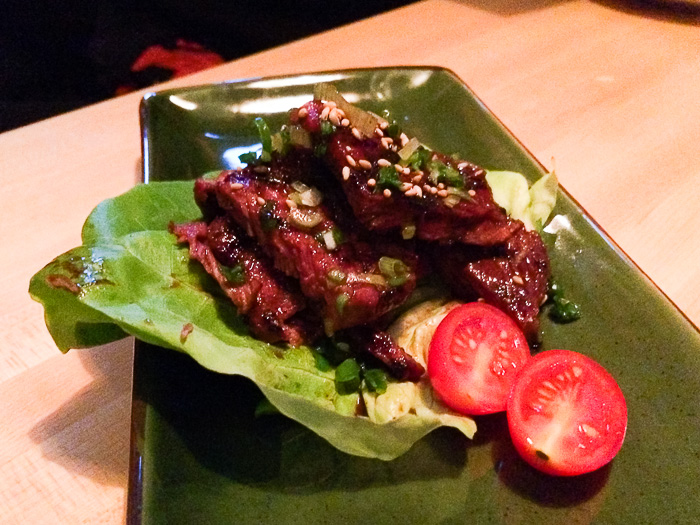 We ordered one meat dish – the traditionally Korean kalbi ($14) – short ribs in a garlic chili soy marinade. This was perfectly true to form, but here especially we noticed one of Ganso Yaki's main flaws: the price per serving. Servings are small, which is fine – these are bites meant to go with booze – but much pricier than you'd find at a less trendy place like Sake Bar Hagi in Midtown or a Korean BBQ place.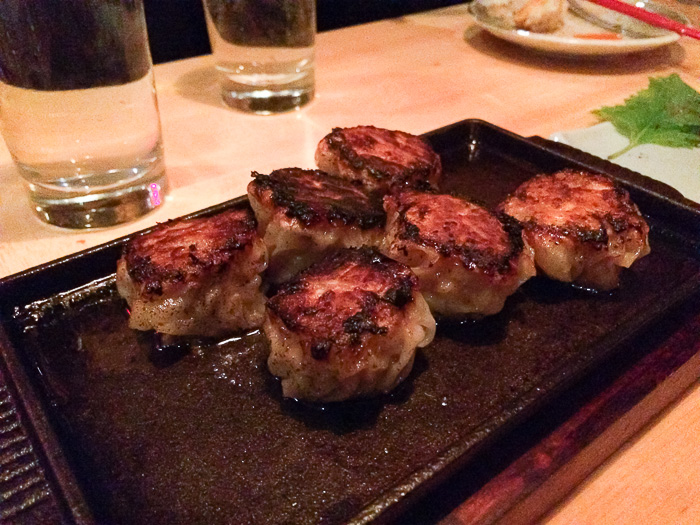 One standard that was not up to par were the yaki shumai ($9), which were not steamed but grilled, and arrived on the table slightly burned. Dumplings are one thing that does not benefit from char.
Unable to agree on anything else that everyone would like, eventually we segued to rice, specifically the yaki onigiri ($9), fried rice balls with a glaze of miso and soy sauce. These were basically just balls of rice.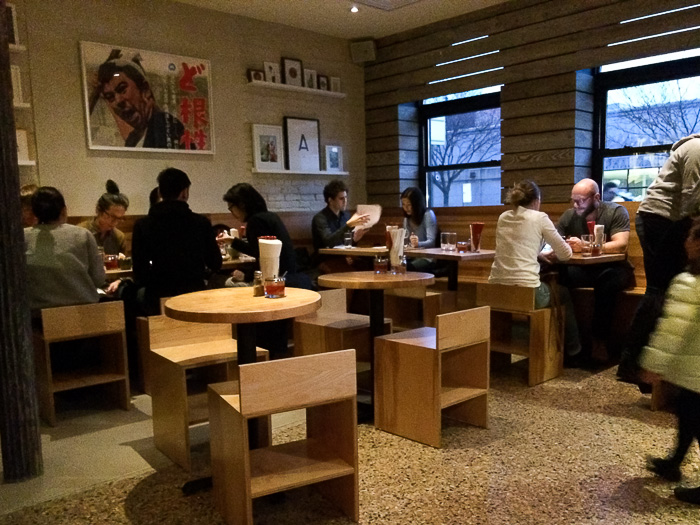 Unlike some other small plates restaurants, Ganso Yaki got the pacing just right, bringing out a couple of dishes at a time and not rushing us by piling all of them on the table at once. This is a popular place that doesn't accept reservations for fewer than six people, so go early or late if you don't want to wait for a table – or try going for lunch. We would definitely return – and try the amazing-looking grilled squid – though this time we wouldn't expect a Brooklyn bargain.
Ganso Yaki
515 Atlantic Avenue at Third Avenue
Brooklyn, NY
718-403-0900