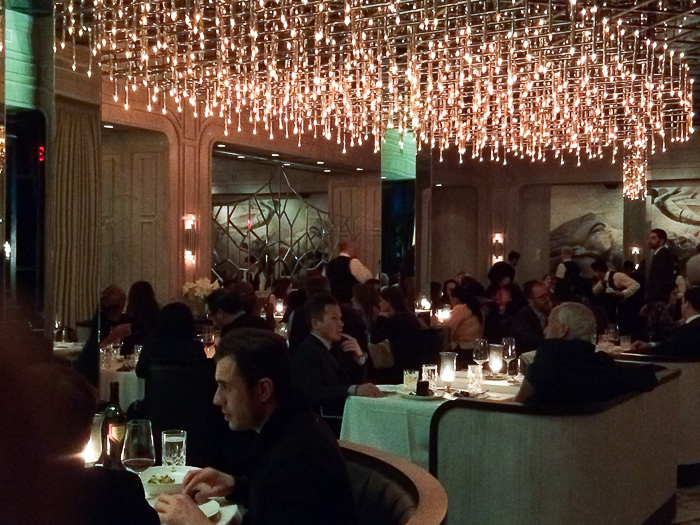 There's a glitzy newcomer in town on 44th Street, a midtown stretch that desperately needs more dining options. Hunt & Fish Club falls squarely into the expense account steakhouse category, but here the fish is just as good as the meat. Go for the macho name or the promise of wild boar on the menu, but if you end up ordering something gathered instead of hunted, you will be equally happy.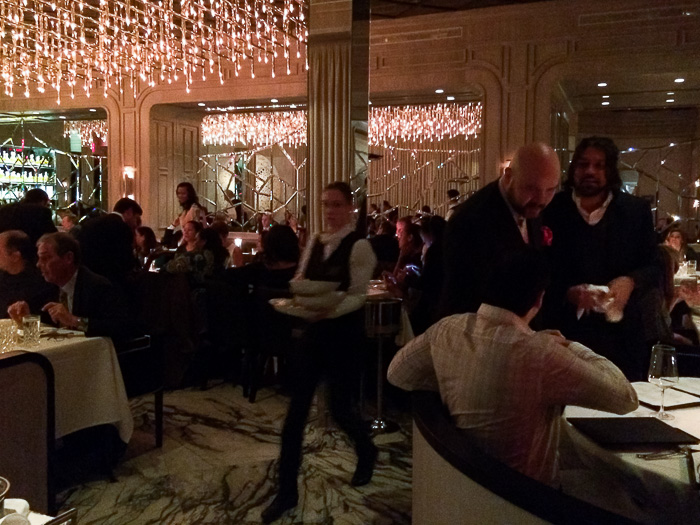 Though it's not much to look at on the outside, Hunt & Fish Club has an elaborate interior dominated by a huge chandelier that runs the length of the dining room. The Four Seasons for pinch hitters instead of heavy hitters? The website calls this a place "where exclusivity meets accessibility." (Polo Bar be damned.) But what Hunt & Fish Club really brings to the table is a menu that includes even a few vegetarian options in a power dining setting.
If you like things like bone marrow, however, do not stray. The French onion soup ($17) made with oxtail and bone marrow has a depth and richness that's hard to find elsewhere, even in France. And for that price, it'd better.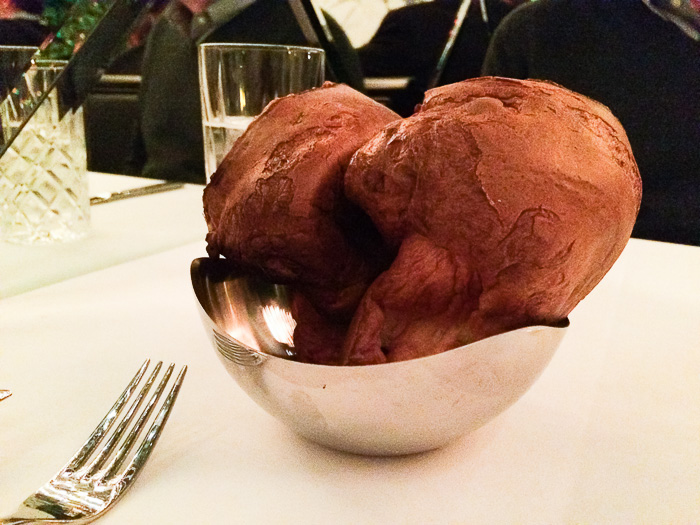 The meal also started with some eggy, light and warm popovers, whose burgeoning popularity in NYC owes a debt to the Harvard Club down the street.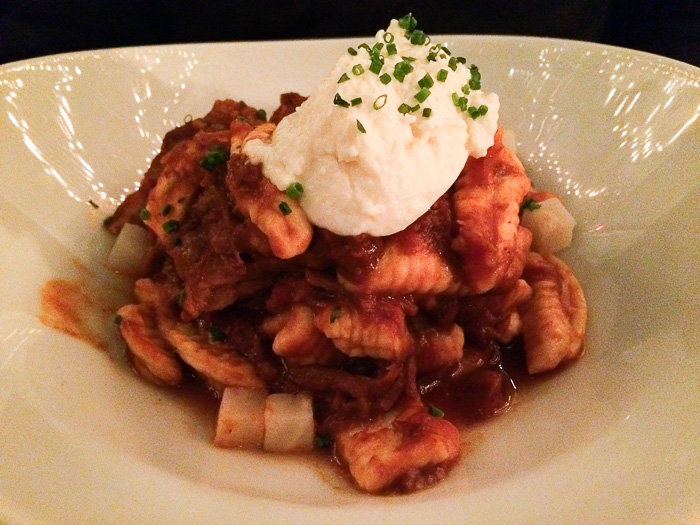 The cavatelli with wild boar ragu ($14), ordered as a half portion as an appetizer, gets an added touch of local smoked ricotta, a flourish that you'd usually find south of 14th Street, not north of it.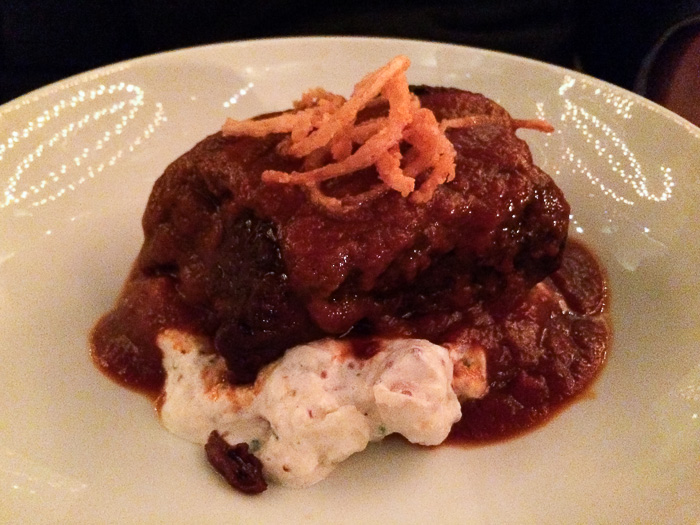 The tomato-based sauce on the beef short ribs ($29), which were billed as "bourbon braised" and accompanied by horseradish mashed potatoes and fried shallots, did not taste markedly different from the wild boar ragu. There wasn't much subtlety here, but they were good.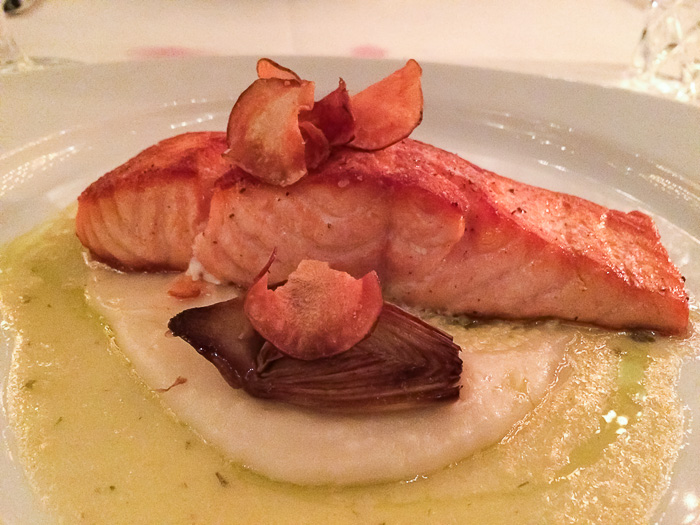 Cedar plank salmon ($29) arrived perfectly cooked, the delicate leek and potato puree complementing it nicely. We also liked the baby artichokes presented two ways: as a vinaigrette and as a garnish. This was one of several ways in which Hunt & Fish Club exceeded what it actually had to do in the food department. Chef Jeff Kreisel, formerly of Porter House New York, injects some refreshing trends into the classics.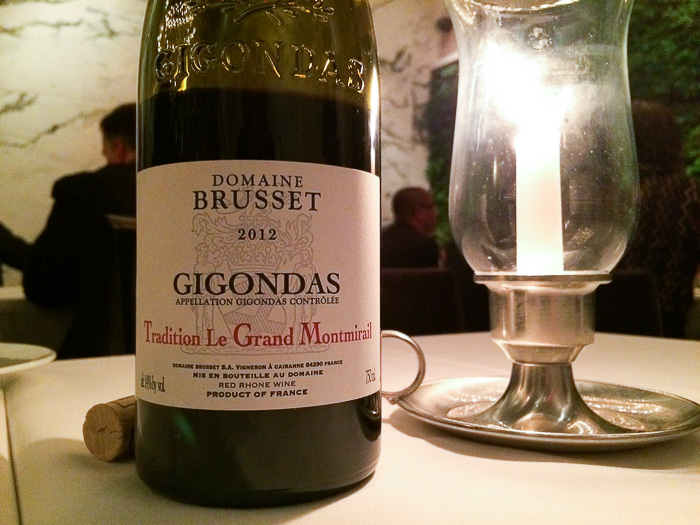 A lovely bottle of 2012 Domaine Brusset Gigondas from the restaurant's extensive wine collection went well with both the fish and the meat.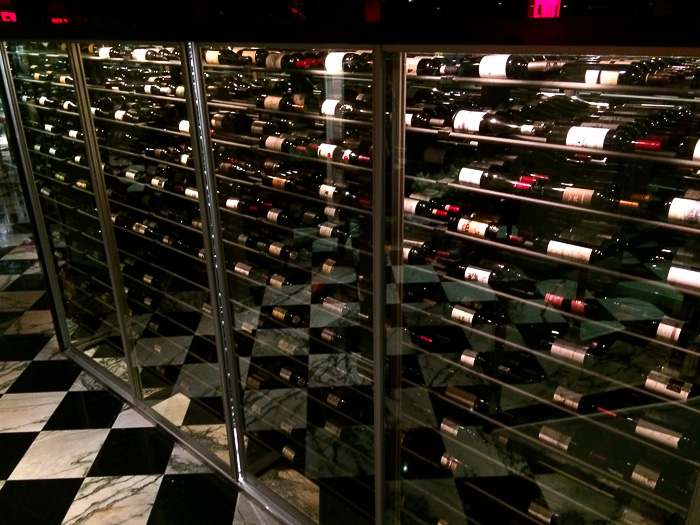 There is one caveat, however: your entire experience at this restaurant depends on where you are seated. In our case, we were seated in a small back room that shortly emptied out, leaving us alone with any waiters on break, who had gathered there to discuss fascinating subjects like mortgage payments. Do not sit in the back room by yourselves. We still don't understand why the hosts didn't just ask us to have a drink at the roomy front bar until a table adjoining the rest of humanity became available.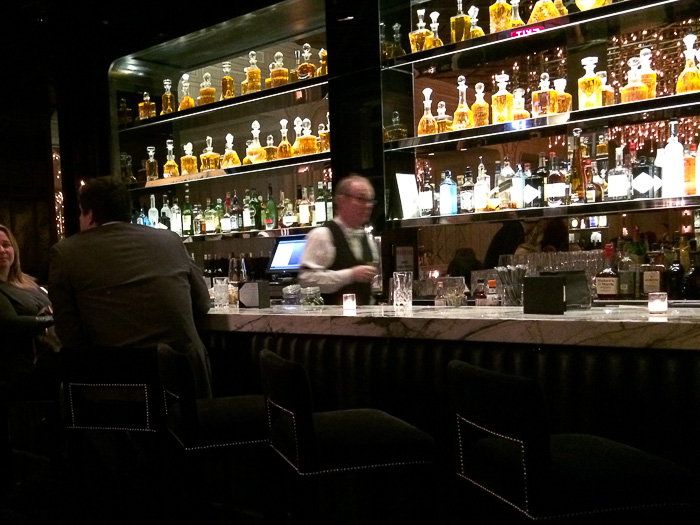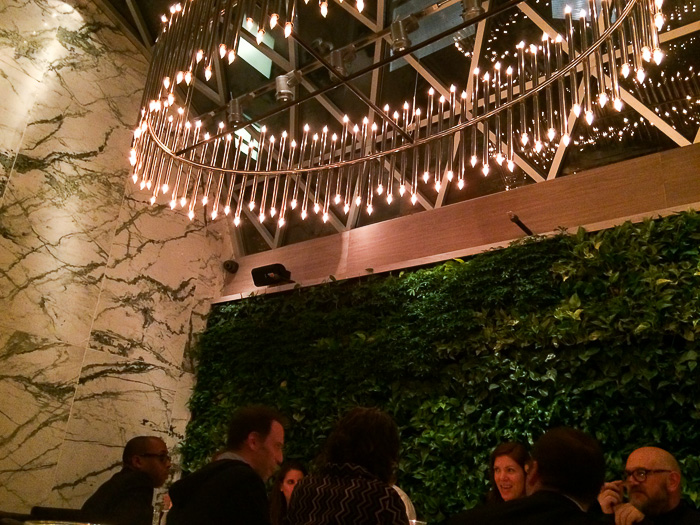 At any rate, we were protected from paparazzi at Hunt & Fish Club, a restaurant I would surely visit again – especially if I had an expense account.
Hunt & Fish Club
125 West 44th Street, between Sixth and Seventh Avenues
New York, NY
212-575-4949
hfcnyc.com
Reservations available online.