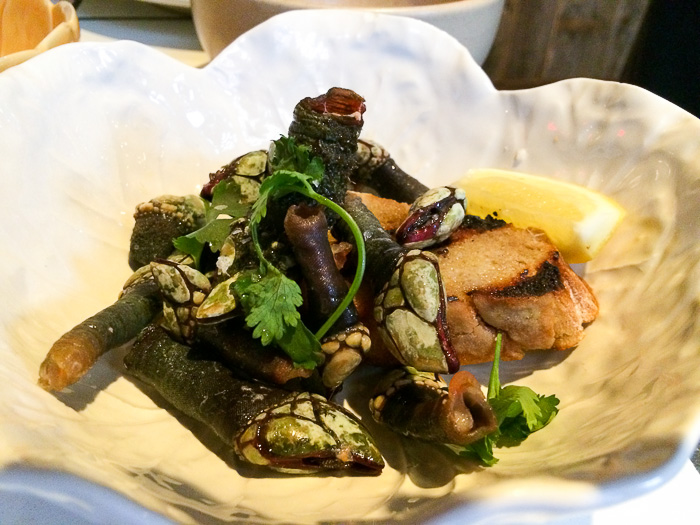 Of all the cuisines available in New York City, Portuguese was probably not something you realized you were missing. Yet like the Eventi hotel it occupies, Lupulo, a new restaurant by Portuguese chef George Mendes, has sprung up on the overlooked corner of 29th and Sixth Avenue where seemingly nothing was before. The open space, defined by an a huge marble horseshoe-shaped bar under a hatchwork of interlocking metal bars and lights suspended from the ceiling, has a very European feel, as if you had suddenly stumbled into Les Halles on the way to Penn Station. Kitchen staff shuck oysters plucked from large piles of ice, the place buzzes with conversation at the packed bar, and the smell of saffron is in the air.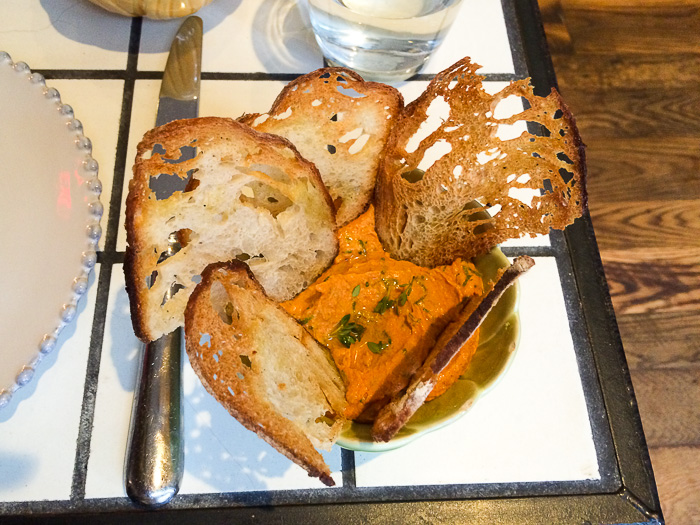 Piri piri, a small chili pepper that's one of the defining flavors of Portuguese cuisine, inflects many of the dishes with its smoky, subtle heat. Mackerel paté ($7), served with a lacy starched collar of thin toasts, has a rosy color – from piri piri, pimenton, or both? –  and makes an excellent accompaniment to pre-dinner cocktails, like the bracingly citrusy Vasco de Gama ($12), Lupulo's spin on a gin and tonic.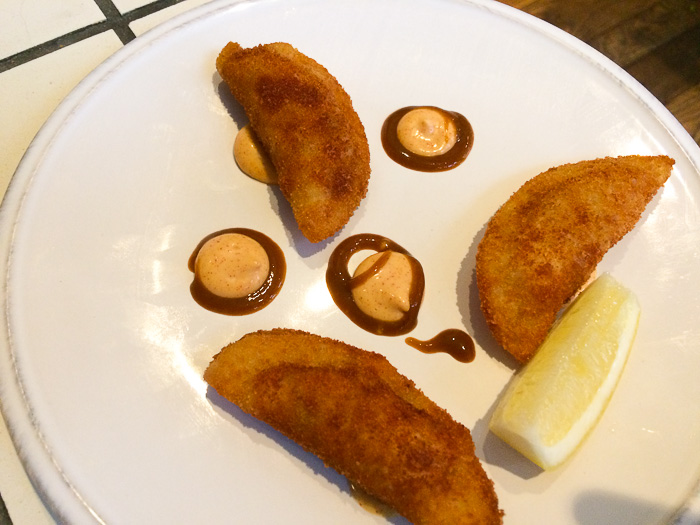 Shrimp is another thing you shouldn't pass up at Lupulo. One special they had that night that's difficult to find in the U.S. was red shrimp, a large, bright red shrimp caught in the deep sea and not cheap at $12 per shrimp. Alternately you could satisfy yourself with the shrimp turnovers ($8) as Marie Fromage and I did, popping down the crispy fried snacks with a glass of vinho verde ($9), which goes well with nearly everything on Lupulo's menu.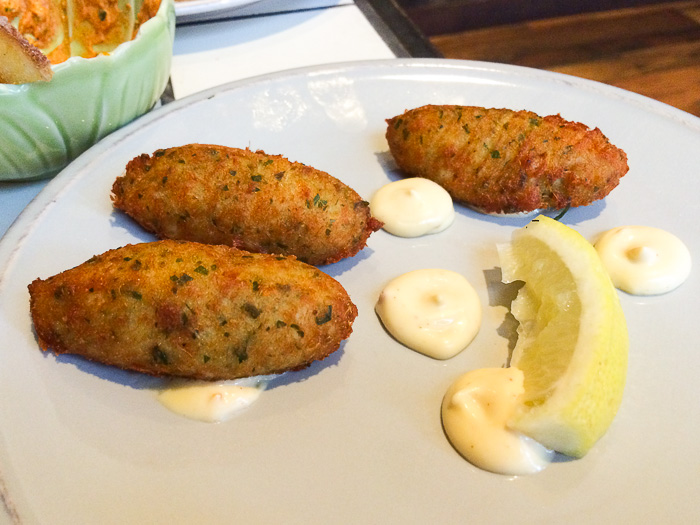 Salt cod croquettes ($6) were a fine example of the form and served with delicious piri piri mayonnaise. Rich, velvety chicken liver pate ($9) took on a Portuguese spin with a note of fruity madeira instead of the usual French cognac.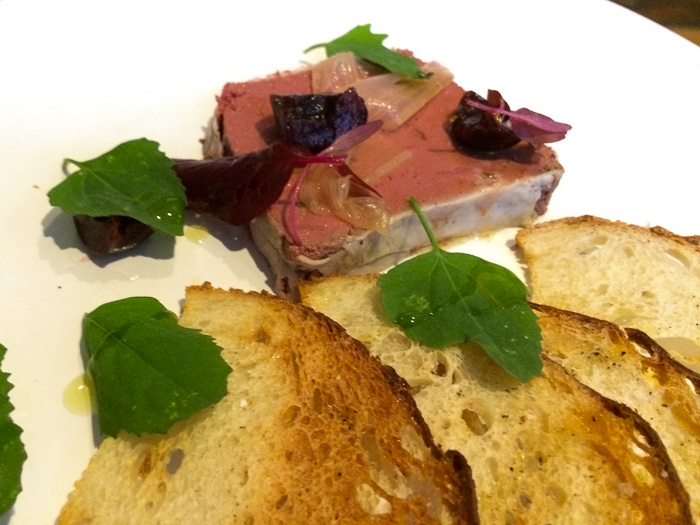 Another hard-to-find seafood special Lupulo had that night was percebes, (gooseneck barnacles, $18, pictured at top), strange looking creatures that you have to peel to eat. Tastes like whelks – with the salinity of mussels but a texture between mussels and squid. These were excellent and unusual.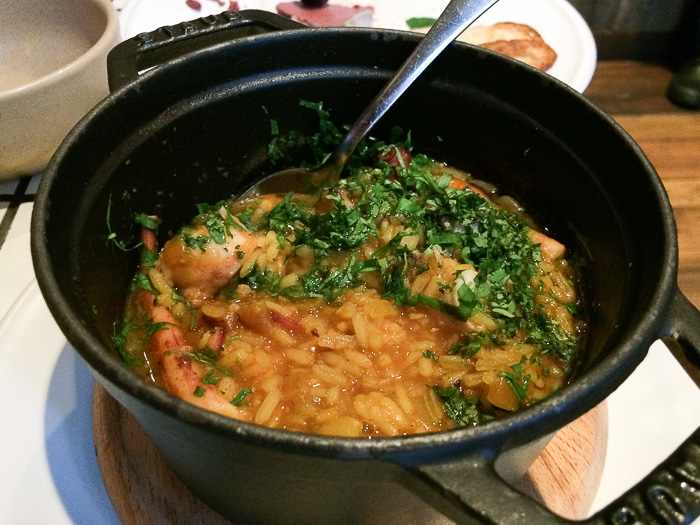 If you are an octopus fan, it is worth the trip to Lupulo for the octopus rice alone ($27). This Portuguese riff on paella is perfumed with saffron and coriander and studded with large chunks of impossibly tender octopus. It tasted as fresh as octopus a fisherman had just beat against the rocks at an actual seaside restaurant on the Mediterranean.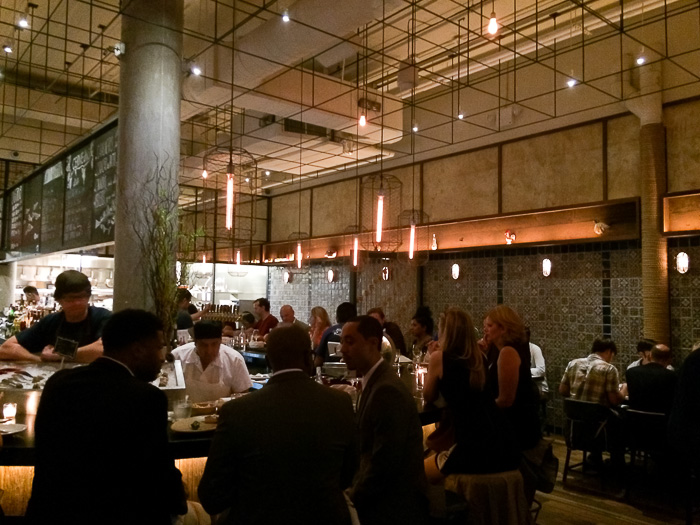 We didn't see any such octopus-beating activity on Sixth Avenue, but that's the magic of this place. Sure, you are in New York City, but for a minute you could be anywhere.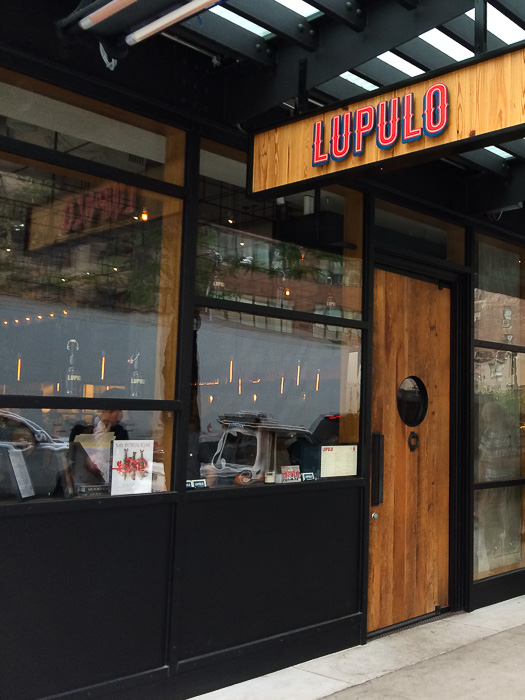 Lupulo
Eventi Hotel (ground floor)
835 Avenue of the Americas at 29th Street
New York, NY 10001
212-290-7600
lupulonyc.com
No reservations.