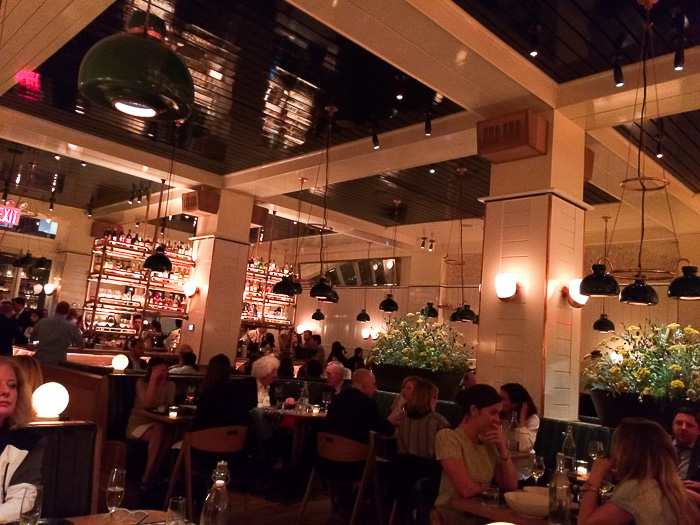 Prolific restauranteur Stephen Starr has created many restaurants that loom large in our collective New York memory, but most are not memorable for the food. If you ever had a girlfriend who wanted a "Sex and the City" type experience when visiting New York, all you had to do was book a table at the latest Stephen Starr place. They were all consistently glitzy, sleek and populated with pretty young things. But now Starr has made an interesting match with chef Justin Smillie, who's just as serious about food as Starr is about setting the scene. 
Smillie is one of those overnight successes that was years in the making – you've probably been eating his food all along at Barbuto and Gramercy Tavern before getting spellbound by Il Buco Alimentari. Although his and Starr's new restaurant Upland, in the old Manzanilla space in the Flatiron District, is named after Smillie's California hometown, it's ostensibly Italian food as seen through a California lens.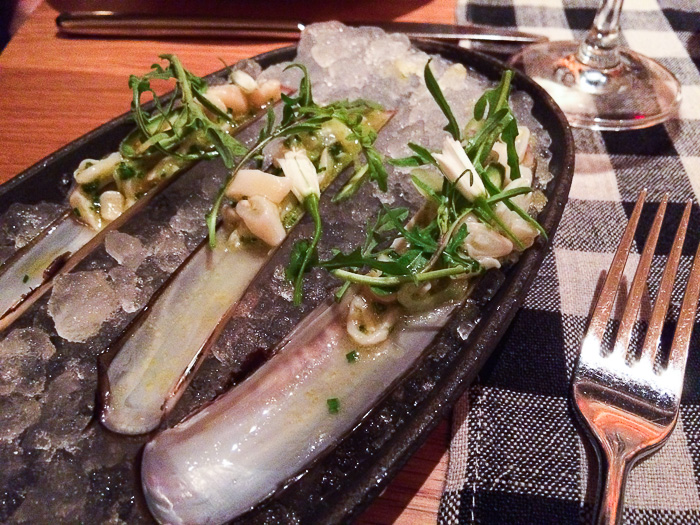 Trying to parse the menu, which is divided into sections cryptically entitled "One," "Two" and "Three," I ended up ordering an insufficient amount of food, though the razor clams that night were sushi quality, sprinkled with raw almonds and onion flowers, like eating spring in a few bites.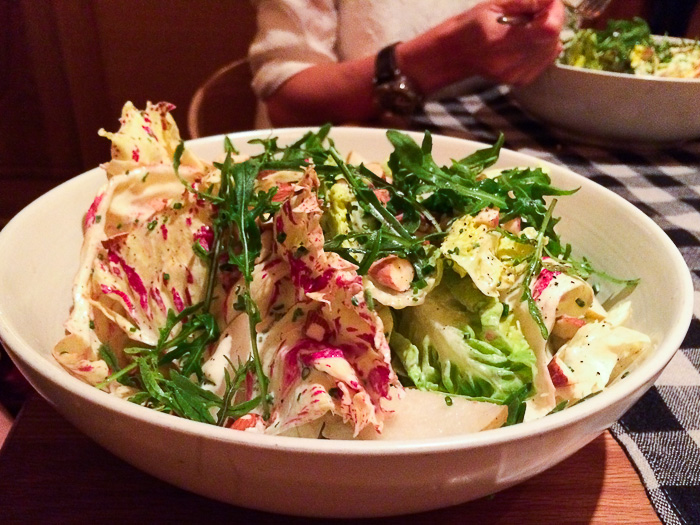 My friends who ordered the "little" gem salad, however, ended up getting an enormous bowl of various lettuces dressed with a pear and chardonnay vinaigrette ($14). Our favorite appetizer (listed under "One") was the seared squid, which was just the right size and melt in your mouth good, contrasting nicely with the citrus notes of orange and shaved fennel underneath.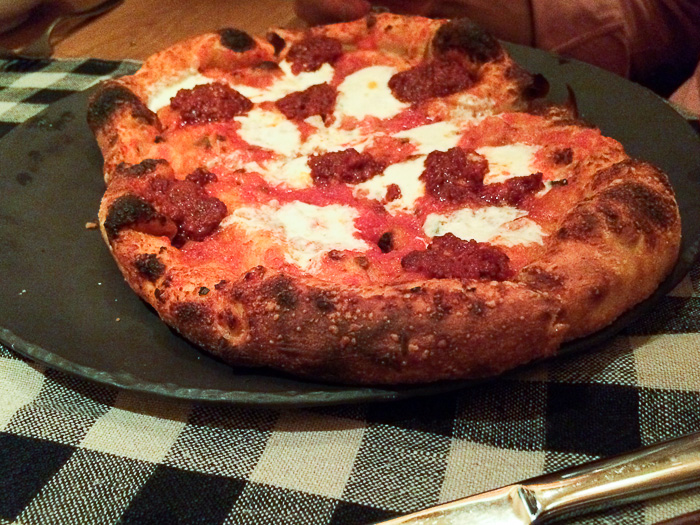 For a place that doesn't bill itself as a pizza restaurant, Upland turns out some really, really good pizzas. One taste of the pizza with nduja ($19), a spicy sausage hailing from Calabria, transported me back to Dongio', a Calabrian restaurant in Milan, but the crust pulled me in another direction – towards Nancy Silverton's Mozza in California, where the crust has the same yeasty insanely good quality.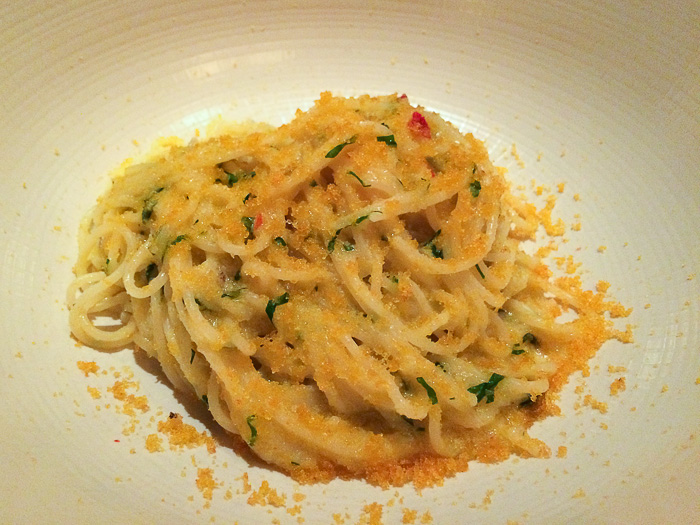 It is hard to pass up any of Smillie's housemade pastas, even if these portions are smaller than the "secondi" type mains. Spaghetti with bottarga ($23) again showcased that melt-in-your-mouth umami seafood flavor, with the fresh pasta as the perfect conduit.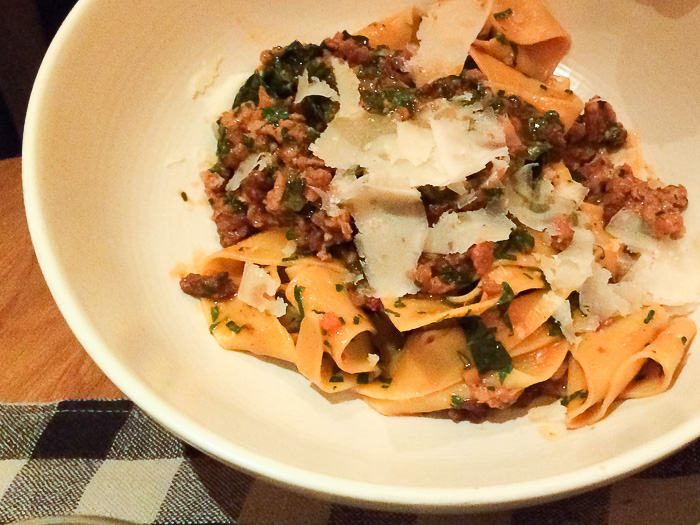 Pappardelle with spicy sausage ragu, kale, and pecorino ($22) is another winner – and a good reminder that the Italians were onto kale and kale-type vegetables long before we were. Kale is used here in the correct manner – as a soup green. But the sausage here is again spectacular as in the nduja pizza.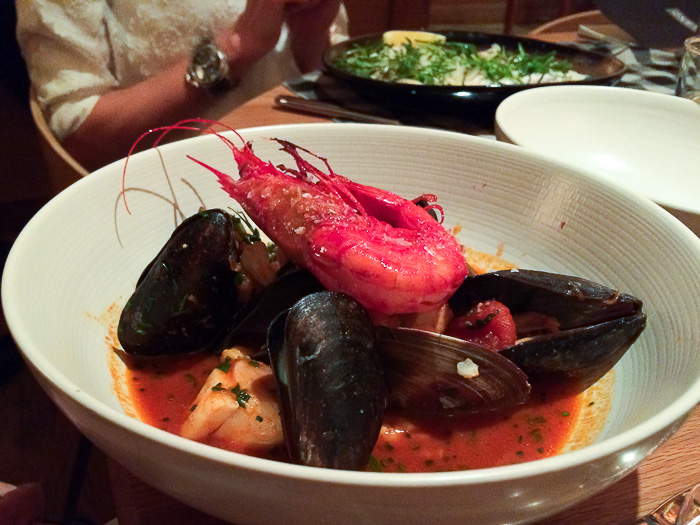 The traditional Italian seafood stew cioppino ($35) is rightly one of Upland's signature dishes, loaded with excellent fresh seafood in a savory, herbal tomato broth. Slow roasted branzino ($32) is another traditional favorite in Italy, though most places would not think to pair it with cipollini, grapefruit and a dusting of cancale – a blend of fleur de sel, orange and fennel from Brittany that adds a sparkling top note.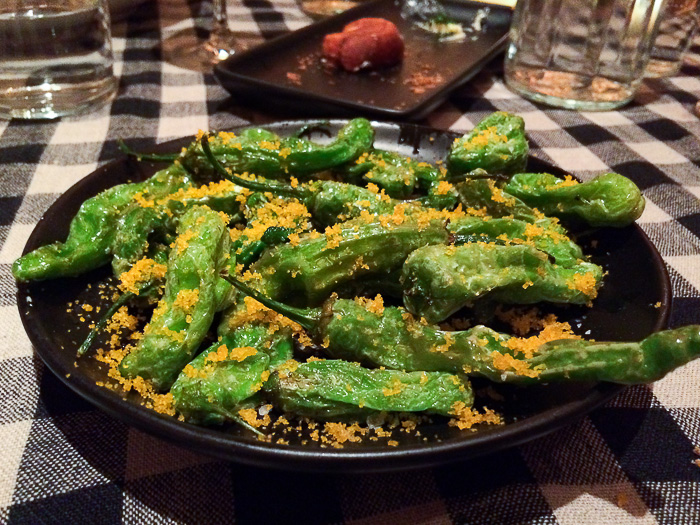 Rounding out the meal were two vegetable sides of blistered shisito peppers with bottarga ($12) – where we actually missed the fleur de sel – and a satisfying heap of seared brussels sprouts ($11), brightened up with meyer lemon, oregano and chili.
You'll see all this food through rose-colored glasses, since the graceful room is lit in a flattering pinkish glow that settles on the banquettes and copper pipes edging the room. Upland has been packed since it opened, and although it's full, it's pleasantly buzzy, not deafening.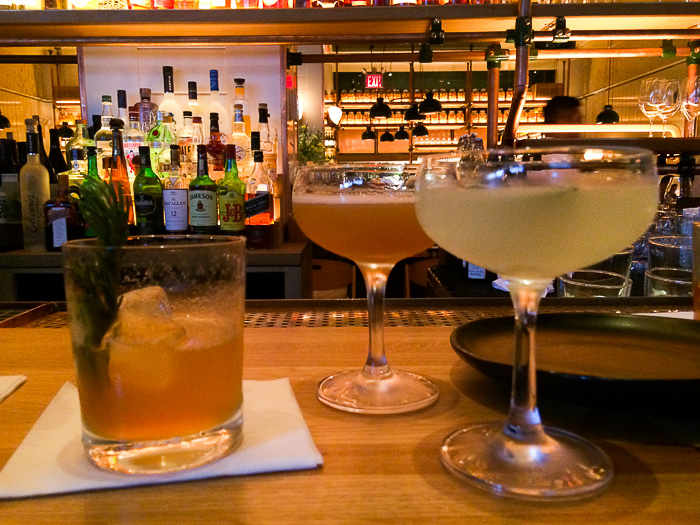 Even if you don't have the wherewithal to book a table in advance, it's worth sidling up to the bar after work, as many execs in the area do, and enjoying the scene over a cocktail made with vodka, lime, cucumber and sage. This is still a Stephen Starr restaurant after all, and there are plenty of pretty people to see here.
Upland
345 Park Avenue South, entrance on 26th Street
Flatiron District
New York, NY
212-686-1006