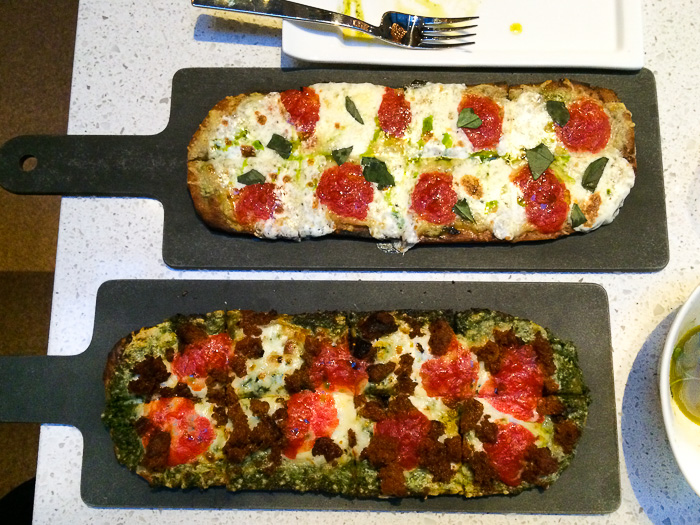 As restaurant names go, Pizza Vinoteca isn't the most memorable. It's the Italian equivalent of naming a restaurant "Restaurant." But as restaurants go, it's one worth remembering, because it's an oasis of pizza- and wine-induced calm in the hectic Union Square area.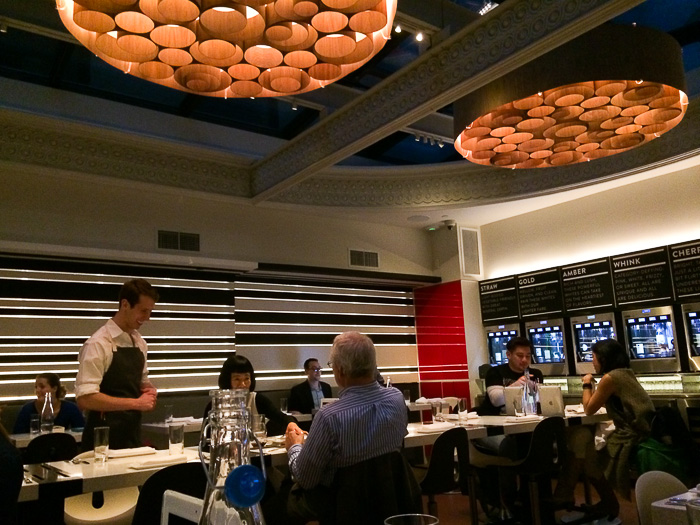 While hoards of people flooded into the Union Square area on the first weekend of spring, tearing through margaritas, nachos and whatever else lay in their path, we tucked into a side entrance of the glossy new building on Union Square West and 15th Street. The ground floor is unassuming – just a sleek pizza counter for to-go orders. There's not so much as a stool to sit on. But mount the stairs in back past a floor to ceiling mural of Sophia Loren and you'll find an upstairs dining room, a skylit nook between tall buildings with sleek white tables and chairs, plus a promising wine display at the back of the room.
Pizza Vinoteca is the brainchild of sommelier Stephen Asprinio of Top Chef season one, and it has a replicable business plan feel to it. There are no menus but iPads dispensed to guests as they enter the room. Presumably this is an efficiency move to reduce the amount of time servers spend explaining the menu and submitting orders to the kitchen, but it also results in some very pretty food photography to whet your appetite as you choose from tabs marked starters, pizza, wine and desserts.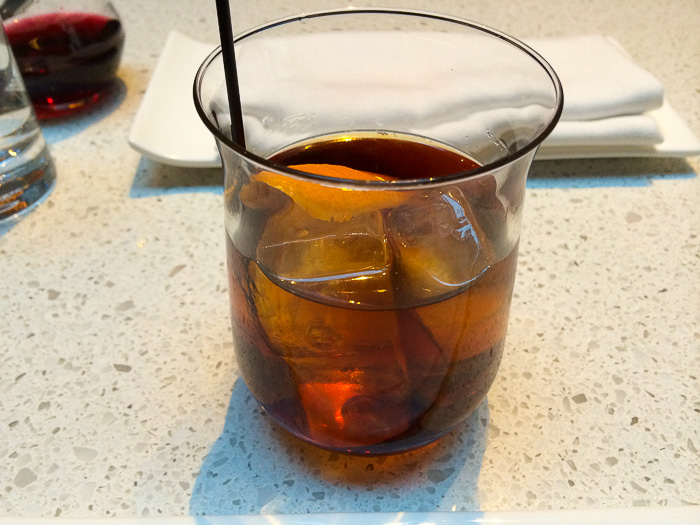 Those starters include cocktails like the Boulevardier ($9), an excellent bourbon and aperol cocktail that tastes like Paris even if you rarely see it on the menu there. The wines are also notable. All of them are reasonably priced and approachable – literally, you can walk up to the wines on display in fridges in the back and take your pick.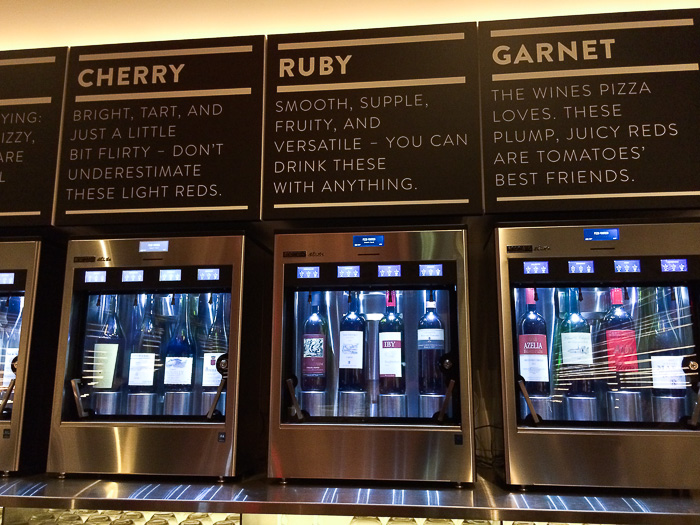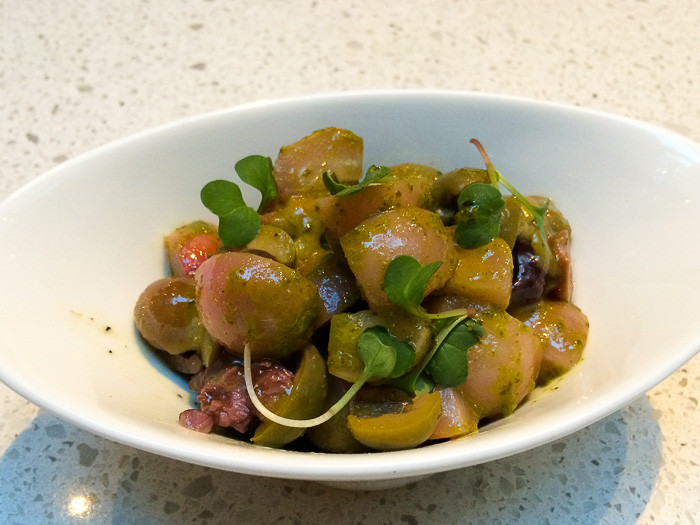 The pale yellow radishes in the olive and radish starter tasted very, very fresh and looked like locals, and indeed it turned out that they and many other ingredients here are sourced from the Union Square Greenmarket just two steps away. The restaurant also does other impressive things like make their own spicy Calabrian nduja sausage for the nduja and kale pesto pizza ($12.50). You rarely encounter this sausage outside of Calabria (though we did find it at Dongió in Milan), so it was a treat to find it on a menu right near home in NYC.
The house pizza is a classic margherita. Like all the pizzas here, it is made Roman-style, in oblong rounds with a very crispy crust, cut into bite-size pieces that are easy to share. I found the crust of the first two pizzas overdone to the point of dryness, but the restaurant has only just opened, so this may be fine tuned in the future.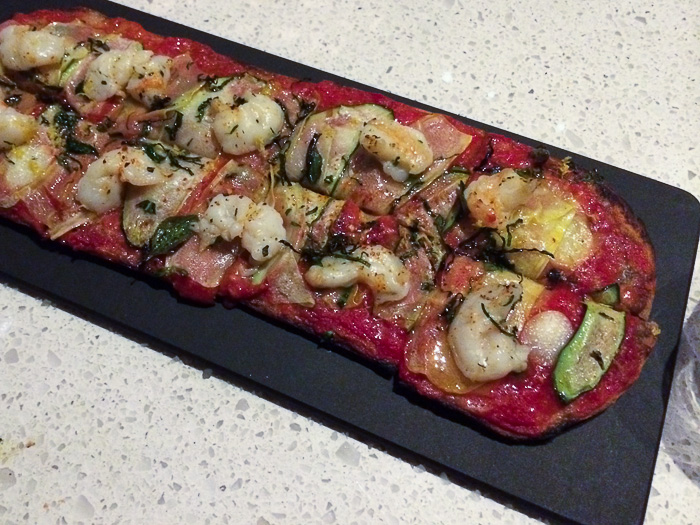 Where Pizza Vinoteca really excels, however, is with its untraditional pies. Campy Hawaiian pizza is reimagined here with prosciutto instead of ham, and the shrimp, lemon and zucchini pizza ($11.50), which sounded risky on paper (make that iPad), turned out to be a revelation of sunny Sicilian flavors, the shrimp gently poached in white wine and garlic. The pizza crust in this case is just the canvas for whatever creative ideas the kitchen dishes out.
The pace was leisurely. Why? Because you can set it yourself by ordering food and wine as you want it, not by placing the entire order at the beginning and waiting for the restaurant to pace it for you. This was a relief, because I have been to several (much more expensive) new restaurants recently where you feel like they're practically shoveling food down your throat to turn the table as quickly as possible, which is a lot to swallow at $50+ a head.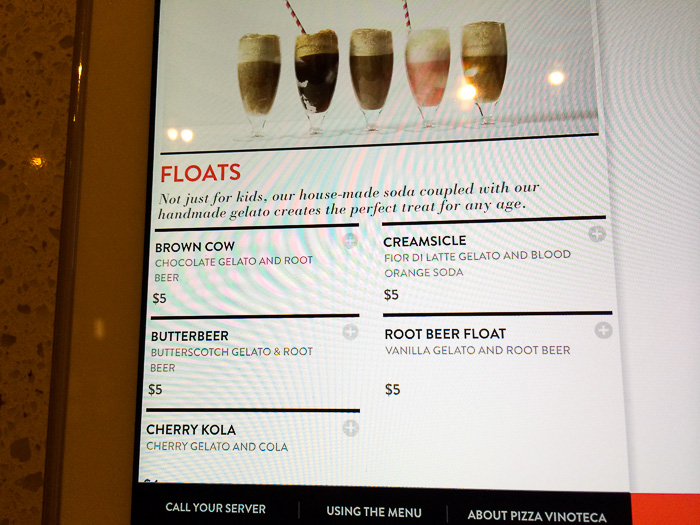 There are some flaws to the iPad ordering system. For one thing, though the item descriptions are quite detailed and accurate, even listing allergy concerns, there's no way to omit an ingredient you don't like. Every pizza restaurant in New York should have a "hold the anchovies" option. You can tell a server, however, and they'll relay the information to the kitchen. Also, though all of us were able to add an item to the tab from the iPad menu, only our "table captain" could send the order to the kitchen. I was not the table captain, unfortunately, so I felt like I was stuck in the back seat with child-proof windows that wouldn't roll down.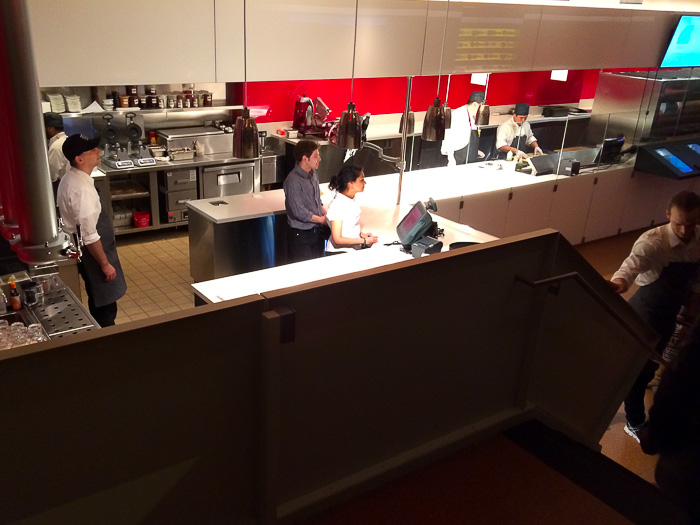 I was initially suspicious of the efficiency method applied to one of the least efficient cultures in the world, Italy, because of Vapiano down the street. It also has a DIY ordering method and pizza, but it's not really Italian, just an international chain started by non-Italians. But at Pizza Vinoteca, you're getting the essence of Italian cuisine: fresh, seasonal ingredients, often locally-sourced, put together artfully.
Pizza Vinoteca
15 Union Square West (entrance on 15th Street)
New York, NY
212-743-0605
pizzavinoteca.com