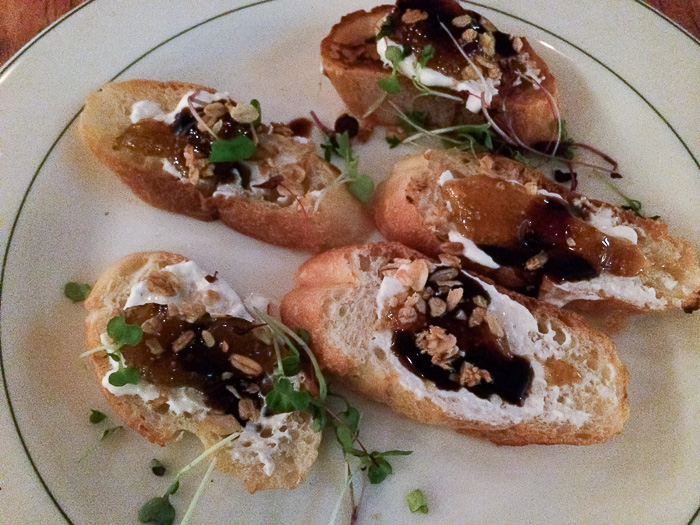 Au Za'atar has already gotten a lot of press for a little restaurant in the East Village. This may be because a) it may be the only Arabian-French bistro in the city, and b) it is a new family-run restaurant on Avenue A, where just a block away a neighborhood pub was recently supplanted by the glowing specter of a 7 Eleven.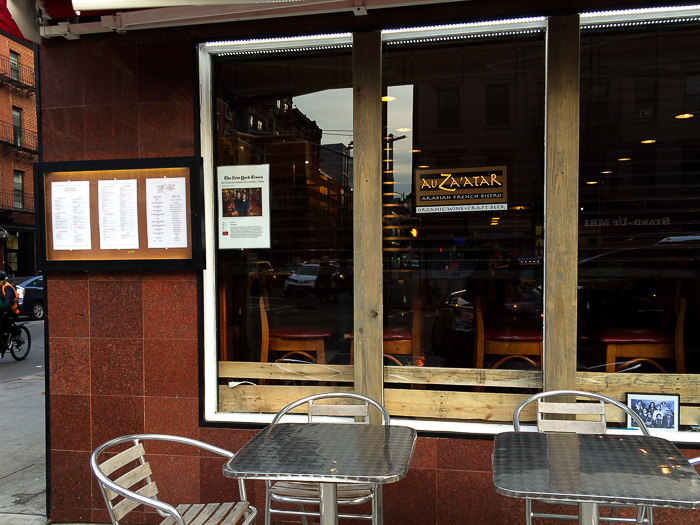 So it is important to patronize your family-run neighborhood restaurant. Fortunately Au Za'atar is also a pleasure to visit, because it really reflects the way we eat now. You could spend all night grazing on mezze, much of it vegetarian and all of it shareable. Also, here the "small plates formula" is not engineered to slowly drain your wallet. Everything is reasonably priced and big enough to share.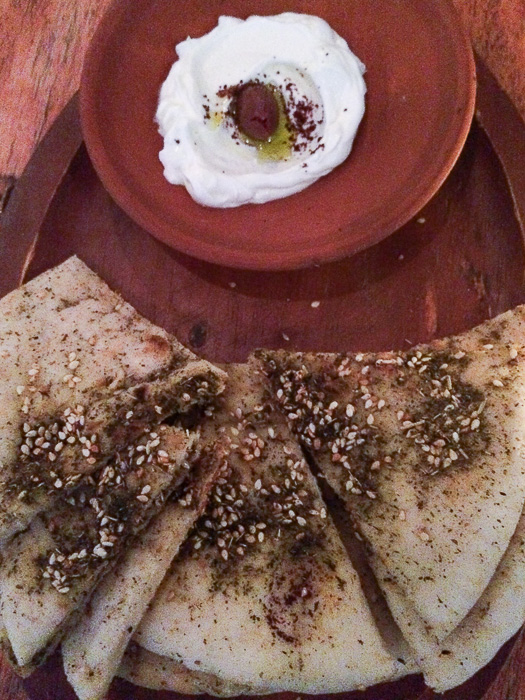 Get anything that comes with pita bread, like the labne ($8), a sort of Mediterranean cream cheese. Though the cheese itself is not particularly memorable, the pita is dusted with the namesake za'atar spice mix, a combination of wild thyme, sumac and toasted sesame seeds. It's delicious and addictive, particularly on soft, just baked pita.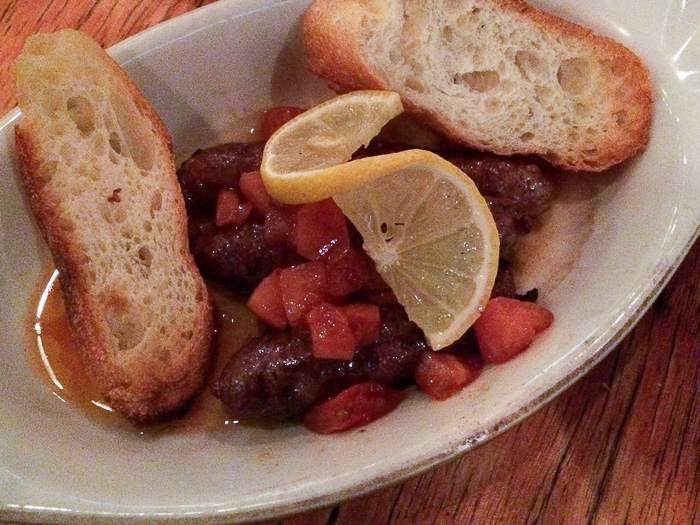 Another house specialty is the Lebanese spiced sausage (makanek, $8), which should not be missed. Little breakfast-sausage sized links are flambeed in lemon juice for a meaty, spicy bite with a citrus finish.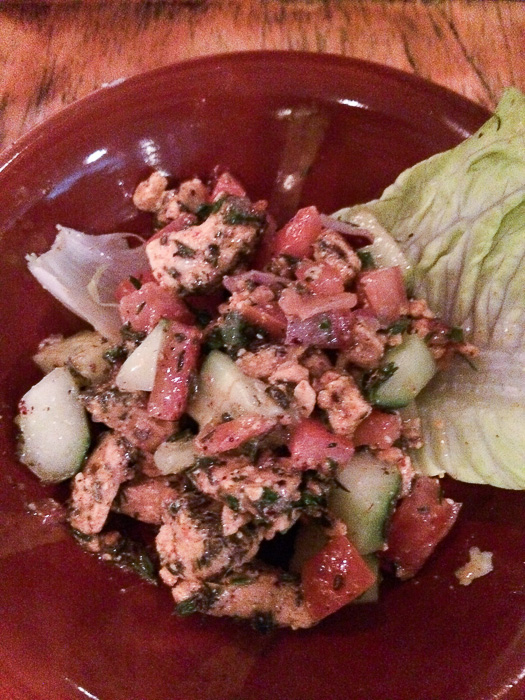 The shankleesh cheese ($8) arrives as a sort of salad, the chunks of goat cheese tossed with tomato, cucumber, onion and lettuce and dusted with yet more za'atar.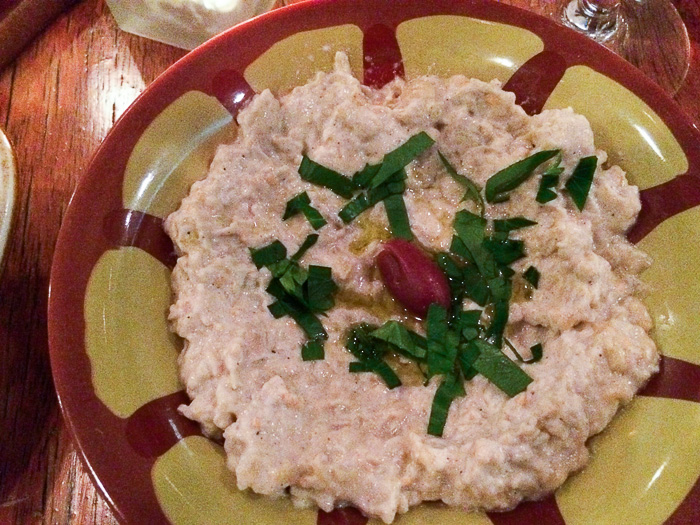 Au Za'atar's baba ganoush ($7) is a perfect specimen of the classic eggplant dip, smoky, chunky and delicious. This dish got scraped clean.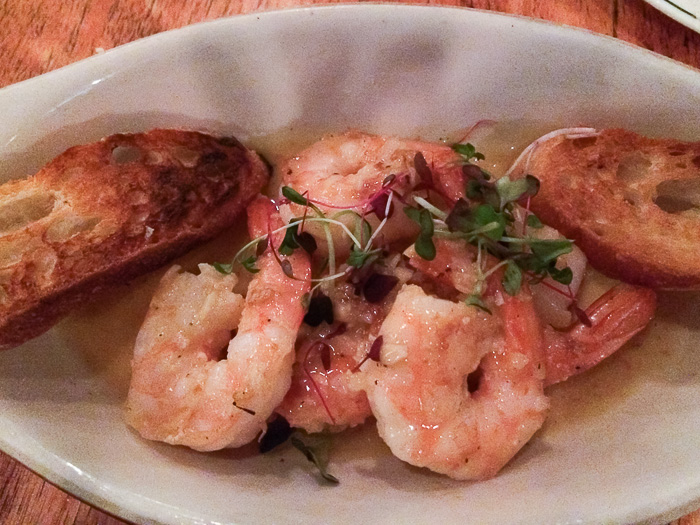 Shrimp sauteed with garlic and white wine ($12) was a great light tapas dish to round out the savory bites.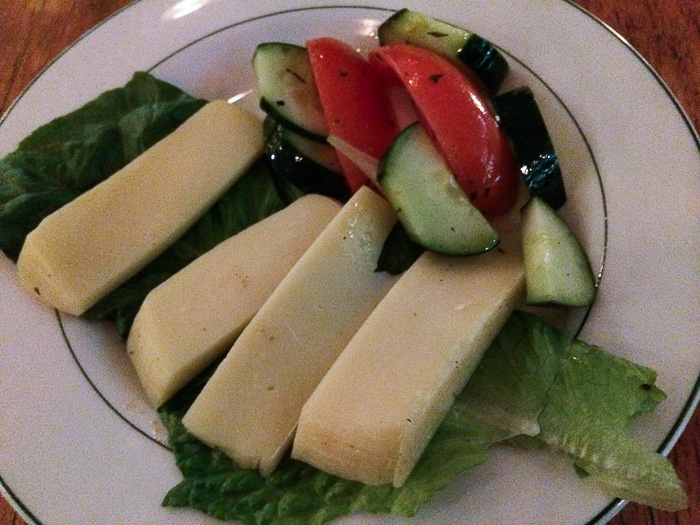 For "dessert," we had fig crostini ($7), pictured at top, sprinkled with a copious amount of dried garlic, an intriguing savory twist on the sweet spread, and kaskawan cheese ($8), which Marie Fromage compared to a Middle Eastern manchego.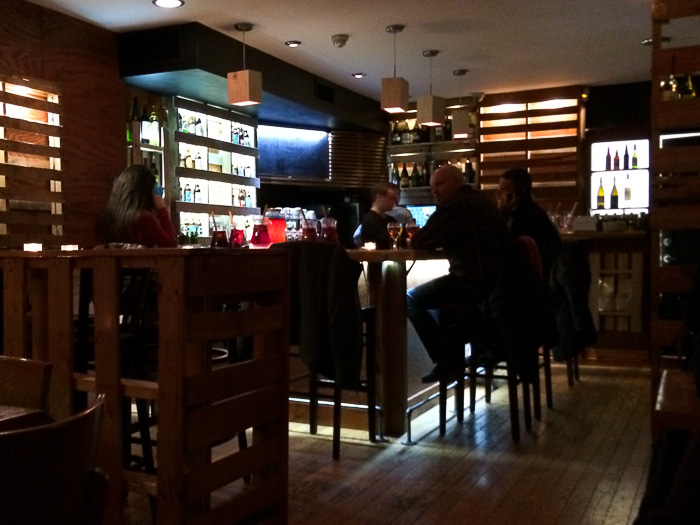 The menu here is huge, and though we came early to snack, there were a lot of people piling in at the dinner hour of 8pm for a full meal. Indeed there is a lot to tempt you on the more bistro side of the menu – including baby lamb chops seasoned with za'atar ($19), steak au poivre ($18), moules frites Casablanca ($16) and bell peppers stuffed with vegetarian rice and tomatoes ($12). Another item to try – perhaps to finish off a night at neighboring East Village bars – the Phoenician fries topped with sumac and parsley ($5).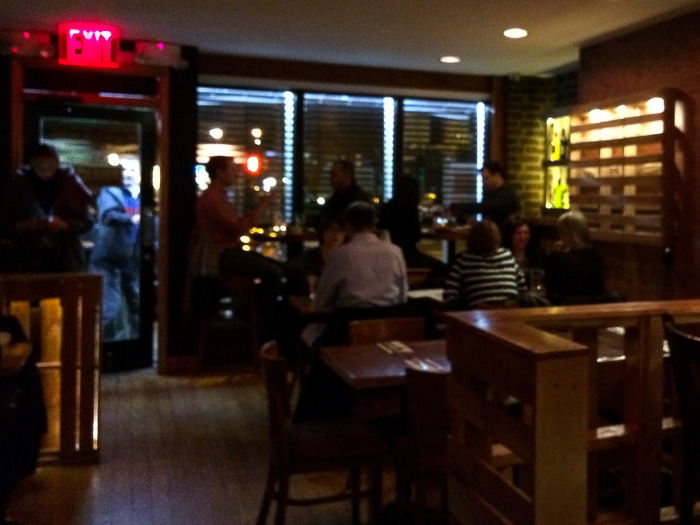 Though there is no hard liquor served here, Au Za'atar has a few good wines by the glass, like the P'tit Piaf merlot ($10), and pitchers of sangria at the ready. Servers are on the ball, canvassing the restaurant for anything you might need or need to know. In our case the extremely friendly and nice host was our waiter, though really he makes a great host.
One caveat: you may end up eating a lot of garlic here. So much so that you may need to slink guiltily into that 7 Eleven afterwards – for a pack of gum.
Au Za'atar
188 Avenue A at East 12th Street
East Village
New York, NY
212-254-5660
auzaatar.com
Reservations available online.