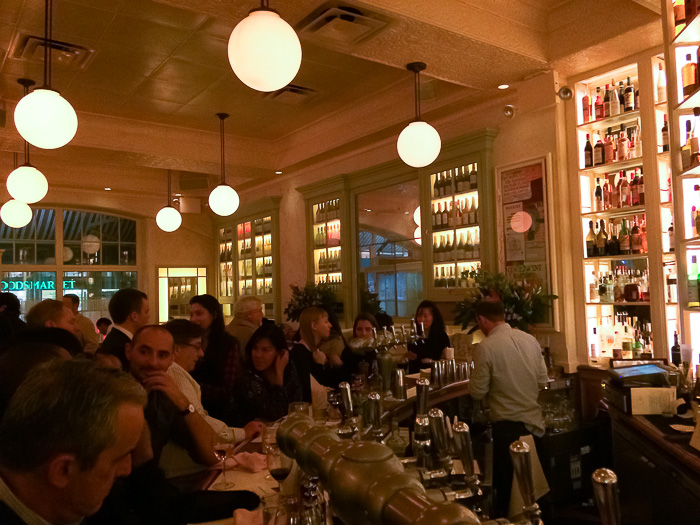 It was 25 minutes past our reservation time on a Tuesday night, and still our table at Cherche Midi hadn't materialized. Aside from the wait, this can be a bad sign about a newish restaurant. Are the servers overwhelmed? Or the kitchen? Yet Shane McBride, the chef of Cherche Midi, who looks like someone you probably wouldn't want to run into in a dark alley in Dublin, was leaning against the kitchen pass through, completely unperturbed.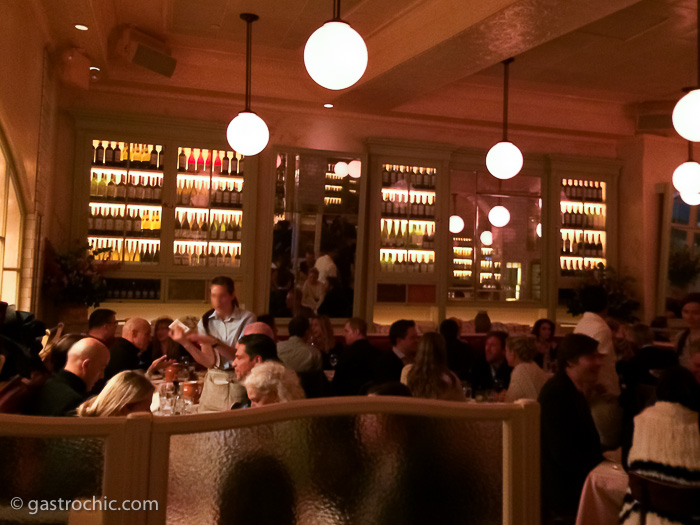 When we sat down, the reason became clear: no one wanted to leave this place. Diners at tables near ours lingered over dessert and a glass of wine from the time we sat down to the time we left. Why would you leave, when doing so meant facing the icy blast of wind racing down the Bowery, and staying inside meant you could remain bathed in rosy light, surrounded by attractive fellow New Yorkers at Keith McNally's latest restaurant?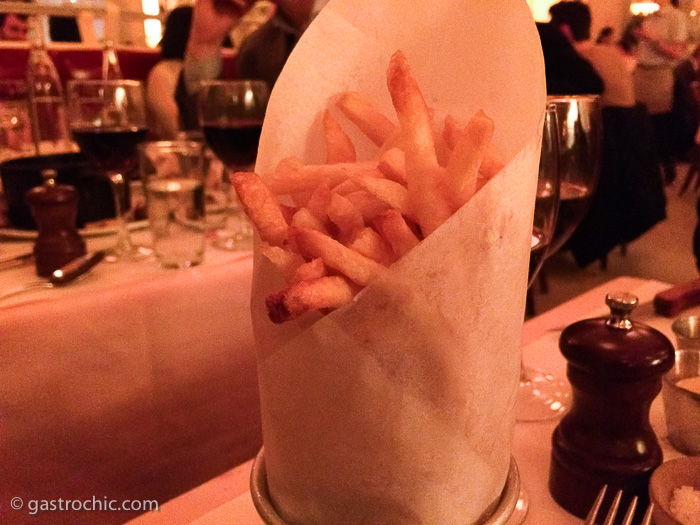 Cherche Midi takes its place in the McNally's pantheon as a classic French bistro, with country dishes like chicken liver paté ($17) and pot de fromage ($16). The thing you really want to get here is the steak. Just as the decor here is an American fantasy of a French bistro, done with the standard McNally-issue materials of white subway tiles, shelves lined with bottles, globe lighting and distressed mirrors, the steak frites is an American fantasy of French steak frites.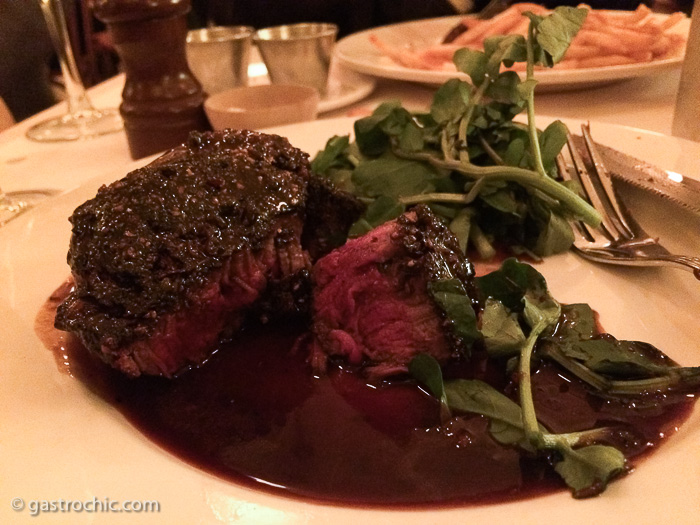 The rich sauces are there: a peppery demi-glace enveloping the filet mignon au poivre ($39), and the round of herb butter atop the steak frites ($29), but the meat underneath is undeniably the hearty American kind, not the anemic EU version. (I have to confess to sometimes waiting to come back to New York from Paris for steak frites. With a few notable exceptions, our meat is just better. Yes, even the grass-fed kind.) To go along with this are the fries, the same excellent fries that populate many sweet memories of Balthazar and Pastis.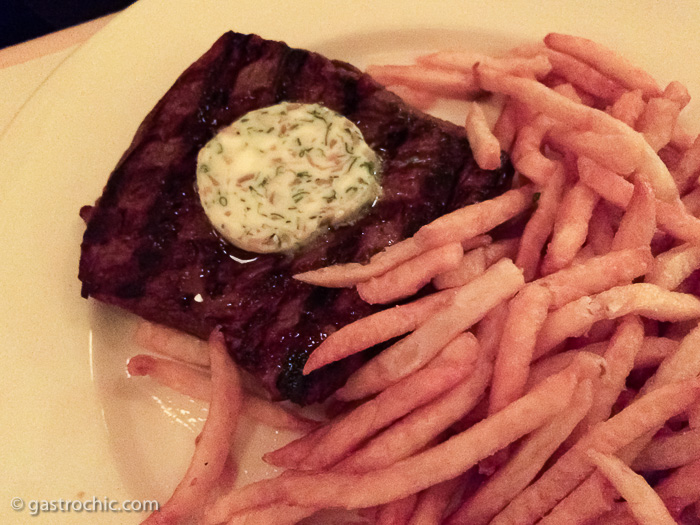 One thing we missed on the menu were escargots and oysters. Can it truly be a French bistro without these standard-issue appetizers? But if it's intensely garlicky, herbed butter you're after, look no further than the frogs' legs ($19), shaved down to lollipop size and fried to American snack food perfection.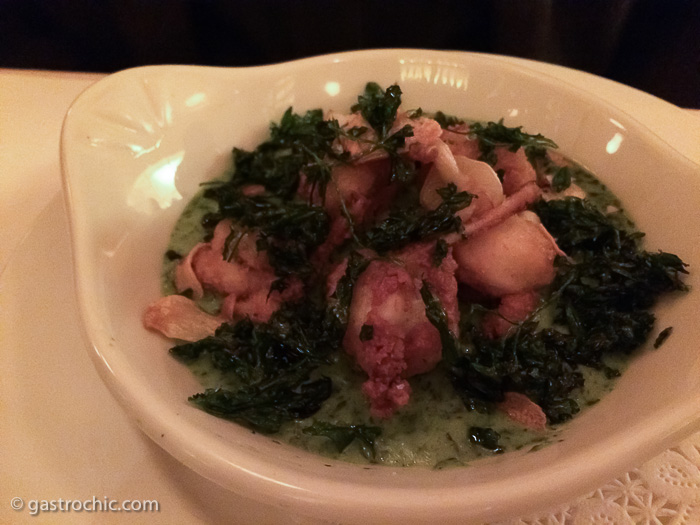 The chicken liver parfait ($17) was more city than country, whipped to a velvety texture, perfumed with cognac, shallots and herbs and served with charred toast.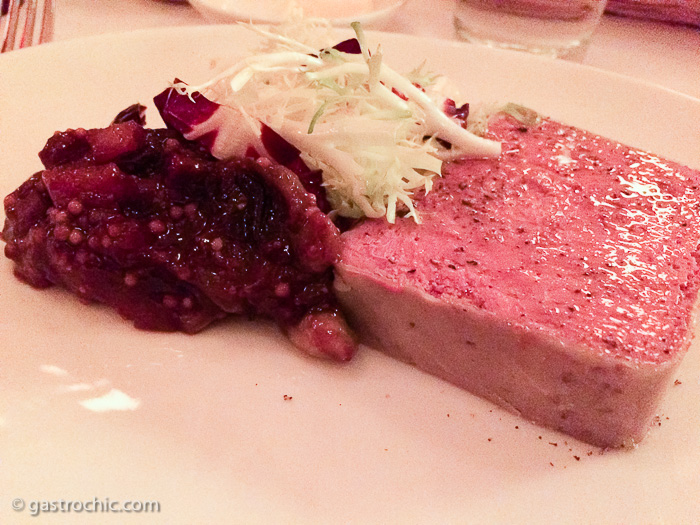 There's an extensive wine list with some in the $300-plus range, which seems a little pricey for such a casual place. Are Wall Street guys really still ordering this stuff? But there's also a good selection of wines under $70, and a Les Garrigues 2013 Cotes du Rhone by the carafe ($18), which, though it had all the complexity of a Kardashian, was a serviceable and inexpensive accompaniment to the meal.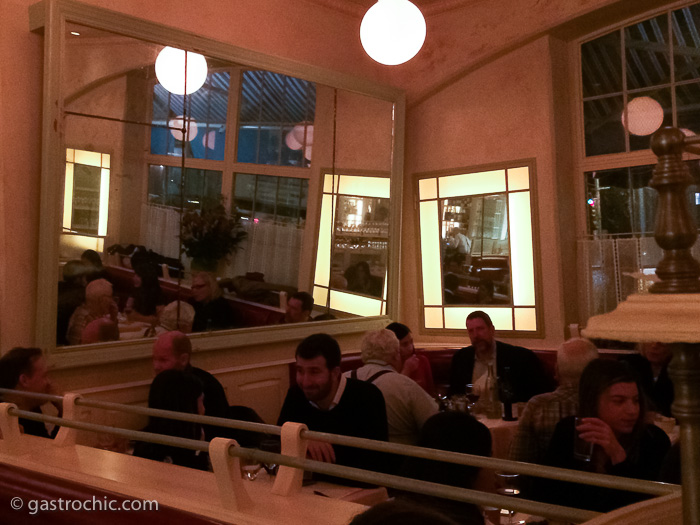 By the end of the night, the jam-packed bar had emptied out, though most of the tables were still full – including the wine-and-dessert table that had been there when we sat down. As far as I know, they are still there now.
Cherche Midi
282 Bowery at Houston Street
Nolita
New York, NY
212-226-3055
cherchemidiny.com
Reservations accepted by phone or online.