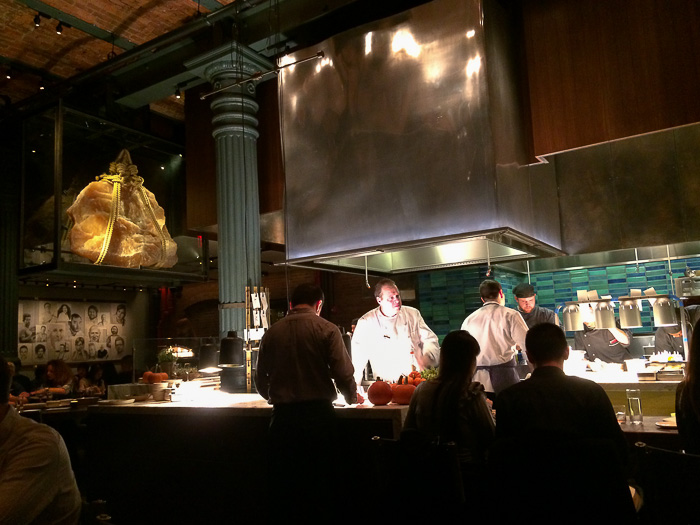 There's something to be said for good bones. Restaurant decor can go a long way in transforming an odd space into a good one – see Claudette, for example – but when you start with something as architecturally impressive as the interior of the Puck Building, you have more leeway in what you can hang on the walls – and put on the menu. It's an unusual concept to open a restaurant that's not the vision of any one particular chef or restauranteur but a magazine. Fortunately Chefs Club by Food & Wine Magazine gets a certain gravitas from the surroundings, whereas otherwise it might seem utterly newfangled.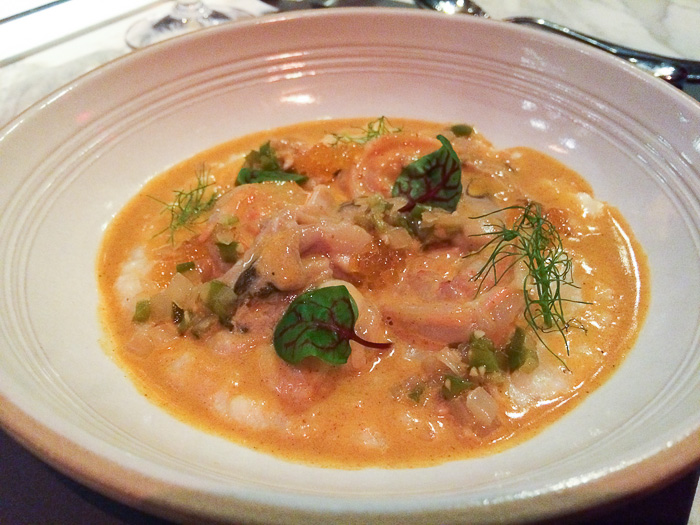 Those chefs in the club this winter – currently Gabriel Rucker of Little Bird Bistro in Portland, OR, Erik Anderson of the Catbird Seat in Nashville, Linton Hopkins of Restaurant Eugene in Atlanta, and Lachlan Mackinnon-Patterson of Frasca Food and Wine in Boulder – are not in the restaurant, mind you, except on special occasions. They just created the dishes that are skillfully whipped up by culinary director Didier Elena, who also helmed operations at the Chefs Club restaurant in Aspen. This builds in a kind of culinary tourism into the menu, which is cool because the low country seafood pan roast ($22) really does taste like a low country shrimp we just had in Madison, GA a couple weeks ago – that same intense shrimpiness in the broth and pleasingly grainy Anson Mills grits.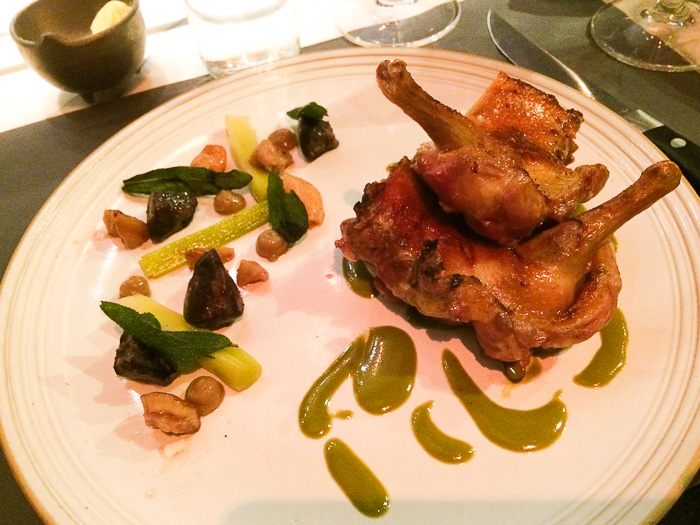 I have never been to Portland, OR, but the artfully arranged, foraged food on the plate of "Le Pigeon" – roast squab by Gabriel Rucker – looked like something they might serve Carrie Brownstein in Portlandia. ("I have some questions about the pigeon. Is the pigeon local?") It was cooked much rarer than the medium I ordered, however, so whereas sometimes I could appreciate the delicate perfume of herbs in the meat, at other times I was put off by the chewy texture and kept thinking….pigeon. Also, for $39 I would have appreciated some sort of starch accompanying the meat.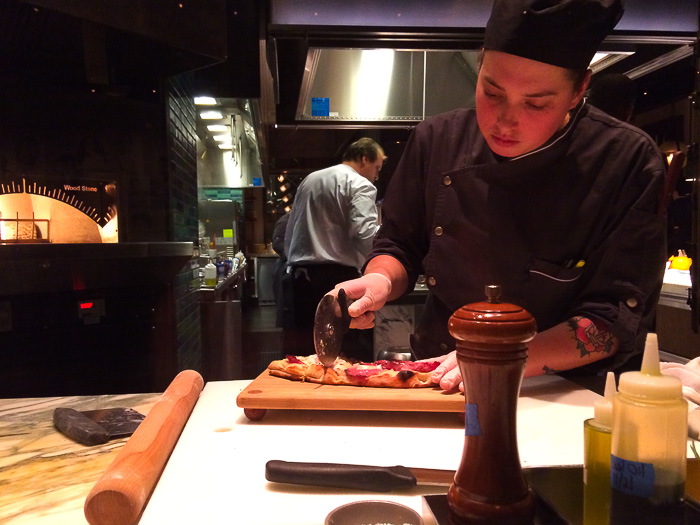 Fortunately there's pizza permanently on the menu here to assuage the carb cravers. Marie Fromage and I sat at the chef's table overlooking the kitchen and watched a sous chef roll out pizza after pizza and slide them into a wood burning oven. Turns out the only thing more comforting than dining in front of a fire is dining in front of a fire that's cooking pizza.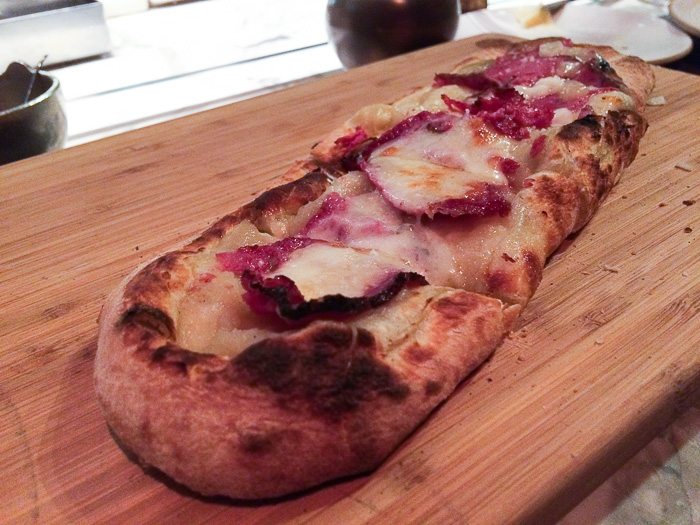 One particularly delectable version featured pastrami, perfectly meaty, fatty and moist, sliced thin like prosciutto and spread on top with fresh pecorino, a sort of LES spin on a pepperoni pizza ($15).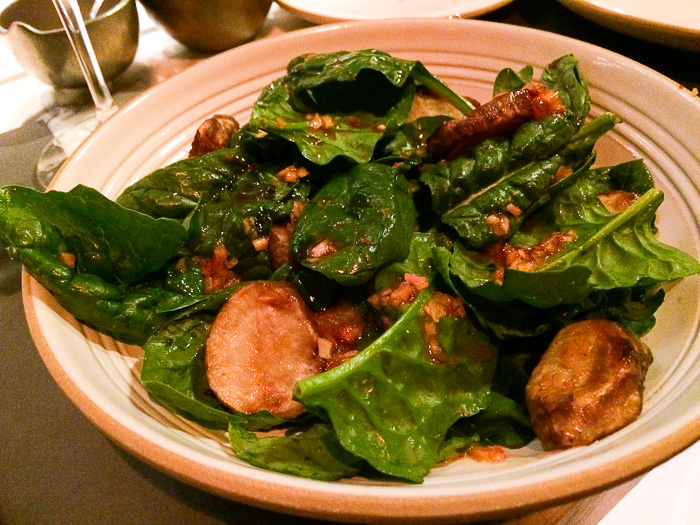 In another cool concept, one dish on the menu will be taken from a recipe in Food & Wine magazine, so you could easily replicate it at home. Now it is a roasted sunchoke and spinach salad with brown butter-cider vinaigrette ($14) created by chef Jamie Malone of Sea Change in Minneapolis. These are great fall flavors that would be a nice accompaniment for any dinner parties this season.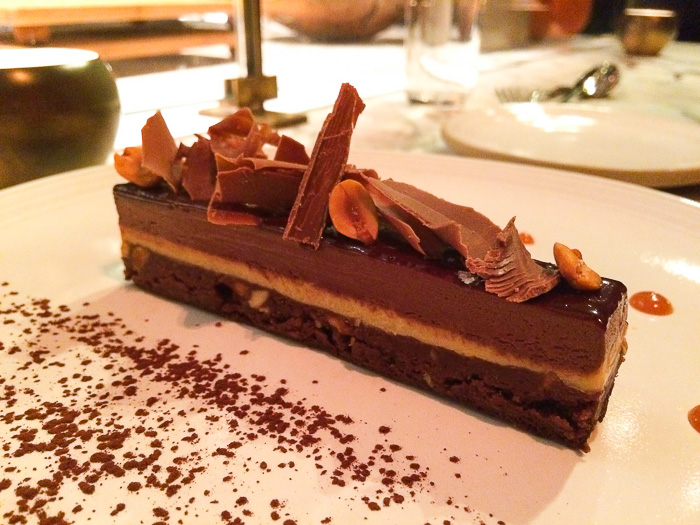 Even if you think you don't have room for dessert, you will have room for this small and delicious sliver of chocolate indulgence, the "candy bar" ($13) made with chocolate mousse, peanuts and caramel. The restaurant bills it as a gourmet spin on a Snickers bar, and it tastes exactly like that.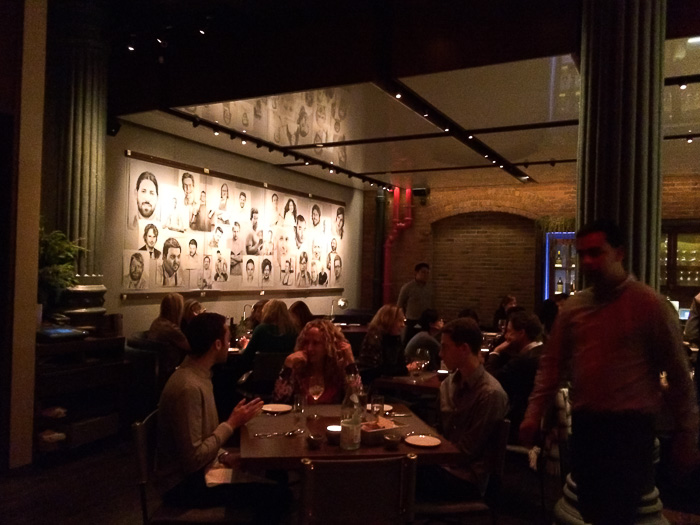 As you might expect, the wine part of the Food & Wine experience also gets a lot of attention, with wines sourced from interesting vineyards far and wide. Your server will offer you a taste of any wine by the glass before you commit, a nice touch when wines by the glass can be expensive, though the staff here is not likely to steer you wrong. We particularly liked the refreshing Domaine Kreydenweiss Riesling ($12) and the Chave "Mon Coeur" Côtes-du-Rhône ($15), served at exactly the right temperature.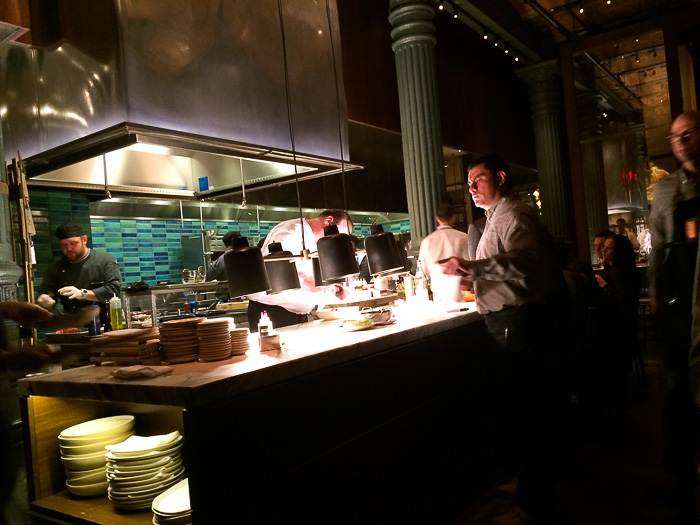 There's plenty to look at between courses here, be it the upscale downtown crowd or the gorgeous design by Rockwell Group, which manages to preserve the history of this landmarked building and bring it up to the moment with an enviable open kitchen bounded by thick plate glass on two sides and open on the other, emphasizing the fishbowl effect of looking in at the chefs as they work.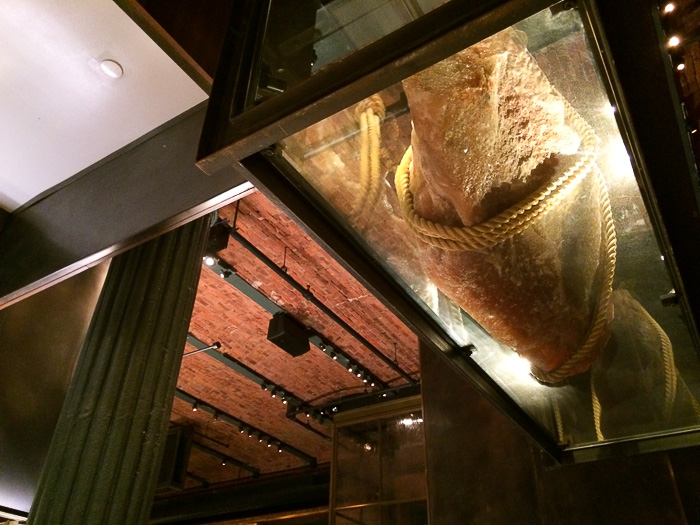 Steel and exposed brick criss cross along the walls, and a huge chunk of pink Himalayan salt is suspended by ropes and encased in glass. A long and spacious bar at the front would be a nice place to grab a drink, particularly the "Socialite" ($14) a sort of cross between a Manhattan and a Boulevardier. In the back, the dining room is pleasantly buzzy without being too loud.
Opening a concept restaurant can be tricky, since many restauranteurs' concepts are not something the public particularly wants. But after many years of hosting food festivals, Food & Wine has hit on a winning formula here, though it feels anything but formulaic.
Chefs Club by Food & Wine
275 Mulberry Street, between Houston and Prince Streets
Nolita
New York, NY
212-941-1100
chefsclub.com/new-york
Reservations available online.