CLOSED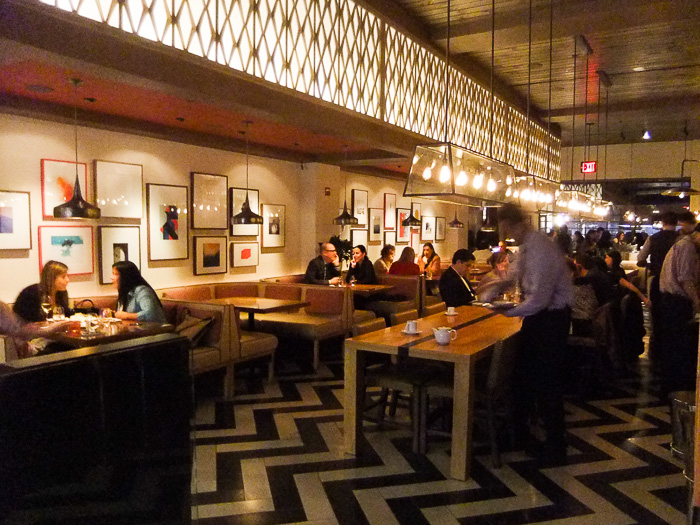 There's very little in the food department that's too crazy for New Yorkers. Pigs' tails, chicken feet, durian ice cream, cronuts: all can be found on a menu near you. So it came as a surprise that a new restaurant by Andalusian chef Dani Garcia, the molecular gastronomy expert credited with inventing the use of liquid nitrogen in cooking, serves Spanish cuisine that errs on the side of caution.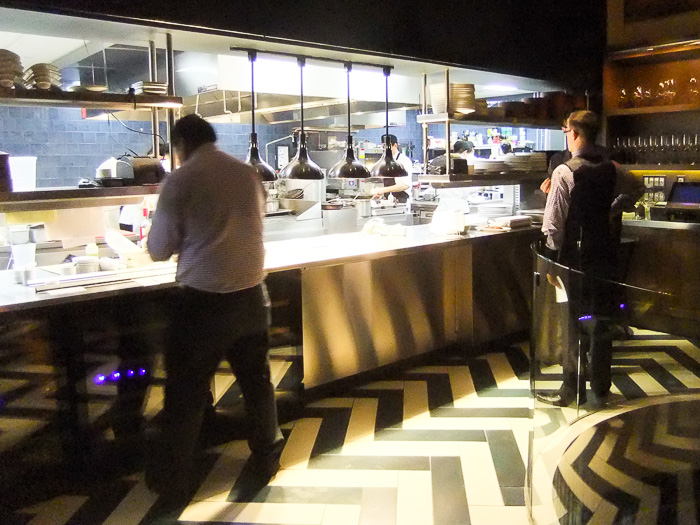 The space is impressive: somehow the folks behind Manzanilla managed to craft an interior of zigzag floors, polished plank tables, banquette seating and innovative lighting – panels of light behind  metal grills and giant domes suspended over the tables – in a space that used to be a Staples store. The bar is roomy and perfect for an after-work drink.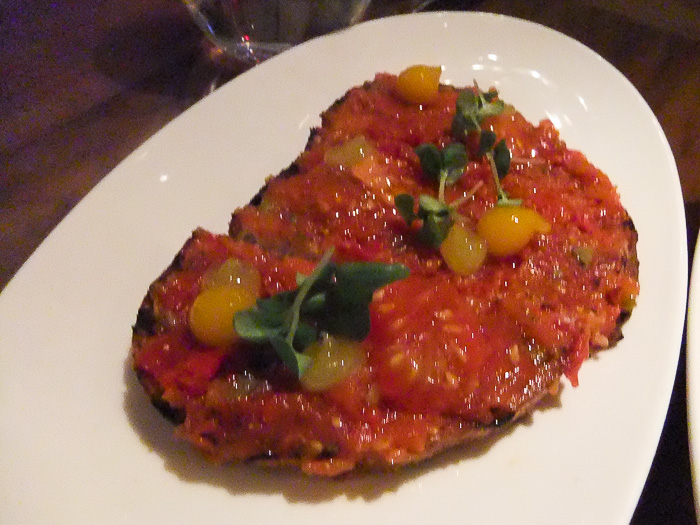 Food-wise, I don't know if it's wise to encourage Manzanilla to take a different tack, however, since many of the best dishes are also the least experimental. Tomato tartare ($8) will make you grateful for our impending tomato season. The perfectly ripe, cured tomatoes slathered on a round of toast, are a nice riff on the traditional Spanish pan con tomate with a jammy texture more like tuna tartare.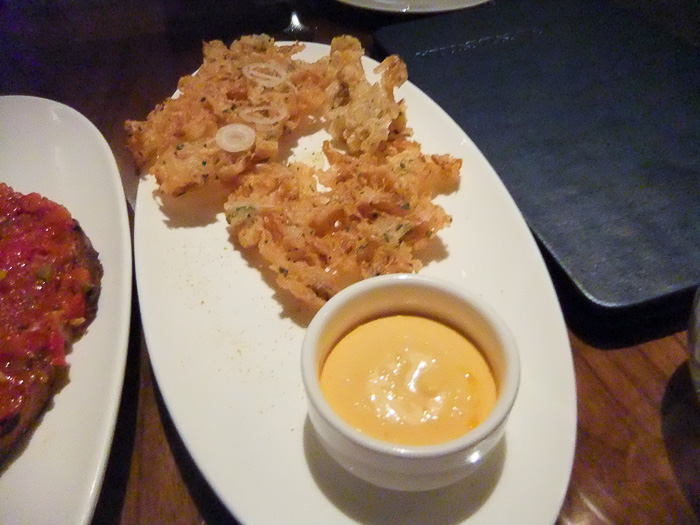 Lacy crisps of tortillita gaditana (battered, fried shrimp, $8) have an intensely shrimpy taste sneaks up on your after the initial delicate crunch, made all the better with a dip in spicy pimenton mayonnaise.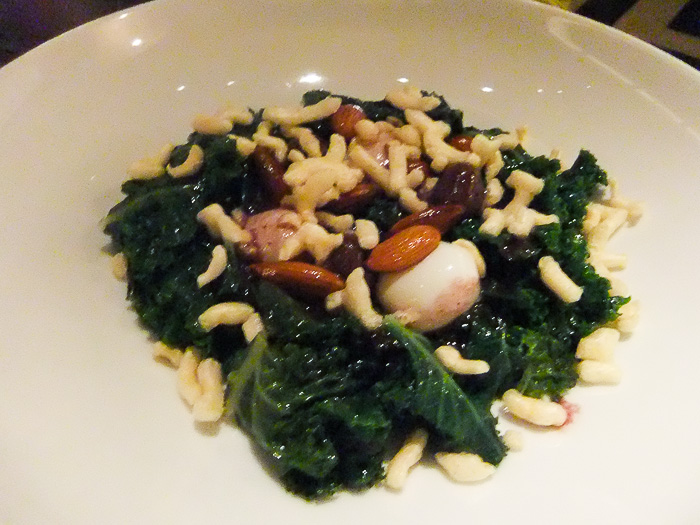 The kale in the kale salad ($14) is mercifully not raw but cooked until just tender, tossed with a bracing black olive dressing and blue cheese, garnished with crispy puffed wheat and Marcona almonds. Bound together with a quail egg, it's a sort of Spanish twist on traditional Caesar salad.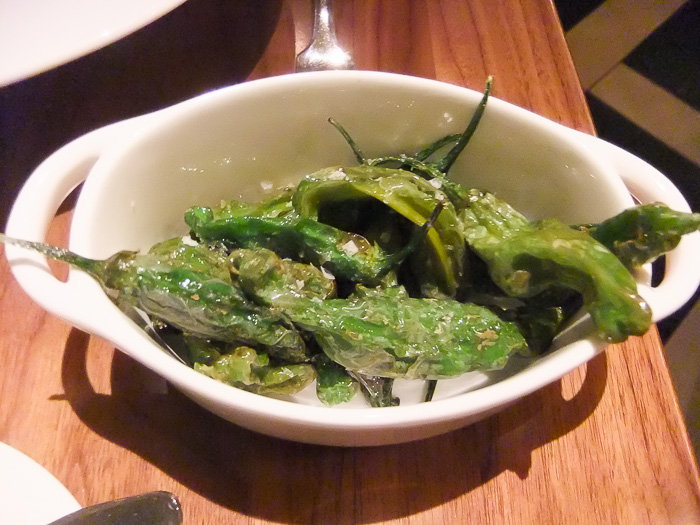 Piquillo peppers – shisito in Japanese places – are one of my favorite omnipresent menu items of the moment, and these did not disappoint.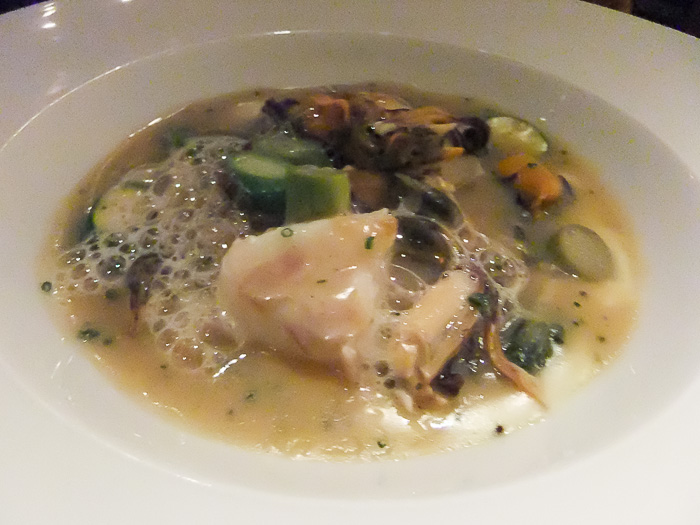 Things go awry whenever sauce enters the picture. Foam may signify lightness, but the mussel veloute cloaking the fresh cod in the bacalao ($27) conjures up the thick, bland sauce of a chicken pot pie.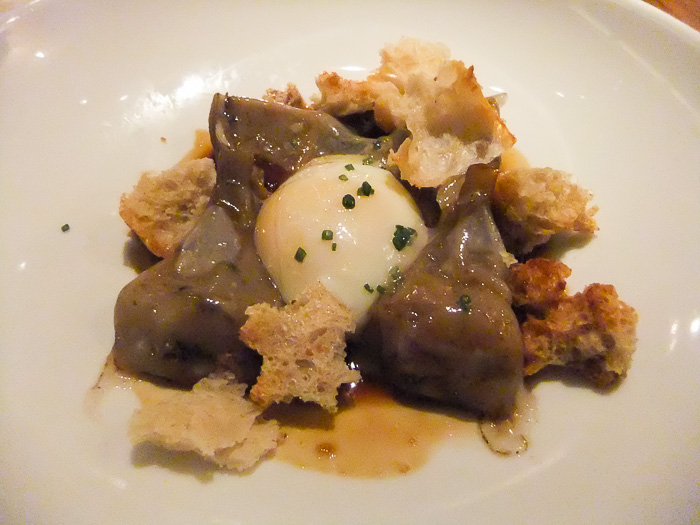 So too in an app of baby artichokes ($14) where a meaty sauce extracted from Iberico pork lardo overwhelms the delicate taste of the artichokes.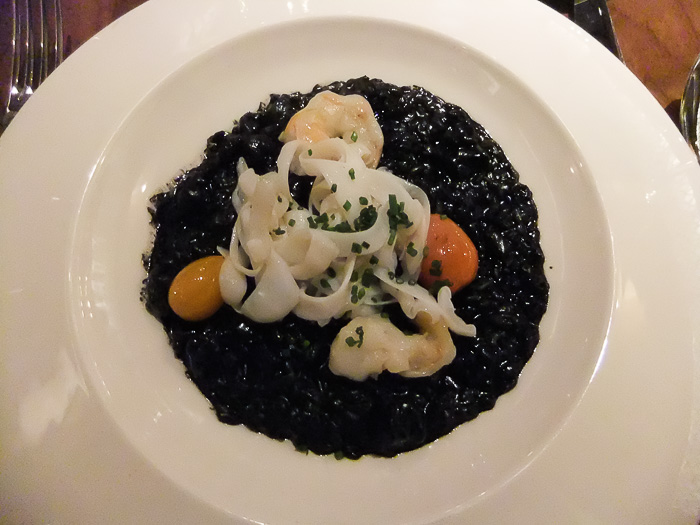 There were a couple dishes worth returning for, however. One is the bomba rice ($26) with squid ink, shrimp, and ribbons of cuttlefish, one of the best squid ink anythings I've ever had. One bite and you will feel like you are at a little outdoor cafe in a fishing village overlooking the Mediterranean.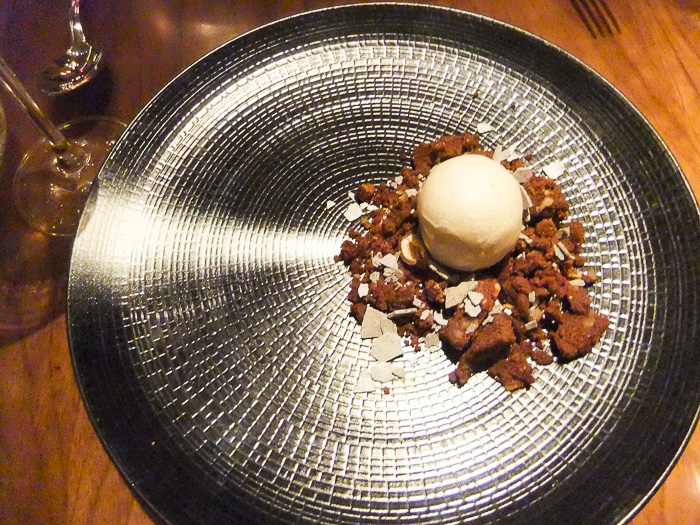 The other was a revelatory dessert: the moon, made with a candy shell and a chocolate and lemon interior, set on a plate as black as deep space with pebbles of crumbled chocolate and Marcona almonds.
This last offering was brilliant and not unlike the most out-there molecular gastronomy restaurant I've ever visited, Comerç 24 in Barcelona, where cod ice cream with artichoke whipped cream served as a palate cleanser between multiple courses. But otherwise, Manzanilla seems like a declawed version of the experimental cuisine Garcia has come to represent. Spanish vocals played over the sound system the night we visited, but a closer listen revealed it to be Pink Martini, an excellent band, but one that hails from Portland. Did Dani Garcia think that was the most challenging stuff we New Yorkers could take?
Manzanilla
345 Park Avenue South at 26th Street
Flatiron District
New York, NY
212-255-4086
manzanillanyc.com
Reservations and menus available online.