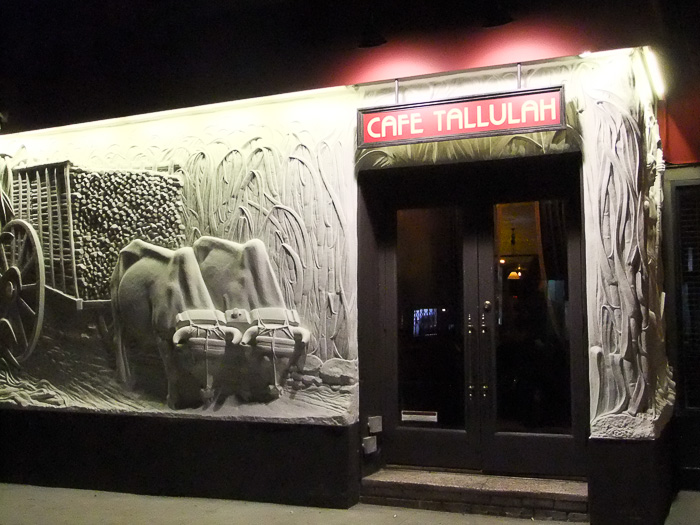 It was like watching a bomb explode in slow motion.
When the first piece of shrapnel flies by, you just think: that's odd. In this case it was a mix-up with our cocktail order. Six of us sat down for dinner in the prettily decorated new French bistro Cafe Tallulah on the Upper West Side, but there were only four water glasses on the table. When I asked for water, our server said: Should I cancel your cocktail order then?
Hmmm.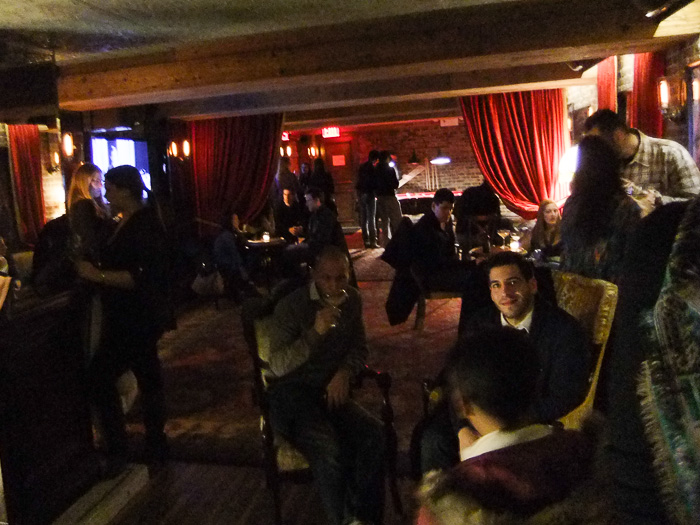 We chalked this up to opening-month jitters, since the restaurant had been open for about three weeks. And it is super stylish for the Upper West Side, with a chichi cocktail lounge in the basement, pressed tin ceilings, soft lighting and swathes of velvet curtains framing the doorways.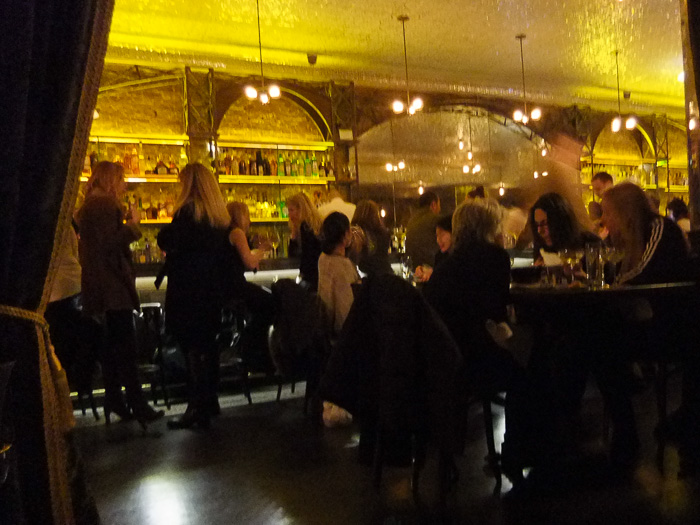 "This used to be a Penang," Canada said. Apparently the place where we were sitting must have been the outdoor porch of Penang, because it was still entirely unheated in the dead of winter. The crowd around us looked like they might have been quite stylish, though it was hard to tell since many had to wear heavy coats throughout the meal.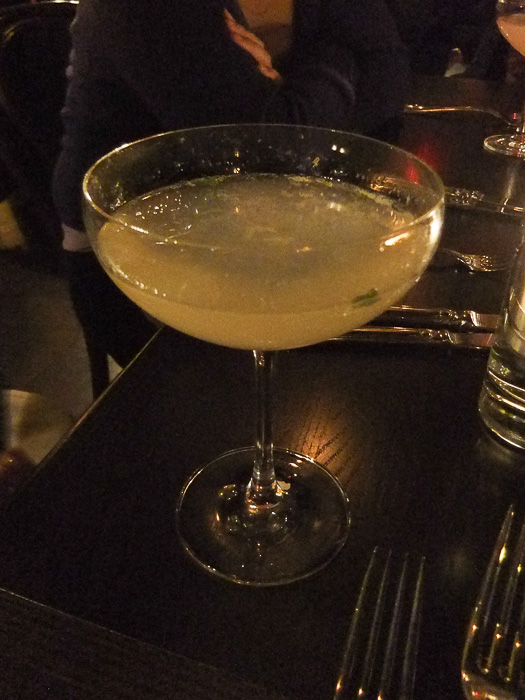 The cocktails warmed us up – a old Cuban-style daiquiri ($14) made with fresh lime juice was a definite improvement on the resort bar version. There were other signs that all was indeed well: excellent French bread and fresh butter, a French onion soup ($10) with a perfectly crispy crust of melted gruyere and a base that had the depth that comes with onions that are perfectly, slowly caramelized in a rich beef consommé.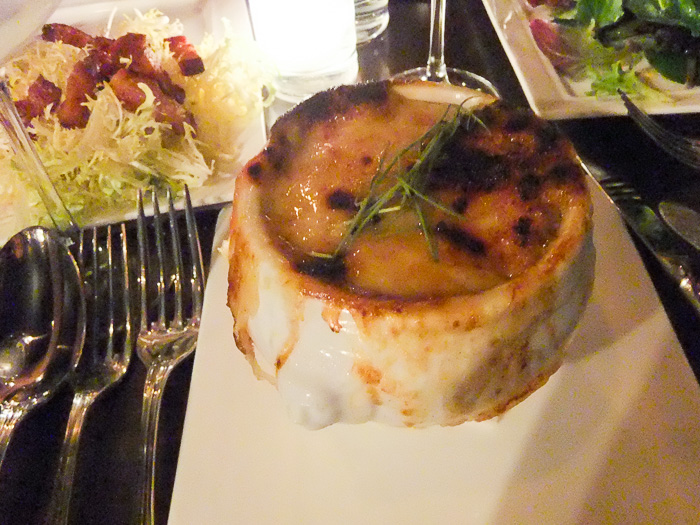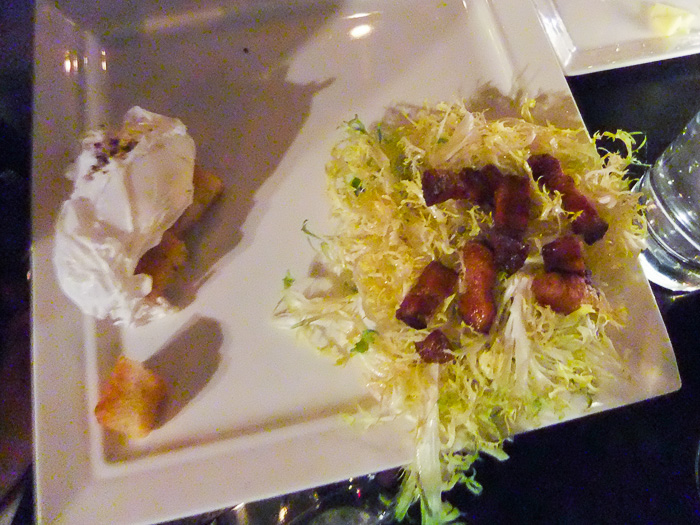 But other things raised flags: the presentation of the frisée aux lardons ($10) was irksome. Why lump a diminutive pile of greens on one side of an oversized square plate (formerly Penang's?) and corral the egg and croutons to the other side? Blended together, they tasted quite good though.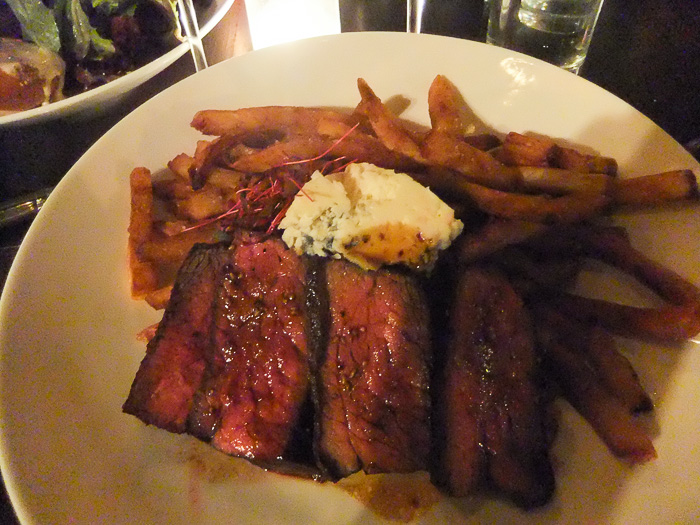 Then came the mains. My steak au poivre ($32) was rarer than the medium-rare I'd ordered but fine with me. I wished that the steak had been a more traditional cut instead of the needlessly fancified Wagyu beef, and I missed the usual cream and sherry pepper sauce that had been swapped out for a smattering of crushed pepper on top and a wedge of blue cheese.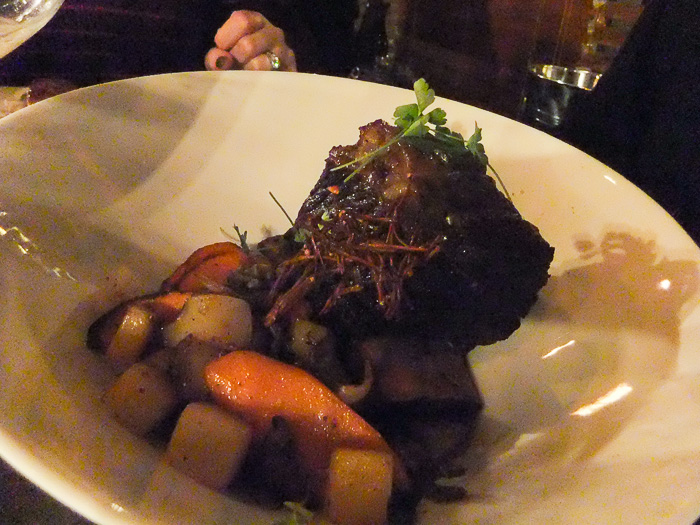 The boeuf bourguignon ($28) arrived as a Flintstones-sized hunk of short rib in a bowl with barely any wine sauce at all. Why? Fortunately two of us had opted to share it. At this point I was longing for a French bistro in New York that didn't try to reinvent the wheel and looking forward to going to Paris, where you can still get a traditional meal without any chef-ly theatrics.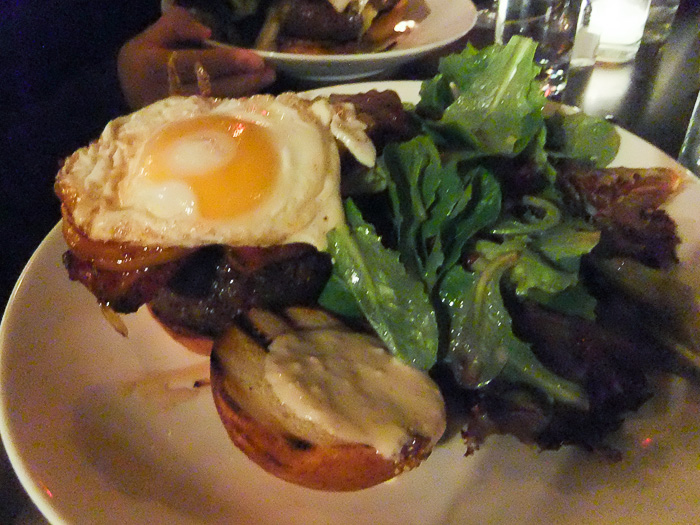 But the burgers… Two of my dining friends, who shall be named Bfast and Canada, ordered burgers cooked medium, which were listed on the menu as "Le Burger: house wagyu blend, brioche, caramelized onion, bacon, brie, pear, egg, mustard, greens, $19." That's a lot of toppings. Bfast, who can't eat dairy, asked for no brie on hers.
"I'm sorry, but the chef won't make any substitutions," our server said.
When Bfast explained that she didn't want any substitutions, just a subtraction, the answer was the same: no changes whatsoever.
Fine. Cheese and eggs can be scraped off. But both burgers landed on the table charred on the outside but so rare inside that the centers were still cold. No wonder, when the kitchen seemed to be trying to cook a fist-sized mound of ground beef on the highest heat. We sent them back to the kitchen.
We waited. And waited. A half hour later, two more burgers appeared. They were cooked exactly the same as the ones we'd just sent back. 
Then the manager – or maybe the owner – came over to our table.
"It's all my fault!" he said, and laughed heartily. Our table was not amused. After some back and forth with him, Canada and Bfast ended up ordering something else entirely since the burgers obviously weren't working out. (We weren't charged for the burgers on the final bill.) Of the two chicken dishes on the menu, Bfast asked our server for the chicken dish that did not have dairy in it. Of all of us at the table, Canada was the Upper West Sider who could have recommended a good new local restaurant to her friends – and the one that got the worst service.
Why hadn't they just put the original burgers back on the grill? "They should have just given you a hockey puck after you first sent the burgers back," ex-server J. Marciano advised.
"WWDMD?" we asked Lori G. – What would Danny Meyer do? She used to work for him. "Well, he definitely wouldn't make a joke of it."
At 10:40pm, nearly two hours after we'd sat down, the new entrees arrived. Canada's was fine. Bfast's supposedly-dairy-free chicken was stuffed with… a creamy mayonnaise sauce. She threw up out of the cab window on the way home.
And that was Cafe Tallulah!
Cafe Tallulah
240 Columbus Avenue at West 71st Street
Upper West Side
New York, NY
212-209-1055
cafetallulah.com