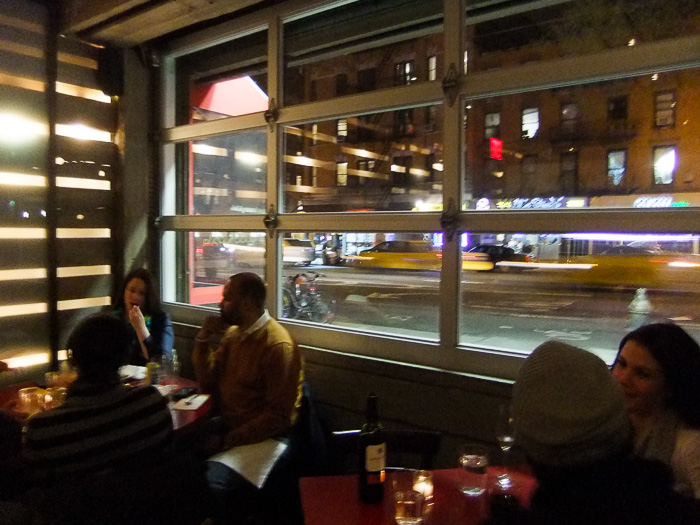 Txikito is too old to be trendy, too democratic to be a tough reservation. It's not as crowded and cramped as Tia Pol or as chichi as Boqueria. But it is one of the better tapas places in the city and one of the few reliable restaurants in far west Chelsea. So why hasn't everyone been here yet? 
There are many things to love at Txikito, like the boquerones that are a perfect example of the form: the delicate but intensely fishy marinated white anchovies, tempered by white bean puree, hard boiled egg and a sweet sliver of roasted pepper, that give way to the satisfying crunch of the crostino underneath.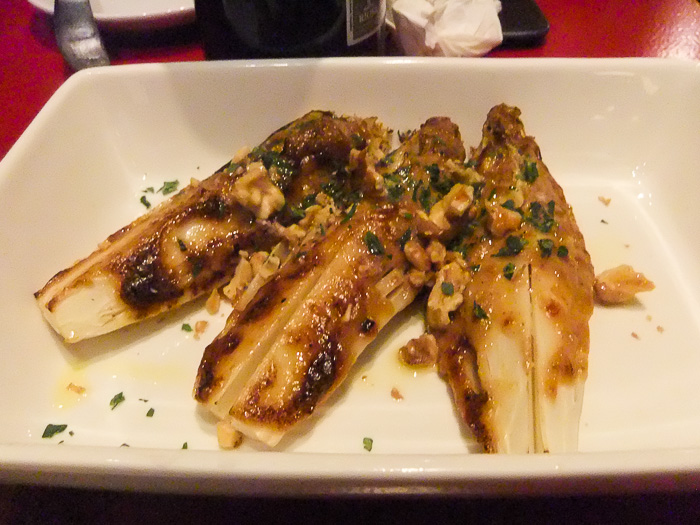 Endive salad here is a spin on a French classic in Basque form: grilled crisp wedges of endive dressed with blue cheese from the Basque region and scattered with walnuts.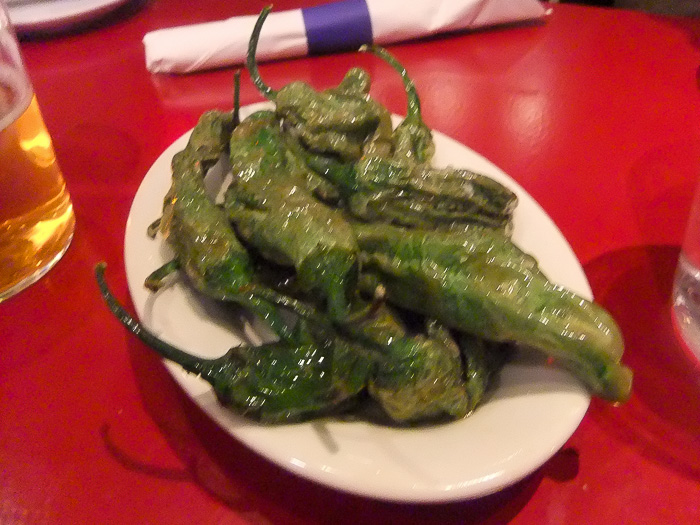 New Yorkers are lucky that blistered peppers – Shishito in Japanese cuisine, Gernika here – are appearing on menus everywhere now. Sweet, salty and occasionally quite spicy, they're always worth a gamble.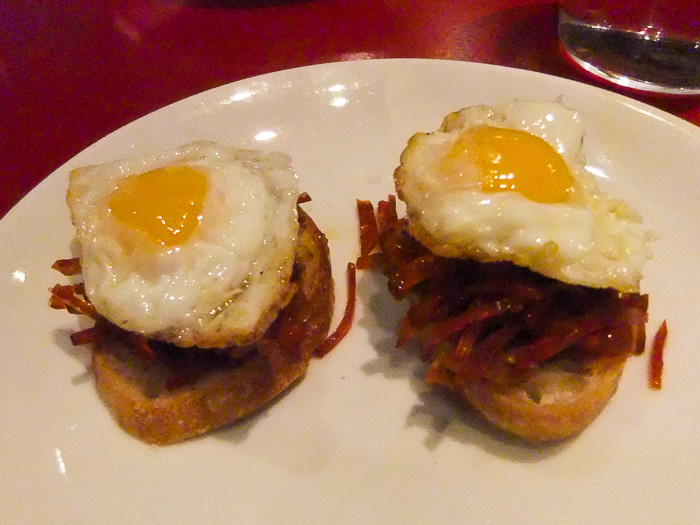 Do not skip the arraultza, the little bacon and egg sandwiches of Spain. They may be diminutive, but there's nothing small about the flavor of the little bites of top quality chorizo crumbled on spicy sofrito and topped with a lacy fried quail egg.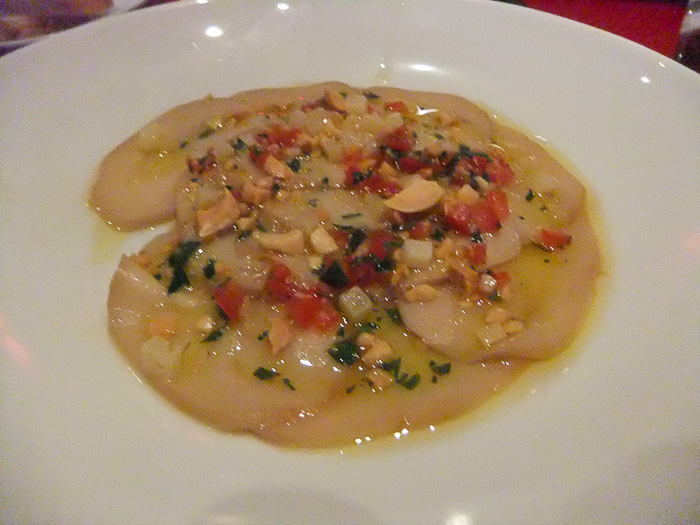 King oyster mushrooms are thinly sliced and laid out like sashimi, bathed in a garlicky olive oil dotted with tomatoes. On top is the surprising crunch of freshly roasted Marcona almonds.
Albondigas, lamb meatballs with mint, are another tapas classic presented exactly as they should be. These were in high demand at the table.
There are a couple of things I wouldn't order again, like the pochas, which turn out to be a rather bland soup of white beans with a few mussels marooned within.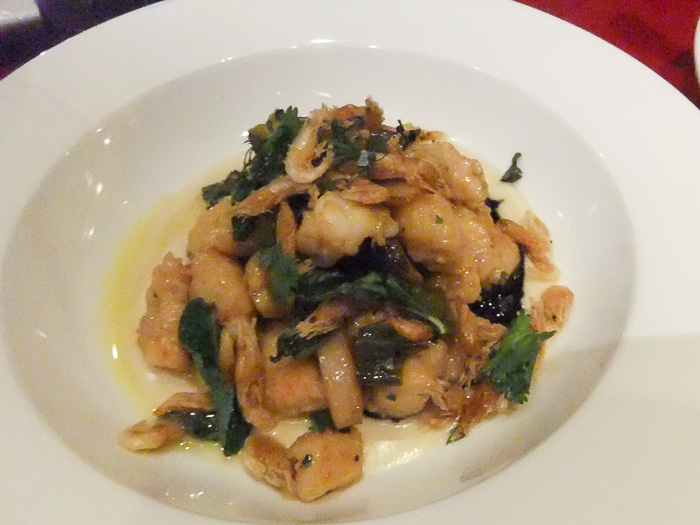 But the specials here can be quite special indeed, like the delicious jumble of fried baby squid. On another night, a special of roasted pork was wonderfully juicy, like an Italian porchetta.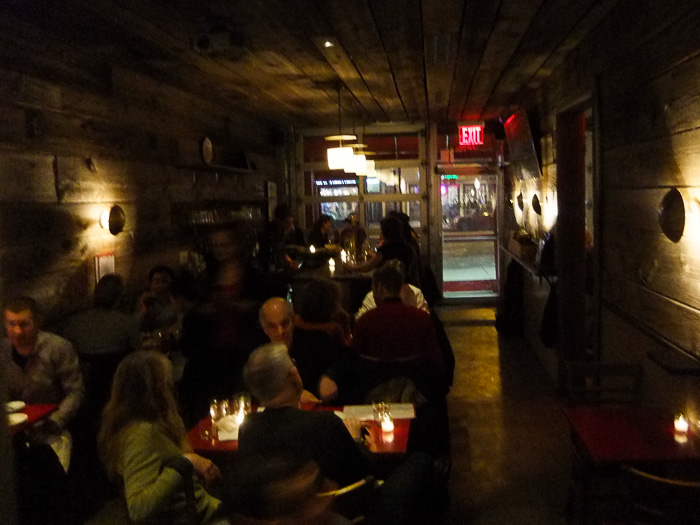 Other than the food, one of the best things about Txikito is the experience of eating here. As in Spain, things don't always happen quickly, but there's no jockeying for position, no wringing your hands over getting a table. They take reservations, but if you decide to just walk in, as we did on a Thursday night after the gallery openings, they'll take your cell number and call you when a table is open. (Use this time to hit Txikito's sister bar, El Quinto Pino, right around the corner.) Stress should not be part of the Mediterranean diet.
In Barcelona, the locals leave tapas restaurants that get featured in guidebooks to the tourists and go to the neighborhood place instead. If you want to do the same, Txikito is your place.
Txikito
240 Ninth Avenue between 24th and 25th Streets
Chelsea
New York, NY
212-242-4730
txikitonyc.com