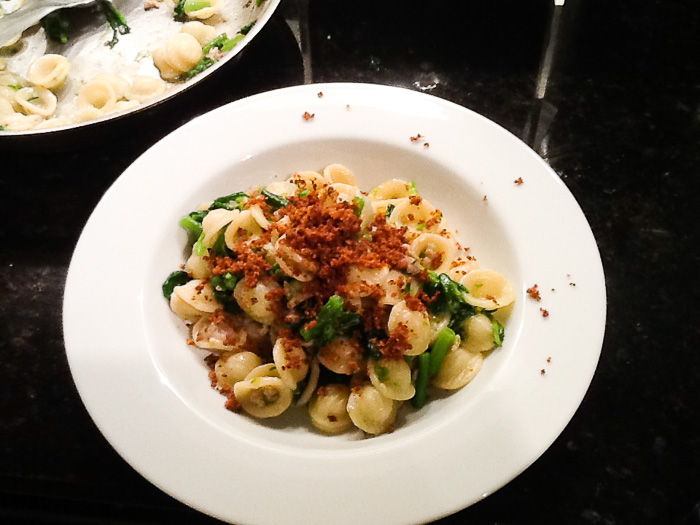 This weekend, the Mignorelli stall at the Union Square Greenmarket featured a sign that read:
Winter Over
Broccoli Rabe $3.50
I don't know if that's really the particular variety of broccoli rabe, but thank God this long New York winter is over. It's time to get cooking with one of the first non-root-vegetable vegetables to finally make an appearance at the markets. One dish we've seen at a lot of NYC restaurants recently is the Apuglia standard of orecchiette with broccoli rabe and sausage. Though it is often priced at $12 and up on menus, it's ridiculously easy and inexpensive to make at home.
This classic cucina povera pasta is adapted from an old Williams Sonoma recipe with one secret ingredient of my own: anchovies, the always reliable secret ingredient. And the resulting dish, chock full of greens and olive oil, is a tasty delivery method for the healthful Mediterranean diet.
Recipe: Orecchiette with Broccoli Rabe and Sausage
1/3 c. plus 1 tbsp. olive oil (not extra virgin)
1/2 c. plain dried bread crumbs
kosher salt
1 1/2 lb. broccoli rabe, trimmed
1 lb. dried orecchiette
4 garlic cloves, thinly sliced
3 anchovies, mashed into a paste
1/2 lb. Italian sweet sausage
red pepper flakes
1/2 c. grated Pecorino Romano cheese
Heat 1 tbsp. olive oil in a skillet over medium heat and add the bread crumbs. Stir until bread crumbs toast and darken, about 5 minutes. Scoop them out of the pan and set aside. Wipe any remaining crumbs out of the skillet with paper towels.
Meanwhile, season a large pot of water with a handful of kosher salt and bring to a boil. Blanch the broccoli rabe for 2-3 minutes until tender. Using tongs, take the broccoli rabe out of the pot and plunge into a bowl filled with ice water. When completely cool, take the broccoli rabe out of the ice water, wrap in paper towels and gently wring dry. Chop into 1-inch pieces and season lightly with salt to taste. Reserve the pot of water.
Heat the remaining 1/3 c. olive oil in a skillet over medium heat until hot. (It will seem like a lot of olive oil, but the olive oil is the sauce.) Add the garlic and swirl in the pan for a few seconds until it bubbles. Add the anchovies and a generous shake of red pepper flakes and stir. Slice open the sausages, turning the meat out of the casings and into the pan. Saute, chopping up the sausage into small bits with a wooden spoon, for about 7 minutes or until starting to brown.
Meanwhile, bring the large pot of water back to a boil and add the orecchiette. Cook for two minutes less than the package directions. Reserve 2 cups of pasta cooking water, drain the orecchiette or remove with a skimmer and add the pasta and 1 cup pasta water to the skillet. Stir and bring to a boil. Boil for 2 minutes, stirring, until orecchiette are cooked al dente. Add more pasta water as necessary to get the sauce the right consistency.
Take the skillet off the heat and stir in the grated pecorino. Serve the pasta in shallow bowls and sprinkle with toasted bread crumbs.
Serves 4.