CLOSED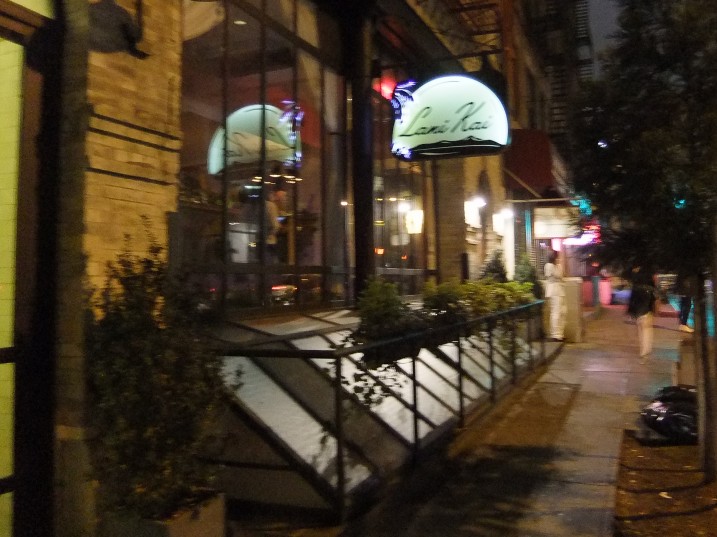 It's almost that time of year again – time for rum drinks, coconut-scented suntan lotion, the cool sting of salt water and the sleepy heat of the beach. But until you're actually lying on a stretch of sand as pretty as Lani Kai in Hawaii, there's a bar and restaurant by the same name right here in NYC where the drinks are garnished with flowers, the bartender's wearing a Hawaiian shirt, and the potted palms and pink blooms could be in the lobby of a tropical hotel far, far away. 
Julie Reiner (Pegu, the Clover Club), who grew up in Hawaii, originally opened Lani Kai mainly as a cocktail lounge, but it's gotten more attention for its food recently, after the arrival of chef Sawako Okochi, previously of Annisa. The extended menu riffs on the pan-Asian-yet-American melting pot that is Hawaii.
Lani Kai's version of tuna poke ($15) will remind you why tuna sashimi ended up on nearly every menu in New York. The glistening cubes of ahi tuna set on shiso leaves taste like cucumber water, and not just from the diced cucumber alongside. It's sophisticated and hard to share – because you won't want to give it up.
Fried oyster sliders ($10) have crunch, spicy mayo and a garnish of pickled ginger for an Asian twist.
The pork belly in a duo of pork buns ($8) is quite good, but the buns were cold and not quite squishy enough. Without this and a generous slathering of hoisin sauce, the whole thing didn't hang together as one delicious bite the way it should.
Which brought us to our first lesson here: the weirder a dish sounds, the better it usually is. So go out on a limb with an order of loco moco ($7), a native concoction usually served as a huge portion of rice and hamburger meat. Here it's been miniaturized as one petite round of rice, soft on the interior, a soccarat-esque crust without, a spiced beef patty and a quail egg. Pierce through all the layers and scoop up some of the demi glace sauce to taste it all in one delicious bite.
The Hawaiian street food okonomiyaki ($8), part of a pupu platter, is another winner. It's a mashup of fresh cabbage and bean spouts in kimchi pancake-like form. Nestled in the veggies are bits of housemade spam that act like the hidden ham hock that makes everything taste so much better. Bonito flakes and fish sauce add an extra dimension of flavor.
Fish sauce also an underlying flavor in the Chinese char siu baby back ribs ($13), which are fantastic. Lacquered with sweet and spicy Chinese BBQ sauce, the ribs are roasted until crispy without but still tender and chewy within, then garnished with macadamia nuts and scallions.
Smoked tuna ($10) may sound unusual, but it's like a wonderful little postcard from Japan. Cured and smoked in house, the tuna is achingly good, tangled up in Japanese sour plum and shiso and served on rice in a pool of kelp-based dashi broth.
Dishes that are usually crowd pleasers elsewhere fall flat here. The delicate fish in escabeche tacos ($10) is all but drowned out by an oddly creamy pineapple sauce. Too much creamy sauce also plagues the crab wontons ($8), stuffed with an unsuccessful combination of crab and mascarpone cheese.
Kalua pork ($20) may sound like a winner, but we couldn't really taste the smoke or the cheese in the smoked Berkshire pork with cheddar grits.
The exception to this rule is a dessert of mini doughnuts ($8). If Krispy Kreme doughnuts went to heaven and came back as doughnut holes, this is what you'd get. The doughnuts at Lani Kai are served warm and perfectly glazed with a caramel sauce that invites double dipping.
Like many menus now, Lani Kai's is tricky to navigate. We ended up ordering mostly the pupu platter and small plates. Theoretically this would have been good for sharing, but if you have more than three people at the table, it's better to order two of everything or you end up divvying up sliders and cubes of tuna. Also, though the small plates system may seem more "casual," it actually means the wait staff has to be even more on the ball than at a traditional restaurant, since there are more dishes to serve and clear. For the most part this went smoothly except for the clearing, when whole rib bones were left behind on the table.
Unlike many small plates restaurants, however, it didn't result in a hefty bill: the total came to about $65 per person, and we were stuffed. And if most jaunts to Hawaii were this gentle on the wallet, we would go there a lot more often.
Lani Kai
525 Broome Street, between Thompson and Sullivan Streets
Soho
New York, NY
646-596-8778
lanikainy.com