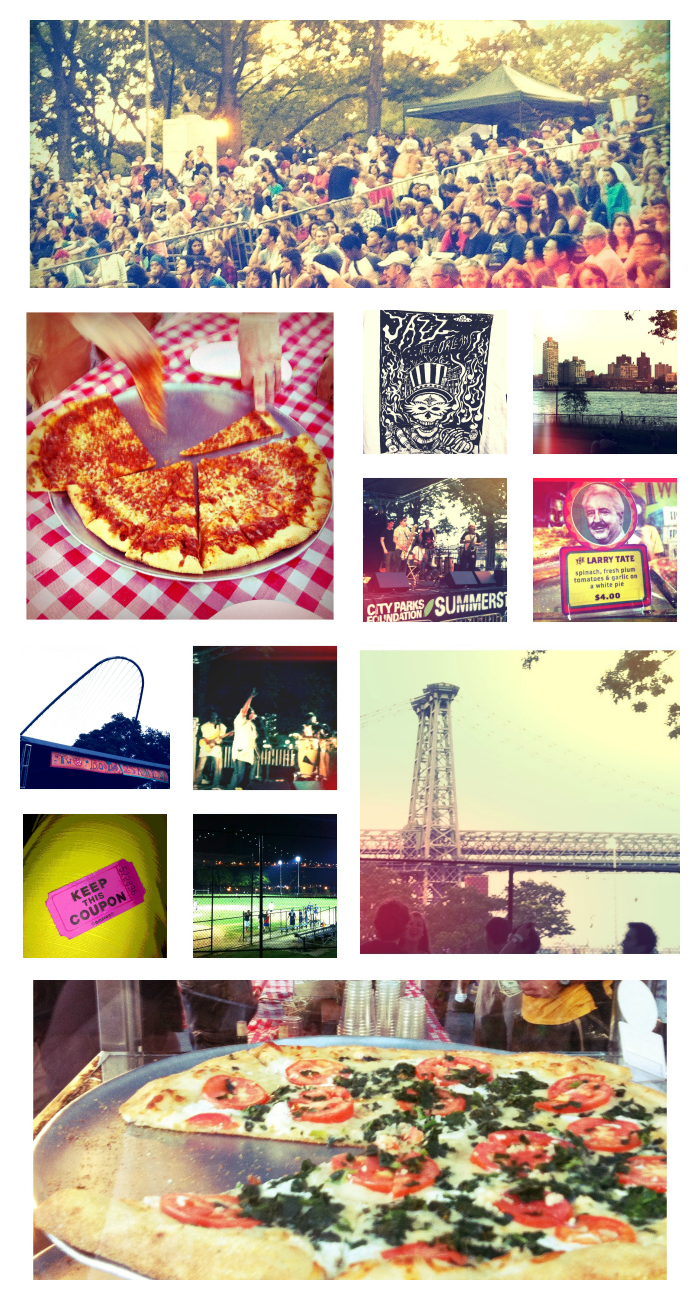 Last Thursday night, Two Boots Pizza celebrated 25 years in New York with a huge pizza party and free Summer Stage concert on the East River promenade. Their pizza, a mash-up of New Orleans flavors and Italian thin crust (thus the "two boots") has always been a favorite of mine. It may be hard to imagine now, but as recently as the early '90s in New York no one distinguished between Neapolitan or Roman pizza or talked about "cracker-like crust." There was just pizza. You had Ray's, John's, Patsy's, Lombardi's and your neighborhood slice joint, and they all served the same sort of pizza with varying degrees of quality and cheapness. 
Then Two Boots started expanding from Brooklyn throughout Manhattan (hardly anyone went to Brooklyn to eat then), and life changed. Suddenly you could have not just pepperoni pie, but sopressata and sweet Italian sausage on a white pie ("the Newman"). It was mind-blowing. A white pie?! The "Larry Tate," made with mozzarella, ricotta, tomatoes, spinach, and a generous amount of garlic, was downright healthy compared to anything else coming out of a pizza parlor at the time. Vegetarians rejoiced. Of course, if you really wanted to indulge, there was also "the Dude," the Cajun bacon cheeseburger pie worthy of Jeff Bridges' character from the Coen brothers' classic. BYO white Russian.
But it may be the secret sauce that has helped Two Boots multiply and prosper throughout the years. Theirs is tomato mixed with Cajun spices that give it an extra level of heat. At Thursday's party, which was open to the public, the crowd went through 100 boxes of free cheese pizza from Two Boots. Now that's the food of the people.
For a full list of Two Boots locations, visit twoboots.com.
Instagram photos, clockwise from top: the crowd at the East River Amphitheater, New Orleans Jazz T-shirt, view of the East River, the Larry Tate sign, Mamarazzi performs, under the Williamsburg Bridge, the Larry Tate pizza, raffle ticket, East River Amphitheater, Sierra Leone Refugee All Stars perform, night baseball in the East River Park, and the free cheese pizza. 
For up-to-the-minute Gastro Chic updates, follow me on Twitter!