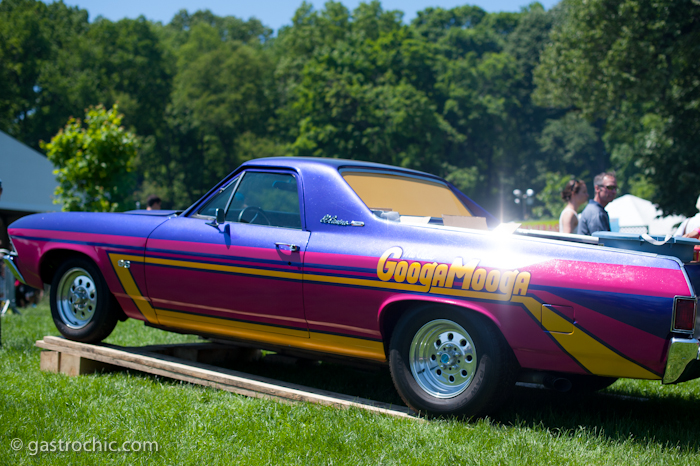 I headed to the Great Googa Mooga this weekend with the intention of live tweeting and Instagramming every second of it. This was going to be fun! A huge food and wine festival in Prospect Park, the likes of which New York had never seen before. What could go wrong? 
The Great Googa Mooga came about when Superfly founder and Bonnaroo creator Jon Mayers, sitting second from left, inspired by New Orleans' Jazz Fest, decided to create "an amusement park of food and drink." The end product reflects that in every detail of the design: the food booths have carnival tent-shaped tops, the wine and beer tents are swathed with colorful stripes of fabric, even the fonts conjure up old timey state fairs. Remember when that traveling amusement park came to town once a summer? That's the Great Googa Mooga, but for grown ups.
Walking around the grounds, it was hard not to be impressed by the massive scale of this undertaking. Somehow Mayers managed to cordon off acres and acres of Prospect Park for an entire weekend with the purpose of playing loud music and serving alcoholic beverages. How did this ever get through? Mayers, who lives in Manhattan, persevered, taking a "patiently aggressive" approach to dealing with the city. It took 11 years, but it happened.
There was time for coffee before the whole shebang started: an excellent, nutmeg-scented iced latte from the Third Rail.
Some of the key players seemed just as excited for the festival as the concertgoers. At a press conference, chef Eddie Huang of Baohaus waxed poetic about the beauty of Prospect Park: "The grass out here is ill. I haven't seen grass like this in fuck long."
So why the confluence of food and music for this festival? As anyone who's ever seen Mario Batali at the Bowery Ballroom at about 1am can testify, the two tastes just go together. Ben Jaffe of New Orleans' Preservation Hall Jazz Band explained: "When we play the last notes, the chefs are usually the last ones out the door."
So you have the food, the wine, the beer, the entertainment. The last ingredient was the people – and there would be an estimated 40,000 of them over the course of two days.
It was after noon, and therefore time for a beer. I did what you always do when you want a beer at an outdoor concert: got in line. But this particular line seemed to be moving so slowly, barely inching forward. The sun beat down. I tried to tweet something, only to find that I had no AT&T service in this particular glen of Prospect Park's Nethermead, which would be a recurring AT&T problem for the whole weekend. There was nothing to do but wait. And wait.
At the front of the line, 40 minutes later, the cause was clear: these were not seasoned stadium hands slinging beer at the rate of one per minute but amateurs who seemed to have no experience dealing with a sudden, massive onslaught of beer-thirsty customers. The volunteer staff was super nice but painfully slow. At least they had a crisp Blue Moon Belgian White for sale, perfect for a blazing hot day.
By now it was after 1pm, and I really wanted to see Paul Grieco's Beer vs. Wine talk, publicized both in the press and on the Googa Mooga app. But a gatekeeper at the Extra Mooga entrance said that only VIP ticket holders could attend this event. This was an unpleasant surprise, since Grieco, April Bloomfield and Anthony Bourdain were all scheduled to speak in this area. I can see the necessity of buying the $250 VIP package to get unlimited free drinks and food (and no lines), but to hear the most interesting lectures? This seemed unnecessarily exclusive.
When the going gets tough, the tough drown their sorrows in fried chicken. Huang's description of Baohaus' General Loko Fried Chicken Bao sounded so good that I had to have one. Dressed with spicy Szechuan sauce encased in a soft and sweet rice bun, this fried chicken was one of the best things at the festival. Wait time: about 20 minutes.
As I was waiting in line, I saw several other appealing food options walk by me and had to try one of those as well. The pork and cheese pupusa from Red Hook's El Olomega was a big helping of delicious masa-based fried bread topped with crema. Wait time: 5 minutes. Throughout the festival, the bigger names attracted long lines, but you could easily avoid these by forgoing the trendy food booths for some of their equally good neighbors. Unless, like me, you were stubbornly determined to try the most buzzed-about food.
Around this time, the music started up with a catchy old R&B song on the sound system, "the Great Googa Mooga." Turns out this term is actually the title of a Lee Dorsey song and vintage DJ slang for "holy cow."
Then the Preservation Hall Jazz Band started playing an excellent set on the huge Nethermead stage. There would have been more people jamming out right in front of them, but unfortunately, most people were waiting in line.
After this act, it was time for wine. But in order to buy wine from the big wine tent with dozens of selections, I needed "Googa Moula" tickets, and there was a line for those. A line that lasted 40 minutes. I still remember waiting in line for Space Mountain years ago. It seemed to take hours. Kids were getting cranky. Some started to whine and cry. That's pretty much what happened at this amusement park when we all queued up to buy these tickets. I can understand the organizers' rationale: create a barter system for drinks. Until you realize we already have a barter system for drinks. It's called cash.
Finally, with a glass of Paul Grieco's Summer of Riesling 2008 Cave Spring Riesling in hand, I waited for a pulled pork sandwich in the Hamaggedon section of Googa Mooga while jamming out to the excellent Van Halen cover band Unchained. "This is the part where the badass light show happens," they said to the first few chords of a rock ballad as they performed in bright daylight.
As it turns out, riesling pairs wonderfully with a pulled pork sandwich, bringing out all the smoky goodness in Dinosaur's famous barbecue pork.
I waited for the Q train with a $2 plastic wineglass and $60 worth of Googa Moula tickets hoarded away in my bag, looked down at my arm and realized I was sunburned only on the right side of my body – the side that had been facing the sun during the epic ticket line.
The next day at Googa Mooga began with the joyous news that they had abandoned the drink ticket system, thus enabling customers to buy their drinks with cold hard cash. Hallelujah! This called for a glass of Ungespundet Mahrs Brau and Craft's Dirty Duck hot dog. Wait time: less than 5 minutes.
At Urbarn, a red steel barn-shaped structure in the middle of Prospect Park, chef Adam Kaye of Blue Hill Farm was giving a demonstration on how to make sausage. The audience was, well, a sausage fest of guys fascinated by sausage.
After an excellent and thorough demonstation with plenty of sausage humor – we learned that the manufacturer of most professional sausage equipment is "F. Dick," and you finish the sausages by going over them with a "sausage pricker" – Kaye got a rousing round of applause and hoots and hollers when he held up the finished links. That is real food enthusiasm.
It was time to eat – again. This time I headed over to Luke's Lobster for a lobster roll ($15). Wait time: 35 minutes.
The reason for this wait was a good one: the Luke's Lobster staff was taking the time to griddle the buns before stuffing them, thus ensuring that perfect equilibrium between buttery, crispy, warm buns and cool lobster salad.
The lobster roll was delicious and even better with a glass of rose from the standalone CaVino booth, which had no wait time.
Yet, I could still eat more, and waited in line for 20 minutes for yet another buzz-worthy item, the Colicchio & Sons pork belly tacos ($7 for one). These were somewhat underwhelming. Though the meat itself was excellent, the taco could have used more sauce and spice. Also, I lost a large cube of meat from the $7 taco while waiting in line for beer in the beer tent, attempting yet again to have food and drink in my hands at the same time.
The organizers must have booked the band Escort long before Donna Summer died, but their disco-esque music was a perfect tribute to the late singer. During one particularly magical moment, they launched into a danceable cover of "Bad Girls."
Meanwhile, there was the as-yet-unexplored Marketplace of food.
I stopped by and sampled some gluten-free bread made by my friend Karen Freer and Gabriel Davis.
Free Bread's cheesy, flavorful "Jalaa!" jalapeno bread rolls were so satisfying, it was hard to believe they were gluten-free. "Thank God there's something gluten-free here," one Googa Mooga guest said. Free Bread will be coming to the Hester Street fair in coming weeks if you'd like to try some yourself.
Everything I'd eaten so far at Googa Mooga was pretty normal, however, compared to the Do or Dine foie gras doughnut that came next. That's right: it's a doughnut filled with foie gras and strawberry jam, and it tasted just as decadent as it sounds. Halfway through the doughnut, I hit a wall and had to throw the rest away. So good, but just so OTT.
This sacrifice was partly to save room for Roberta's pizza. I had a friend joining me in 45 minutes and figured I could get an 8-inch pizza to share with her. So I waited in line (35 minutes) and made friends while waiting in line, as happened a lot at Googa Mooga. At the end of the line was a truck equipped with a huge wood-burning oven and an assembly line of pizza makers. Somehow Roberta's managed to make the ideal margarita pizza in this makeshift space.
I ate half of it, then sneaked another slice. But if I at all of it before my friend arrived, she would never know right? At least that's what I'm hoping.
The sounds of Led Zeppelin emanated from Hamageddon, but it wasn't Led Zeppelin but Lez Zeppelin, the female cover band. They had the hair, and they were rocking.
About 50 yards away, a pig turned on a spit as theatrical flames shot out the side of the huge metal Hamageddon pig roaster.
At last the final act: Hall & Oates. I'm not going to say Hall & Oates was the first album I ever bought, but it might have been the first album I ever bought. My friend and I rushed across a field to the sounds of "Maneater." Even though most of the people at the show were probably born after Hall & Oates originally broke up, the band's 80s top hits turned out to be immensely popular, inspiring a lot of clapping, dancing and general ridiculousness.
The sun was setting and the clouds were rolling in, bringing an end to the beautiful weekend. Then on the horizon: firecrackers. The cake sculpture that had been sitting innocently in the middle of the Googa Mooga grounds throughout was actually a massive Roman candle, spewing out a surprise fireworks display as the evening wound to a close.
The Great Googa Mooga: Maybe it didn't start out great, but it sure ended that way. And think of the upside if you didn't make it there this weekend: by now they have the kinks all worked out for next year.