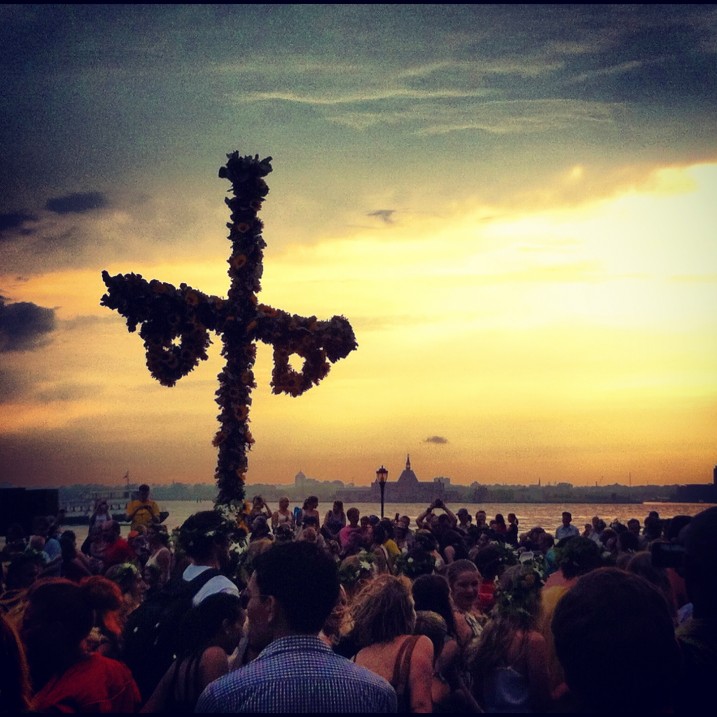 Every year the Swedish Embassy takes over a slice of Battery Park for a huge midsummer festival complete with a maypole, Swedish folk band, dancing, Swedish meatballs, pickled herring, and aquavit. Even if you aren't remotely Swedish, it's worth heading down here on the Friday of the solstice to toast to the longest day of the year. 
What you will need: a picnic blanket and rain gear. As representatives from the Swedish Embassy ruefully admitted at the festival, it rains nearly every year, so come prepared with a raincoat and umbrella. This year it absolutely poured from 6 to 6:30, soaking all the guests, but cleared up in time for a beautiful sunset.
It's best to arrive at 5pm when the festival begins to stake out some space. Friends can come and go as they please, either bringing food and wine (disguised as something else) or partaking of the several food and drinks booths available.
Head wreaths made of flowers are the traditional topper for a Swedish midsummer party. The embassy and a Swedish women's organization supplied free ivy, flowers, and expertise for anyone who wanted to make a wreath. N.B. this means men too.
There are games for kids, like the traditional tug of war, which happens on the north lawn with views of the Statue of Liberty.
On the other lawn in front of Gigino's, costumed dancers and a Swedish folk band get ready for the raising of the maypole. Yes, it's a fertility symbol.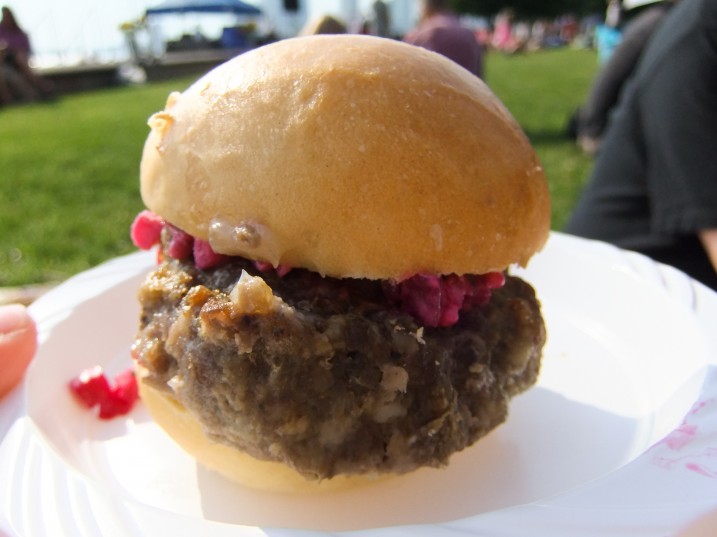 A spiced burger garnished with pickled rhubarb from Marcus Samuelsson's Red Rooster Harlem. Smorgas Chef and Crepe du Nord also had food booths at the party.
But special honors go to Gigino of Wagner Park, the usually Italian restaurant that cooked up a huge spread of excellent Swedish food for $13 or $15 a plate, including roasted vegetables, potato salad, Swedish meatballs, pickled herring and salmon, and smoked salmon with horseradish sauce and dill.
All's well that ends well: The party wrapped up with a beautiful sunset over Jersey City on the horizon.
Swedish Midsummer Festival
5-9pm on the Friday of the summer solstice
Robert Wagner Park
swedenabroad.com/en-GB/Embassies/New-York/