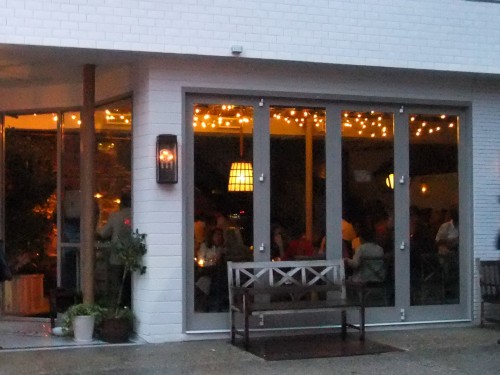 In any other town – even in other parts of New York City – it would be a sad tale of recession-era urban blight: a decades-old family business burns down, leaving a blackened shell of a building that sits empty for years.
But not here. When Village Paper burned down over a year ago and the owners relocated to 8th Street, several restauranteurs started vying for the burned out shell of a building on a prime West Village corner, only to be rejected by Community Board 2. You'd think the community would be thrilled to be rid of a burned out shell of a building, but no.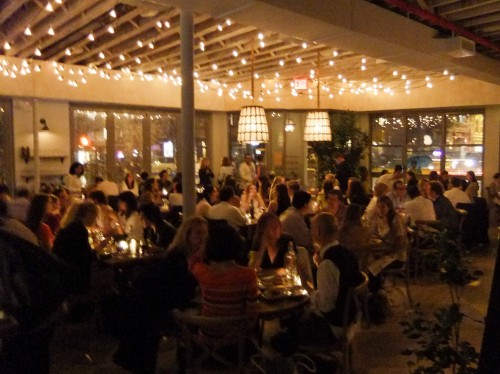 But Carlos Suarez, the restauranteur behind Bobo, persevered and won approval for a beer and wine license for new restaurant Rosemary's. The result is a beautiful space on the sleek side of urban rustic. The floors are terracotta, the ceilings unfinished wood planks festooned with string lights that give the dining room an outdoor garden feel, even with the windows shut to the outside on a rainy night.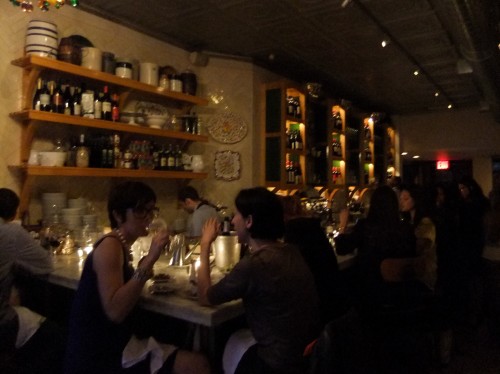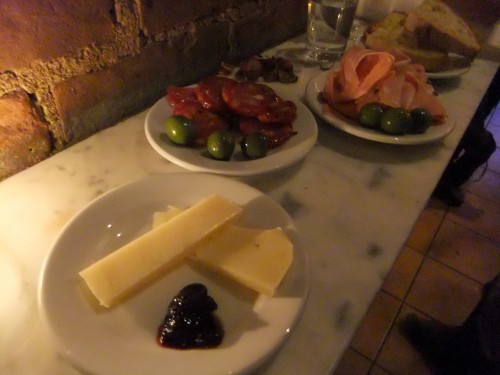 We were faced with a wait of over an hour – not surprising considering we put our names down at 8 o'clock – but whiled away the time with salumi and lambrusco at Gottino, pictured above, a few doors down. I recommend this strategy if you find yourself with time to spare, which is likely to be the case at a restaurant that doesn't take reservations.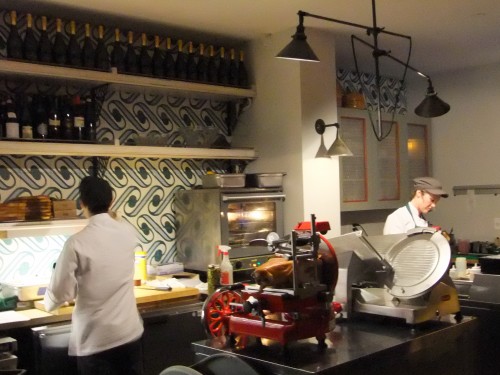 When we returned to Rosemary's an hour later, the bar area was just as full, but at least it was spacious, with several tables and a long counter for sampling one of two dozen wines by the glass or nine types of beer. Rosemary's has a clever pricing system that brings all these wines in at $10 a glass, $40 a bottle, plus a reserve wine list with an even bigger range of bottles. We particularly liked the glasses of 2008 Renato Ratti nebbiolo d'Alba and the 2010 Le Corte primitivo.
One selling point for Rosemary's with CB2 was their rooftop garden, which they intend to use not just to feed customers but to educate the kids at nearby P.S. 41. You can go up the metal staircase that runs up one side of the room and take a look at it yourself, but be forewarned it will give almost all urban gardeners an inferiority complex. Rows and rows of fresh vegetables and herbs are packed onto a space only as big as the dining room, growing enough produce to feed a village.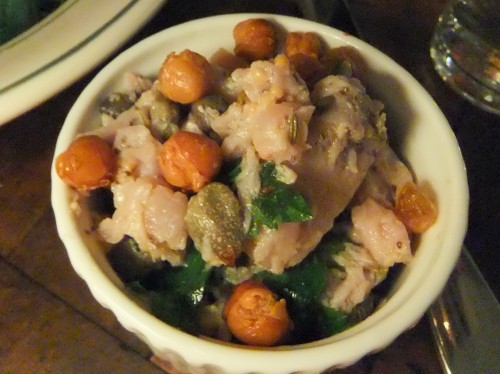 Half of the menu is devoted to antipasti, which means the number of actual appetizers and mains is somewhat limited. Perhaps Suarez anticipated the wait at dinnertime and came up with a way to feed the crowds. But Rosemary's antipasti are based on whatever's in season on the rooftop above, so along with the usual salumi and cheeses, you'll find eggplant caponata and just-picked radishes. Mainstays like preserved tuna ($8) come mixed with aromatic fresh parsley, olives, good-quality capers and chickpeas fried to give the whole dish some crunch.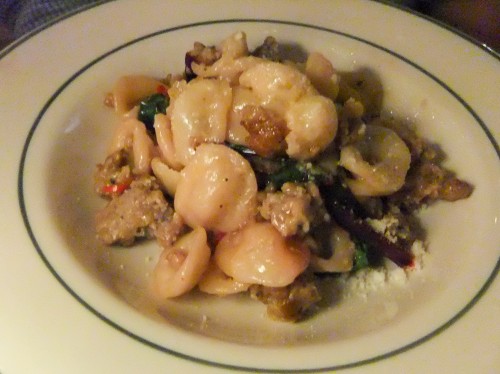 One of the issues with Bobo has been the inconsistency in the kitchen. From year to year the menu and kitchen staff changed completely, so you never knew what you were getting. But at Rosemary's Suarez has hired chef Wade Moises of Eataly and Babbo, bringing in a familiar style of Italian cuisine with an avid fan base. You can sense the master hand of Batali in those preserved fish antipasti, so much like the ones at Otto, and in the handmade orecchiete ($14) with sweet Italian sausage nestled in the little ears of pasta amid a broth-based sauce and a tangle of wilted greens like fennel.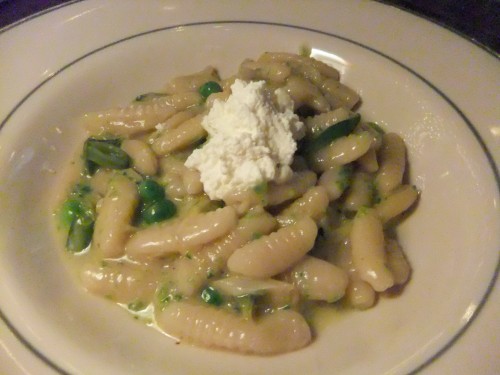 The cavatelli ($14), another pasta made in house, gets the greatest-hits-of-rustic-Italian combo of slightly sweet, fresh ricotta, just-shelled peas and mint. It's an old hit that works every time.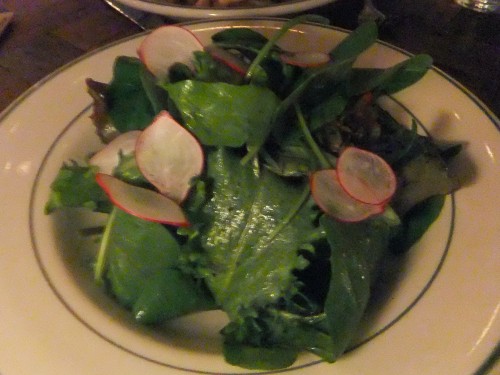 More unusual is an herb salad that was just picked hours ago. Any New Yorker who has envied Californians their fresh produce will find solace in the bright flavors of sweet baby spinach, peppery arugula, bitter chicory and thinly shaved radishes, all just harvested from the garden upstairs.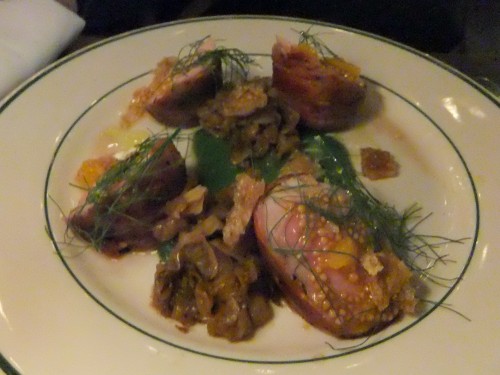 The hand of Batali was again evident in the utter richness and succulence of porchettina ($22) braised until just pink, slathered with fresh mustard seeds, more fennel and pan juices. This is not seasonal cooking for the wimpy of palate.
One downfall of the seasonal aspect: if you don't like fennel and fennel's in season, it may be hard to navigate around it, since certain ingredients can pop up almost everywhere. As a hater of truffles in autumn and pretty much any time of year, I can feel diners' pain. Another downfall – there's no bread service here, no matter how starving you may be when you finally sit down. An Italian restaurant without bread and olive oil? Non esiste. At least service is quite smooth even in the first week of business, even if they aren't bringing any bread to the table.
The charm of the room can also be ruined by the closeness of other diners, since the two-tops are set quite close to each other. Hell is other couples, especially when they are breaking up at the table next to yours.
Perhaps New Yorkers have reached a point where we bicker about who gets to spend hundreds of thousands of dollars to repair an eyesore of a building, but we should still agree on one thing: when it comes to breakup dinners, save your time and money and book a table at Pomodoro instead. Pretty new restaurants like Rosemary's are for the romantics.
Rosemary's
18 Greenwich Avenue at West 10th Street
West Village, New York
212-647-1818
rosemarysnyc.com
No reservations.
Gottino
52 Greenwich Avenue, between W. 10th and W. 11th Streets
West Village, New York
212-633-2590
ilmiogottino.com