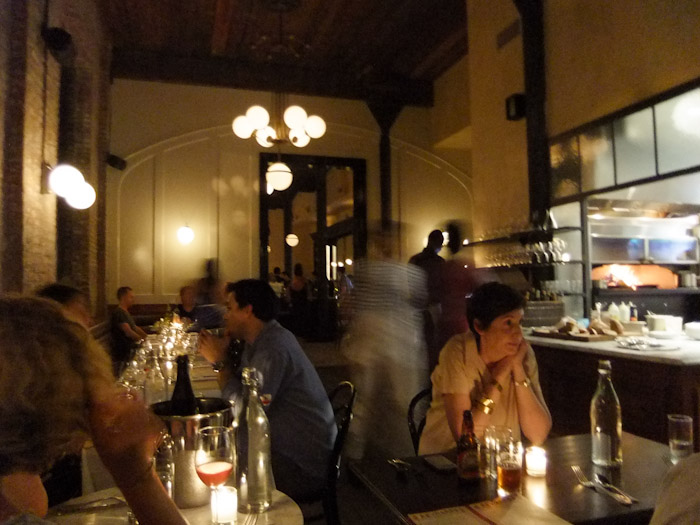 Reynard is the latest farm-to-table-in-a-chichi-setting restaurant to hit the city, this time by Marlow & Sons chef Sean Rembold and his partner Andrew Tarlow. The new spot in the Wythe Hotel in Williamsburg got some flak for being too slick and sceney, but the vibe here feels positively organic compared to the hyper-branded, focus-grouped type of restaurant that seems to be colonizing Manhattan.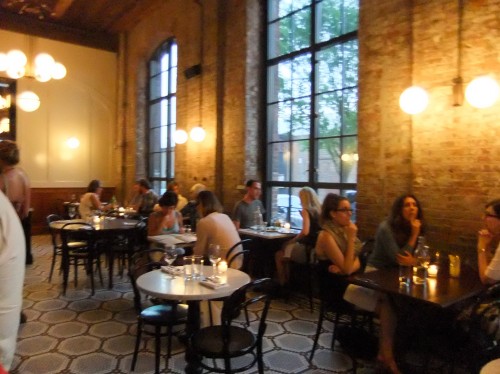 For one thing, you can breathe at Reynard (formerly Reynard's). Walk into the large bar and front dining area with a beautiful tiled floor and soaring windows and spin around. There's plenty of room. They take reservations, and you can even sit down for a drink at the bar, which is not reserved for diners only. What a concept! You may, however, have some trouble getting one of the classic cocktails like the salty dog ($11), as I did, if the bartender's missing and the barback is busy chatting up the regulars.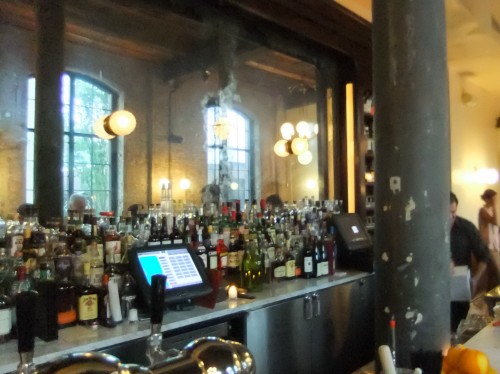 Once we sat down, our server had a lot of explaining to do. The menu changes every night, and dishes are listed cryptically with such descriptions as "Peach Salad – 13." So for every item we considered ordering, we needed the full description from our server, who had memorized everything about the day's dishes and relayed every detail with Shakespearean fluency. Why doesn't Reynard just list the item descriptions on each day's newly printed menu? Perhaps this would have been too easy on both the servers and the diners.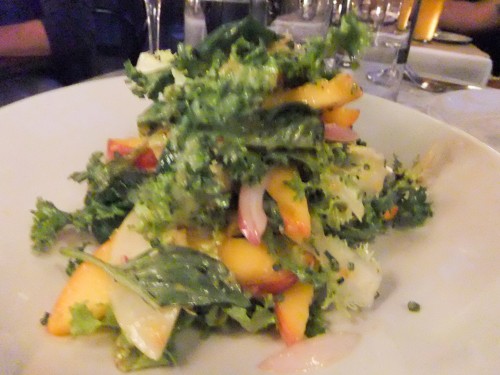 The peach salad turned out to be made with perfectly ripe, luscious fruit dressed in a creamy peach dressing amid a tangle of kale. I tried to discount the kale part when ordering but had to come face to face with raw kale when eating, since many of the salads contained it that night. For me it is the vegetable of punishment and austerity, and I have about the same love for it as the Greeks do for Angela Merkel. Maybe I wouldn't have ordered this salad if I could keep all the descriptions of the appetizers straight, but eventually I just succumbed to general confusion and ordered it anyway.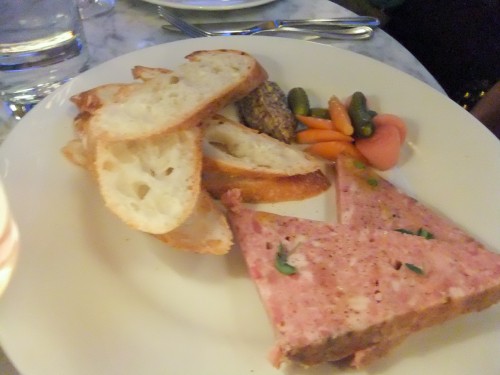 Luckily there was nothing punishing about the slabs of meaty country pork terrine ($10) perfumed with white wine and served at just the right temperature with some crusty bread. This appetizer is one of six dishes on the "All Day" menu that remains constant no matter what happens to be at the Greenmarket.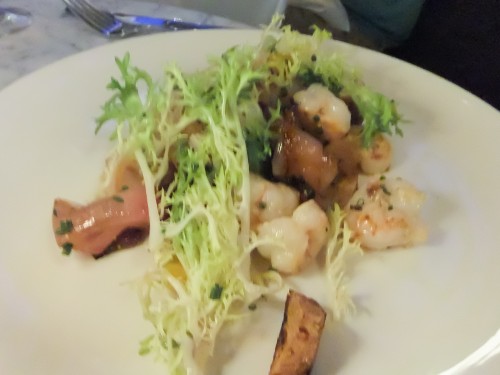 The Southern Belle fared well with an appetizer of plump, buttery rock shrimp with gooseberries ($15), a reinterpretation of an entree she'd had that weekend at Reynard. If you ever see anything familiar that you like on the menu, seize upon it and don't let go, because everything else is a question mark. Unfortunately one dish that she particularly liked that past weekend, a succulent roast duck leg, had disappeared, so we forged on to new territory.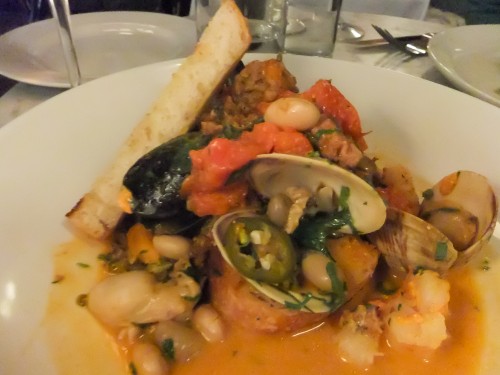 I had been looking forward to the duck but did a 180 and got a dish listed as "seafood, sausage, romesco – 21" and recommended to us by our server. This decadent stew, chock full of shrimp, mussels, clams and oysters, was like a Spanish-inflected bouillabaisse. Pork sausage seasoned with cumin and oregano flavored the broth, and the romesco sauce added a nutty, spicy top note.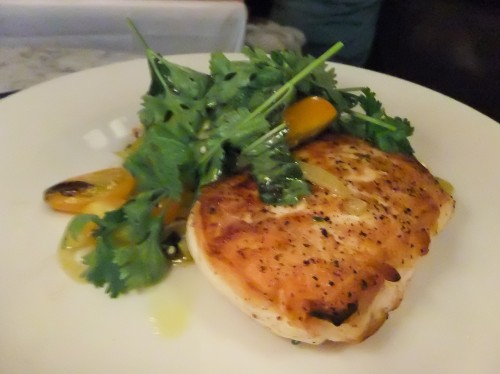 A crisp, buttery filet of halibut ($27) was unfortunately overcooked. But the pearly grain salad dotted with okra alongside almost made up for it.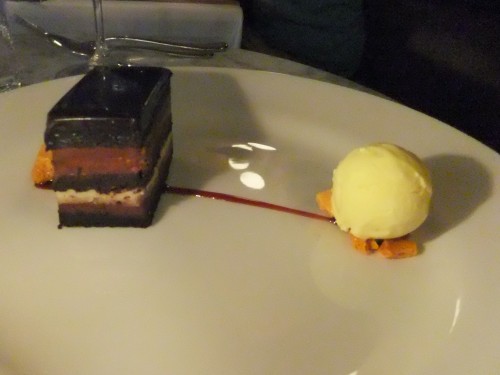 Dessert, a chocolate layer cake, was prettily presented but tasted disappointingly generic compared to the rest of the menu. It reminded me of Whole Foods.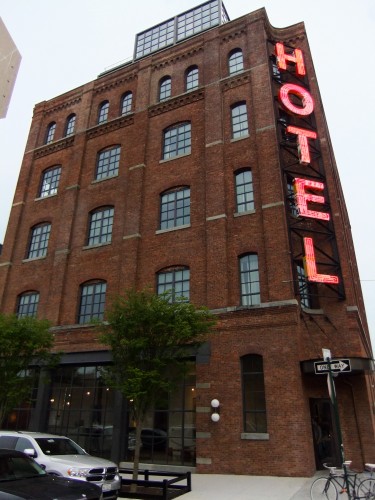 As a creature of habit, I have to say I am somewhat biased against places where the menu changes completely every night, as at another Williamsburg farm-to-table place, Allswell. I like being able to know what to order when I get somewhere and return later to reorder something I liked rather than guess wildly. But I didn't leave with a bad taste in my mouth: Reynard straddles the line between chic and comfortable, and the prices here are reasonable. It's altogether a pleasant place to be – someplace that feels both with it and away from it all.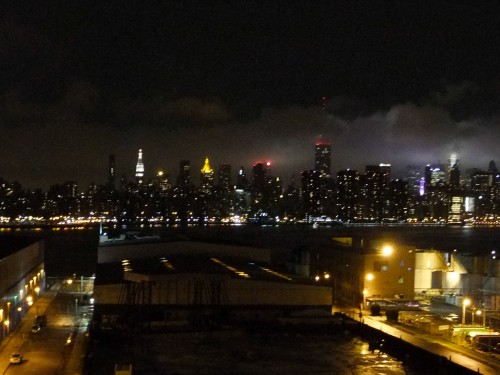 Oh yeah – and attention scenesters: if you dine at Reynard, you won't have any problem getting into the hot rooftop bar above in the Wythe Hotel with great views. So come on in and eat a little.
Reynard at the Wythe Hotel
80 Wythe Avenue at N. 11th Street
Williamsburg
Brooklyn, NY
718-460-8000
wythehotel.com
Reservations accepted.