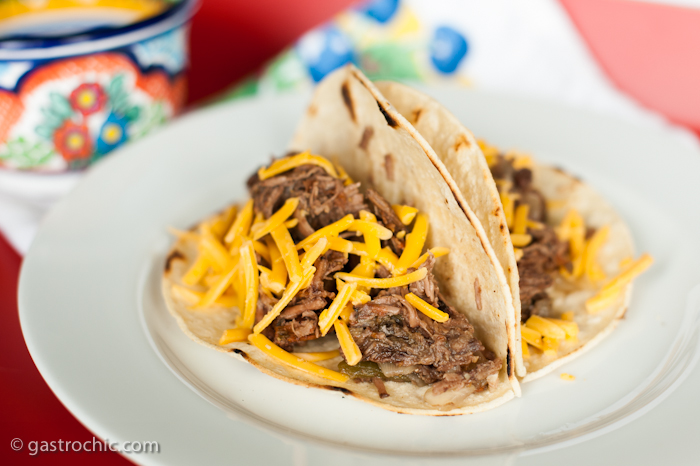 I've been craving homemade tacos ever since Tanya Steel, former model and EIC of Epicurious and Gourmet Live, told Fashion Week Daily that her favorite Epicurious recipe is this one for pork tacos made in a slow cooker. When five friends were coming over for dinner, the opportunity presented itself to cook up a whole slew of tacos. But true confession: I really love Chipotle's beef barbacoa tacos. Surely there had to be a way to make this style of tacos in a slow cooker to make the whole dinner less of a hassle.
I took a recipe from California's Café Pasqual and merged it with the Epicurious version. You can put the beef in the slow cooker before leaving for work in the morning and finish it when you get home, or even make the whole thing a day ahead of time. Either way, it's set it and forget it. 
Recipe: Slow-Cooker Beef Barbacoa Tacos
2 tsp. thyme
2 tsp. cumin
1 tsp. Mexican oregano
1 tsp. kosher salt
1/2 tsp. freshly ground black pepper
1 4-5 lb. beef chuck pot roast
2 large onions, diced
2 large tomatoes, cored and diced
4 cloves garlic, minced
3 jalapenos, cored, seeded and diced
2 bay leaves
1/2 c. chicken stock
1/4 c. lime juice
2 tbsp. white wine vinegar
4 oz. cheddar cheese
1/2 head romaine lettuce
6-inch soft corn tortillas
fresh salsa
roasted habanero salsa
Mix the spices, salt and pepper together and roll the beef roast in the mixture to coat. Place it in a slow cooker, top with the chopped vegetables, then pour over the chicken stock, lime juice and vinegar. Cover and cook on the low setting of the slow cooker for six hours without disturbing.
When the beef is done, skim off the fat that has risen to the surface. Remove the roast and set aside. Pour the remaining broth and vegetables through a strainer into a bowl; reserve the vegetable mixture and discard the bay leaves.
In a large saucepan over high heat, boil the broth until it is reduced to 1 cup, about 25 minutes. Meanwhile, shred the beef with your hands into bite-size strips. Put in a bowl and mix in the cooked vegetables. Mix in the reduced broth and season with salt to taste. Return the mixture to the saucepan, cover and keep warm. (You can stop at this point and refrigerate the beef mixture for a day if desired.)
Just before serving, preheat the oven to 200 degrees. Using a food processor, grate the cheese and shred the lettuce. Heat a small frying pan over medium-high heat and griddle the tortillas one by one until brown spots appear on each side, keeping them warm in the oven as you go. Alternately, microwave the whole stack of tortillas under a damp paper towel.
Serve as a buffet: tortillas in a covered dish, plus separate dishes of beef barbacoa, lettuce, cheese, and fresh and hot salsas. Let your guests assemble their own tacos.
Serves 8-10.