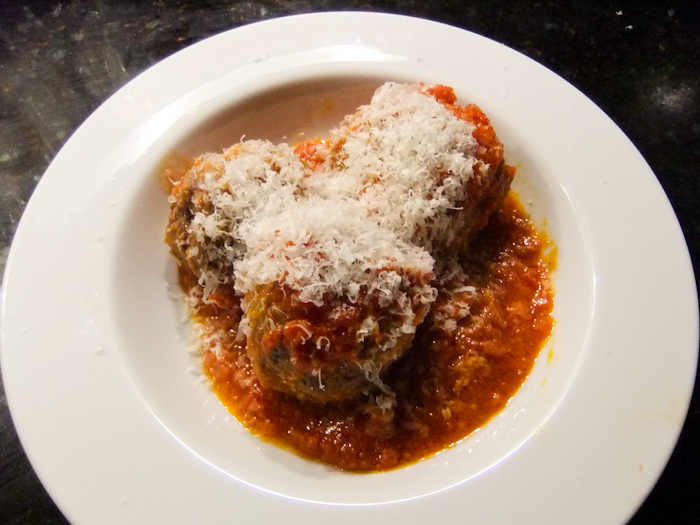 Recently I've been fascinated by the Meatball Shop. I've never actually eaten there, because there's always a line out the door, and every time the owners open a new branch, an additional line forms out of an additional door, with no impact on still crowded original Meatball Shop. And they don't take reservations, which to me is not a comforting quality for a comfort food place. Still. The place is insanely popular.
What is it about meatballs? Why are they so craveable, so nearly universally likeable? And though Italian, so American? Italians in Italy don't care nearly as much about meatballs as we do. I'm not Italian-American, but I like the idea of eating meatballs at home, Sunday dinner style. But they have to be the right meatballs: not too fancy, not too plain. An Italian-American friend made them for me once with seltzer water and seasoned bread crumbs. They had to be the kind of bread crumbs sold in a can.
When trying to recreate this dish, I wanted to use seltzer water, which makes the meatballs light and airy, but couldn't justify using bread crumbs from a can when there are so many good fresh bread crumbs available now. Nor did I want to go the bread-soaked-in-milk route: that's too fancy. How to combine the best of old-school techniques with the best of new-school fresh ingredients? This is the recipe I came up with, based on recipes by the Franks of Frankies Spuntino and somebody's Aunt Fannie, who gave her recipe to the Food Network.
Recipe: Meatballs with Sunday Sauce
For the sauce:
6 cloves garlic
2 cans whole peeled San Marzano tomatoes
1/2 c. olive oil
1/4 tsp. red pepper flakes
1 tsp. sea salt
1 1/2 tbsp. minced fresh oregano
4 large basil leaves, cut into chiffonade
For the meatballs:
2/3 lb. ground beef
2/3 lb. ground pork
2/3 lb. ground veal
3 cloves garlic, minced
4 large eggs, lightly beaten
1/2 c. good bread crumbs
1/4 c. grated pecorino romano, plus more for garnish
1/4 c. grated parmesan
2 tbsp. minced fresh oregano
2 tbsp. minced Italian parsley
dash of freshly grated nutmeg
1 tsp. sea salt
dash of red pepper flakes
seltzer water
Start the sauce. Whack the garlic cloves with the side of a knife and peel. Working over a sieve set over a large bowl, pop open each canned tomato and strain out the seeds. Add the tomatoes and their juice to the bowl. Tear the tomatoes into small pieces with your hands.
Heat the olive oil in a large, heavy bottomed pot over medium-low heat. Add the whole garlic cloves and cook slowly for 10 minutes, being careful not to let them burn or darken too quickly. Reduce the heat if necessary.
Add the red pepper flakes and stir for 30 seconds, until the oil becomes fragrant. Add tomatoes and their juice, stir and bring to a simmer. Simmer at a slow bubble for about 2 hours, stirring every few minutes or so, until reduced to a sauce.
Turn off the heat and let the sauce cool slightly. Using a hand-held blender, puree the sauce until smooth. Mix in the oregano and basil.
Meanwhile, make the meatballs. Preheat the oven to 325 degrees. Put all the ingredients in a large bowl, topping with enough seltzer water to make it a light, pliable mixture, about 1/3 cup. Mix all the ingredients by hand until just combined.
Roll into 12 large meatballs about 3 1/2 inches in diameter and put them in a large roasting pan, arranging them so they are not touching each other. Bake for 30 minutes, then take out the meatballs and nestle them in the sauce in the pot. Pour in any fat and juices from the bottom of the pan into the pot of sauce. Spoon sauce over the meatballs so they are fully submerged.
You can pause the recipe here, putting the meatballs and sauce in the fridge overnight, or hold them at room temperature for an hour or so. If refrigerating, bring the meatballs and sauce to room temperature again before proceeding.
Bring the pot of sauce and meatballs to a simmer again, cover and cook over low heat for 30 minutes. Stir gently at the finish, being careful not to break apart the meatballs. Serve three to a person and grate a generous amount of pecorino cheese on top. Serve with fresh bread and pass a dish of extra sauce around.
Serves 4.