Last Saturday we had the pleasure of heading out to Brooklyn for my friend Matt Gross's annual pig roast. As you might imagine, roasting a pig is no small endeavor. But if you have the right equipment, it can be done – and chances are you will have many friends willing to help you cook it and eat it.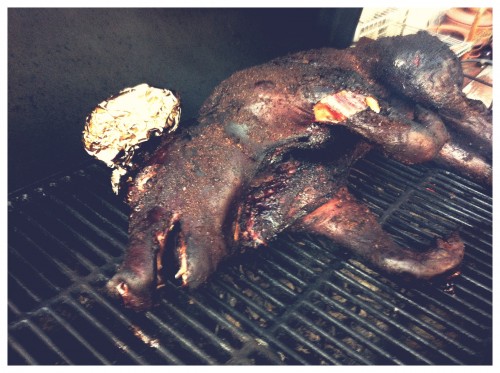 First he got the pig. Paisanos Meat Market, the excellent Italian butcher on Smith Street in Boerum Hill, sold him a 30-35 pound pig. Then he got the materials for smoking it: a mix of pear and other wood plus charcoal from the Woodman.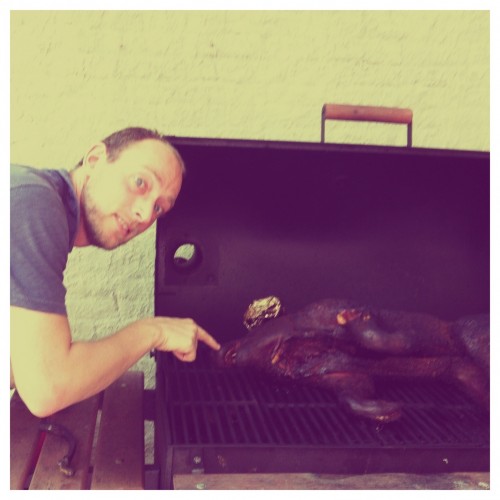 There's more than one way to season a pig. Matt did it with a dry rub, a mix of chiles and spices that had a distinctly Chinese taste due to the liberal addition of tingly, numbing Sichuan peppercorns. He combined lots of dried chilies, Sichuan peppercorns, black peppercorns, green peppercorns, sumac, pimentón, kosher salt, brown sugar, coriander, and fried garlic in a spice grinder to make about 4 cups of spice mix for a 33-pound pig. He rubbed the pig down, both outside and in the inner cavity, with the spices and let it sit for 24 hours in the fridge. (Note: definitely warn anyone opening the fridge that there will be a pig inside.)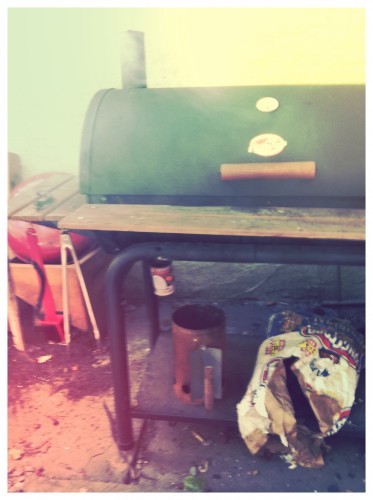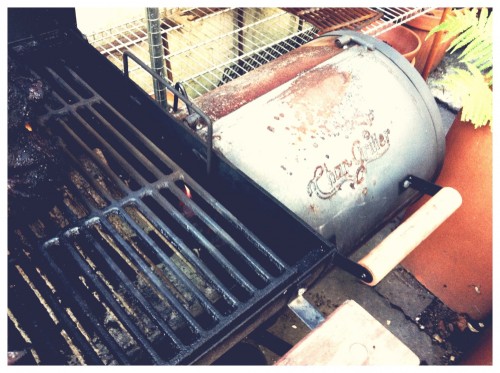 The next day, he heated a Char Grill combination grill-smoker to 225 degrees. The smoke from the wood in the metal sidecar flavored the pig as it roasted. He wrapped the pig's ears in foil so they wouldn't fall off and roasted it for 5 1/2 hours – basically until the party guests couldn't take the tempting aroma any longer.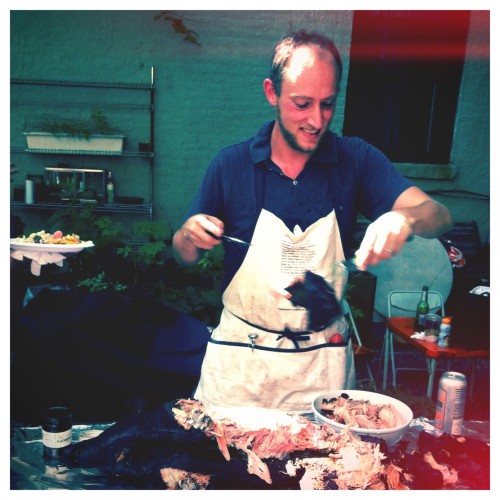 To carve the pig, we moved it onto a wide board covered with foil. At this point you can just peel back the skin and shred the meat with forks or slice off hunks of it.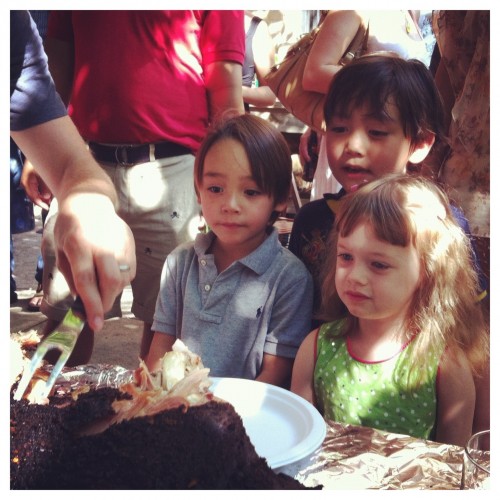 Again, your guests will be more than willing to help with this task. We ate it with a variety of barbecue sauces that other guests contributed, some searingly spicy, some vinegary.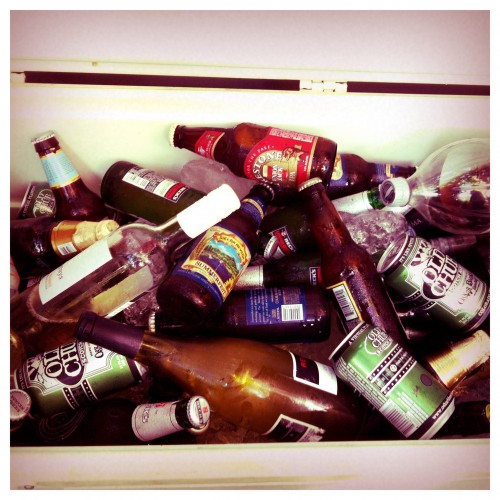 A cooler full of beer and wine is a necessary accompaniment as well.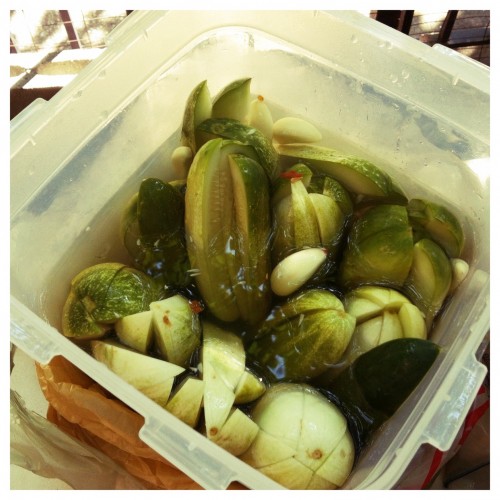 And don't forget the cooling pickles: these were homemade with freshly-picked cucumbers and a mix of spices including dill and peppercorns and some garlic.
Altogether: yum. If you have friends and room for a barbecue, host a pig roast. Your friends will thank you. And expect another one next year.
Recipe: How to Roast a Pig
1 30-35 lb. pig
4 cups total of dried chilies, Sichuan peppercorns*, black peppercorns, green peppercorns, sumac, pimentón, kosher salt, brown sugar, coriander, and fried garlic
pear or apple wood
charcoal
Put all the spices, salt, sugar and garlic in a spice grinder and process until well ground. Rub the mixture all over the pig, making sure to also coat the inner cavity. Refrigerate for 24 hours.
The next day, put charcoal in the grill and wood in an attached smoker and heat to 225 degrees. Cover the pig's ears with foil to keep them from falling off. Roast the pig on the covered grill for 5 to 5 1/2 hours.
Carefully move the pig off the grill by sliding it onto a board wrapped with foil. Peel back the skin (also edible and tasty), carve the meat beneath, and serve with barbecue sauces, some spicy, some vinegary.
Serves 30-40.
* Sichuan peppercorns can be found at specialty spice markets (try Dual Specialty Store in the East Village) or online at Dean & Deluca.