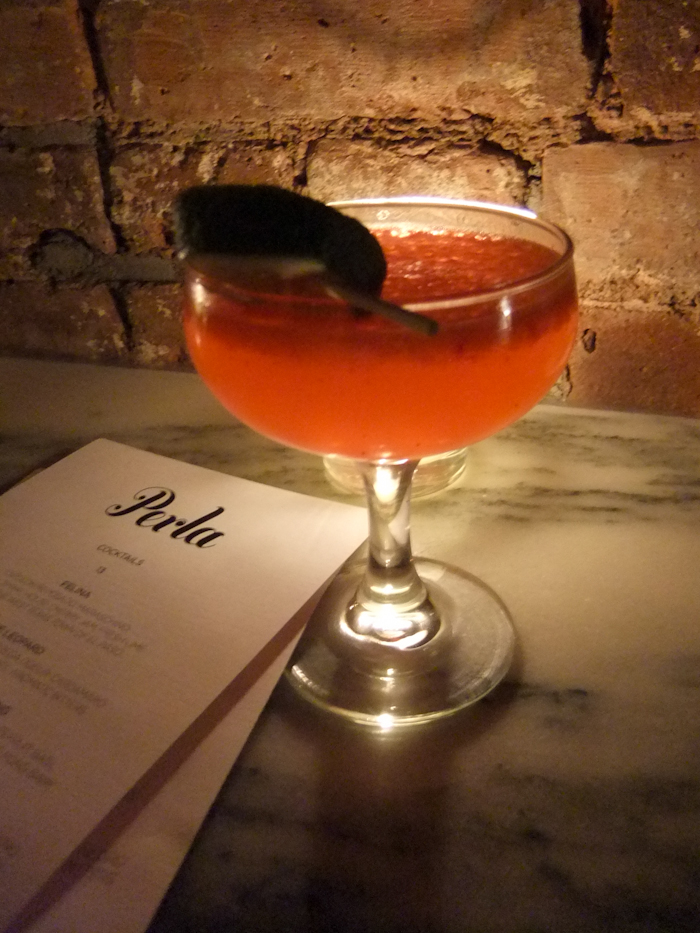 I usually like Gabe Stulman's restaurants. Fedora and Jeffrey's Grocery are great neighborhood places with good, inventive food, even though they could have gotten by on the scene alone. At Perla, Stulman has taken over the old Bellavitae space on tiny Minetta Lane in the West Village (the location of many scenes in Serpico), redone it with the requisite Edison bulb light fixtures, exposed brick, wooden bar and antiqued mirrors and installed chef Michael Toscano, formerly of Babbo, in the open kitchen with an open hearth in back. 
But there comes a point where the stress of the dining experience can trump even the best food and ambiance. When I go out to dinner, I would like to know ahead of time if I will be able to eat at the chosen restaurant and at approximately what time. I don't mind waiting for a table if it is worth the wait. But on a recent night there, we waited over an hour for an experience that was more pain than pleasure.
It was my fault really, for misjudging the situation. When you come into the restaurant, where there may be a long wait for a table, even on a weeknight in August, and you may be offered the choice of eating at the bar if seats come up there first. Do not say yes. Though the bar may seem uncrowded early in the night, it will quickly fill up with people, and not just the chic silent type but others like the first date couple behind us. Between discussions of his apartment with views of the George Washington Bridge, many neighborhoods from this, he tapped incessantly on the back of my chair while she laughed in my ear with a loud voice that was a dead ringer for Fran Drescher's. For. The. Entire. Meal.
It also didn't help that we chose to dine there the same night as Mario Batali, chef Toscano's former employer. The glow of Mario's celebrity seemed to encourage the tables around him to linger even longer over their wine. While we have Mario to thank for the diaspora of kitchen talent making its way to places like Rosemary's and this, we have Babbo to thank for the new standard of offering up a crowded bar as a great place to eat dinner. At some point in the night it may dawn on you that this is not, in fact, true.
But it is a good place to enjoy an amusingly-named cocktail or two while you wait. The "Rec Center Ping Pong" ($13) turns out to be a sort of vodka-based Aperol spritz with basil, very refreshing on a hot summer night. (And it may very well be hot in here – there's an open fire in the kitchen and the AC was off in the dining room.) D. thought he was ordering something manly when he asked for the tequila-based "Felina" cocktail ($13), pictured at top, but no – it's pink and girly with a kick.
The "Mother of Dragons" ($13) wasn't exactly what I expected either – but what mother of dragons is? Made with cherry heering and bitters, it's like a gin-based Manhattan.
By the time we were seated – after the hostess ushered away two people who had foolishly sat in two empty bar stools, assuming they were there for drinkers – we turned our backs to block off any would-be intruders who might try to reach between us to order a drink, or worse, take one of these incredible all'amatriciana potato chips ($5). To make them, Toscano roasted the three key ingredients of the sauce – guanciale, tomato and garlic – dehydrated them into a powder and tossed the mixture with freshly fried potato chips, then topped the whole thing with shaved pecorino. These potato chips were a revelation, and I have never had anything else like them.
The rest of the menu was harder to navigate, because the pasta "primi" only come in entree-size portions. So D. started with an antipasto of wood-roasted calamari ($15) dressed with citrus and vinegar and tossed with spicy salami and micro greens. This was delicious, tender and just slightly perfumed with smoke, the perfect segue into fall.
Having just been to a pig roast, I was primed for the pigs' ears ($14). Chewy, meaty, fatty and smoky under a fried crust, these were nicely offset by a bed of juicy peaches and fresh corn, though even this sweetness couldn't balance out saltiness of the pig.
The duck ($28) at Perla is already getting a reputation, and it deserves it. Roasted until medium rare in that wood oven and fanned out into ruby medallions on a plate, it has all the peppery, earthy flavor of an excellent steak with a tinge of orange-y sweetness.
A contorno of polenta ($10) was a rare misstep from the kitchen, bland and not worth the extra calories or dollars.
When I order spaghetti ($25) in a restaurant, I generally assume it will be dried, but not here. Perla's is freshly cut in a tangle of springy strands, perfect for transporting the flavor of an intense tomato sauce and delicate, buttery rock shrimp.
Portion sizes are huge, which somewhat justifies the price, which came to over $150 for dinner for two. Our bartender's service, too, was quite attentive. The fault wasn't on the micro details of the food or service, but on the macro level of how the restaurant takes in and accommodates diners. Though Perla does offer to take cellphone numbers and call when a table is available, it doesn't take reservations. Would they really be suffering for another walk-in table for two if one party didn't show up?
Yet we played along, as does every other able-bodied, vaguely with-it New Yorker south of 23rd Street and the ones who like to dine out there. It's as if in this era of three volumes of Fifty Shades of Grey occupying the top three slots on the NYT bestseller list, masochism is the new norm. At the end of the day, we had spent over $150 to eat at the crowded bar of a hot new restaurant where we couldn't hear ourselves think. I would say I felt like an idiot, but by the end of the night, I was too relieved to be out the door.
Perla
24 Minetta Lane, between Sixth Avenue and Macdougal Street
West Village
New York, NY
212-933-1824
perlanyc.com
Reservations only for parties of 6 or more. Menus available online.