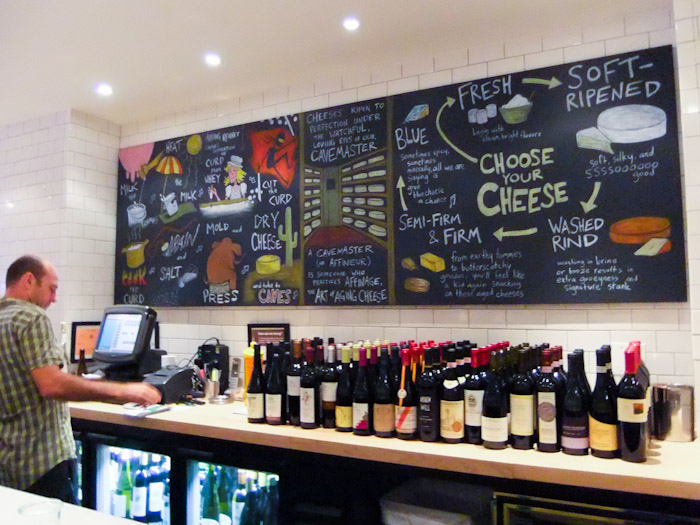 How can a city so obsessed with cheese not have a cheese bar until now? That is the main question that comes to mind with Murray's Cheese Bar on Bleecker Street. New York has wine bars galore, cheese stands in the Greenmarket and specialty cheese counters popping up in so many groceries, but Murray's is the first NYC wine bar specifically dedicated to cheese.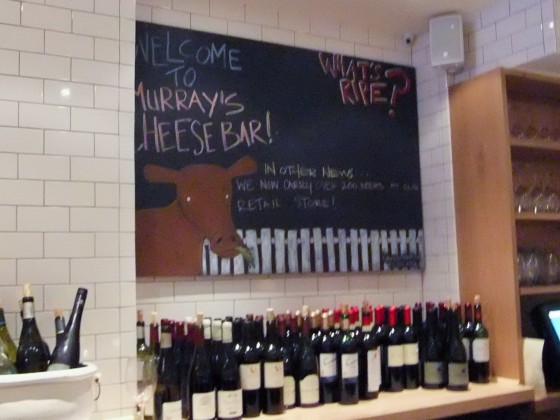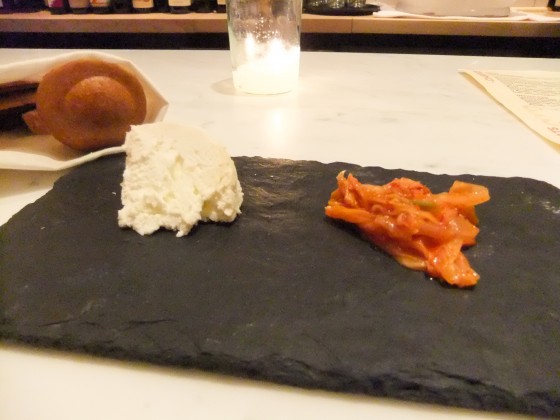 And cheese, glorious cheese they have: more than 40 varieties available for $5 a taste, with creative, palate cleansing pairings like the River's Edge Chevre Up in Smoke that arrived with a little mound of kimchi whose vinegary pickle perfectly offset the creamy, lemony smokiness of the soft chevre.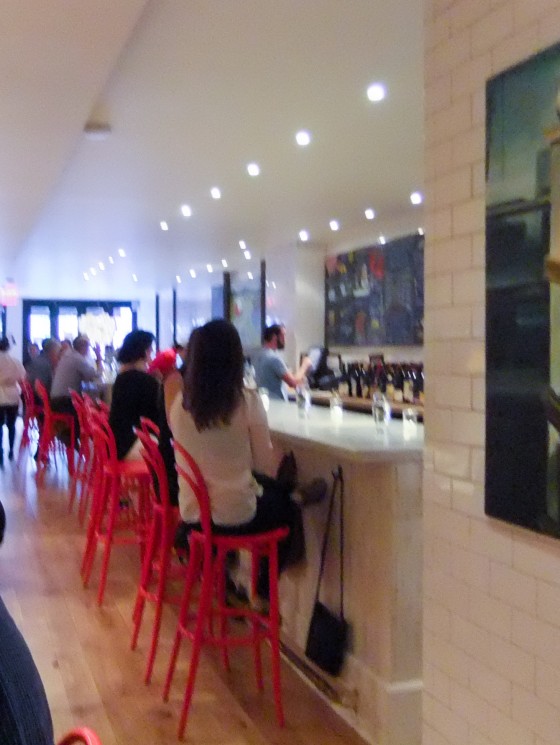 If you're looking for the greatest hits of cheese and don't want to stray much further than a Cabot clothbound cheddar, you can surround yourself with that and other popular picks like St. Nectaire, Mimolette, Tomme, Ossau Iraty, and Gorgonzola. But I visited Murray's with Marie Fromage and Martin Johnson of Gastronomie 491 and the Joy of Cheese, so of course we had to cast our net wider than that.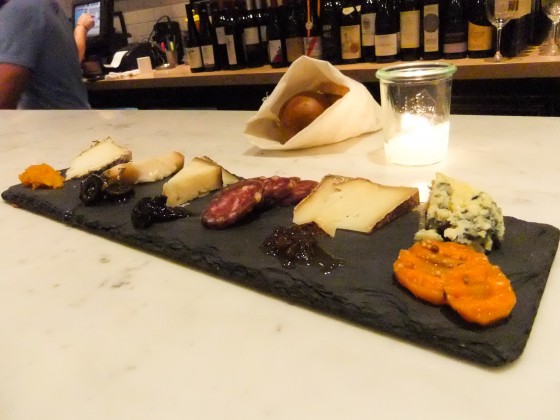 Although there are flights of cheese available, a sort of sushi combo of the cheese bar, we ordered four cheeses a la carte for $5 each and asked our fromager to pick one more mystery cheese for us. A long slate of cheeses and one delicious wild boar salami ($5) arrived specially paired.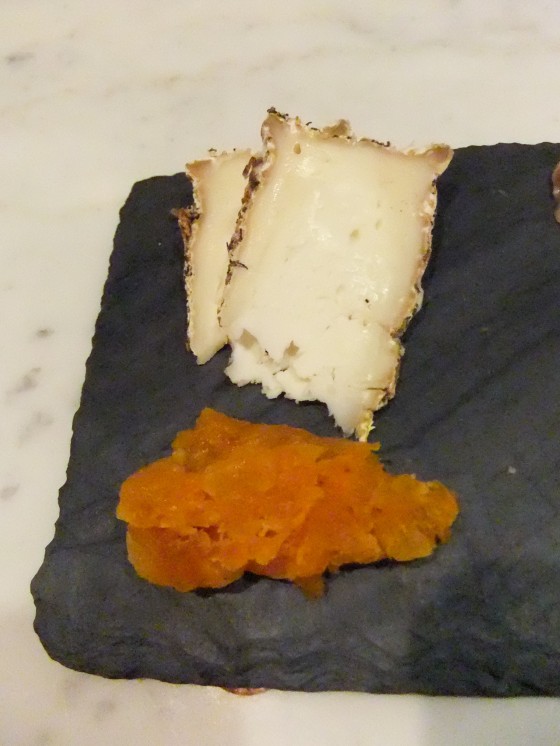 Murray's Cavemaster Reserve "Hudson Flower" with preserved orange rind.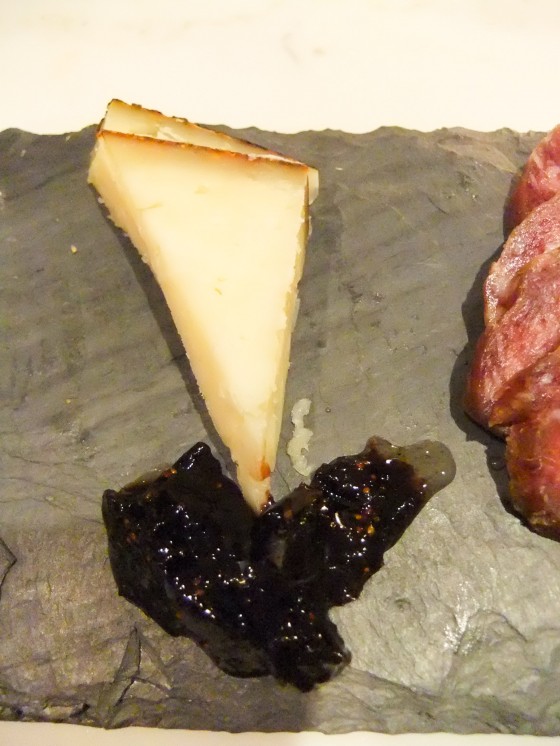 Pecorino Ginepro (juniper) with a wild berry compote.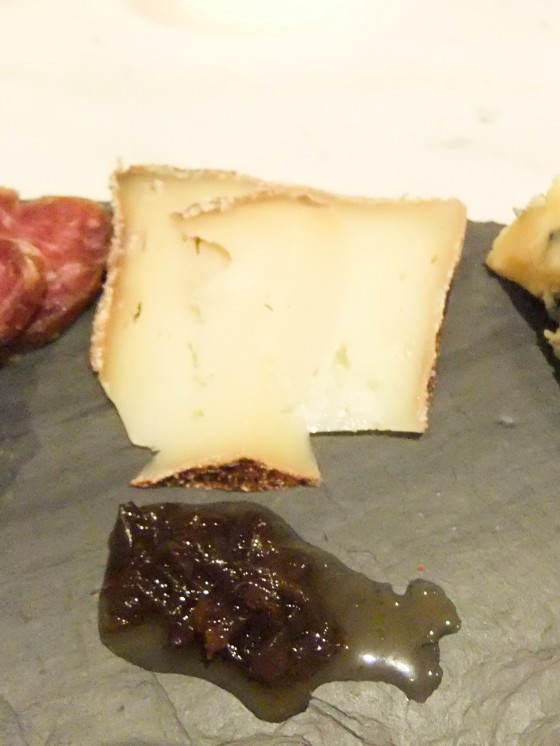 A hazelnutty nocciolo paired with fruit drizzled with honey.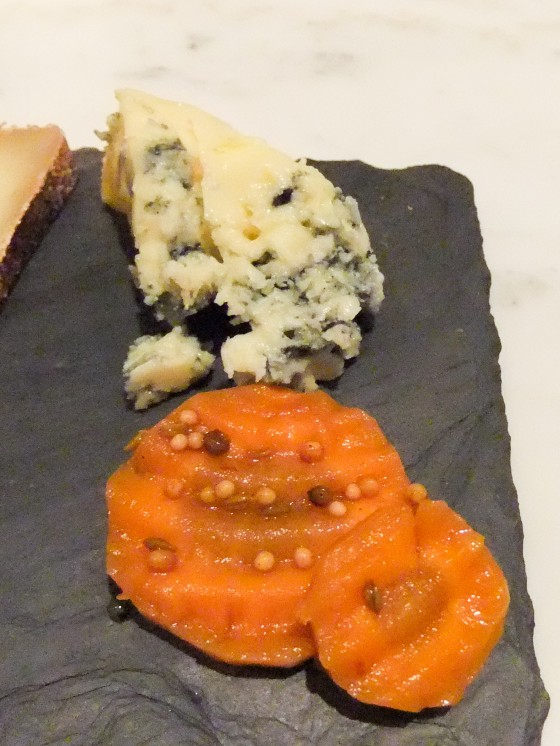 Rogue Creamery Smoky Blue with southwestern pickled carrots dotted with mustard seeds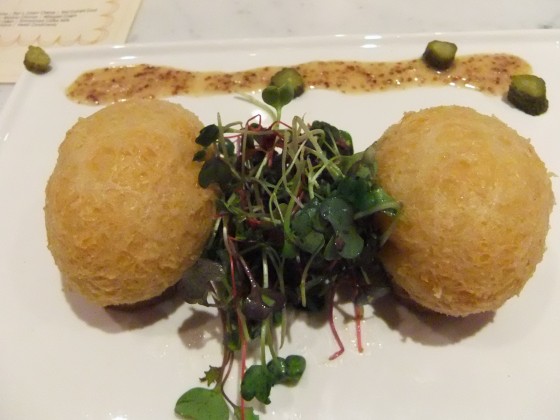 Cheese is just the beginning, however, because there's also a whole dinner menu prepared by chef and fromager Tia Keenan, formerly of Casalulla. Murray's Cheese Bar should be an excellent showcase for her talents. A friend of Marie Fromage, she sent out a few dishes gratis for us, starting with puffy confection of deep fried grilled cheese ($12) whose lightness defied the description. The crisp, thin layer of bread on the top yielded to a runny, funky Gruyere Malakoff beneath and a thick layer of crunchy toast at the base.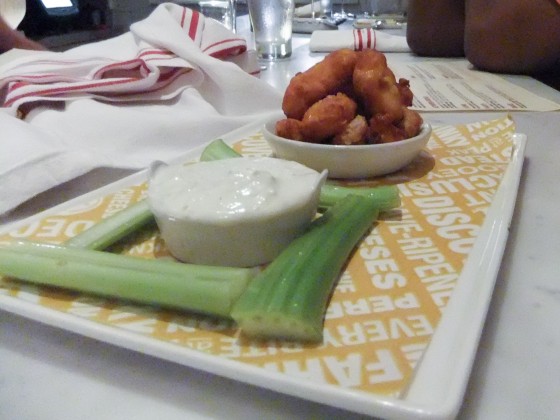 If cheese alone is not enough, you can order up cheese dipped in more cheese in the form of the mild and lightly salty Ellsworth Creamery buffalo cheese curds ($10), fried until crunchy and served with blue cheese dip and a few sticks of celery for good measure.
Griddled cheese is another option. We branched out from halloumi with Carr Valley bread cheese ($12), cakey within and pan-fried until crusty outside, served with mixed berry compote. If you've ever made mac n cheese at home by scrounging around in the fridge for various leftover bits of cheese to throw in, you will be newly impressed by Murray's version of mac n cheese ($12), which has just the right balance of gruyere, cheddar and bufala mozzarella and a sprinkling of crunchy fried onions on top. (I have no photos of these dishes because we inhaled them too quickly!)
The prize for the best high-low combination, however, has to go to the butternut squash kugel topped with toasted cornflakes ($10). Sweet, slightly nutty, creamy and laced with currants, this cheesy casserole is absolutely delicious and will put any noodle kugel by grandma to shame, no matter how much you love her.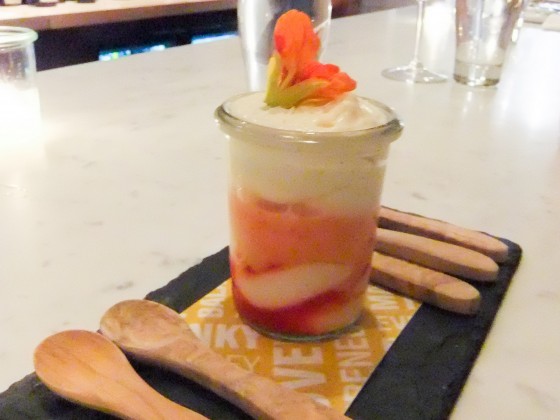 Fortunately, we didn't skip dessert. Layers of Vermont Creamery creme fraiche, red currant and Ben's cream cheese were swirled together into the Coeur de Creme ($8) and garnished with a flower.
In one particularly brilliant stroke, Keenan reimagined s'mores as "ch'mores" ($8), composed of dark chocolate, oat crackers and stinky melted Gallego cheese in place of marshmallow. Served with a lilliputian mug of Ronnybrook coffee milk, somehow the whole dessert comes together fantastically.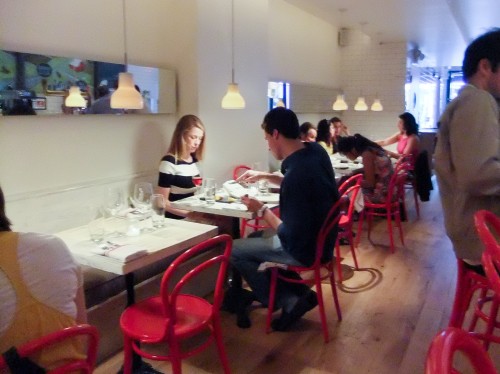 The space has a bright, stylish, market-like feel with whitewashed walls, a marble counter, red metal chairs and no discernable attention to acoustics. The atmosphere isn't exactly moody or romantic, but on the plus side, it doesn't encourage lingering either, so tables turn over fairly quickly even when there's a line out the door, as there was the other night.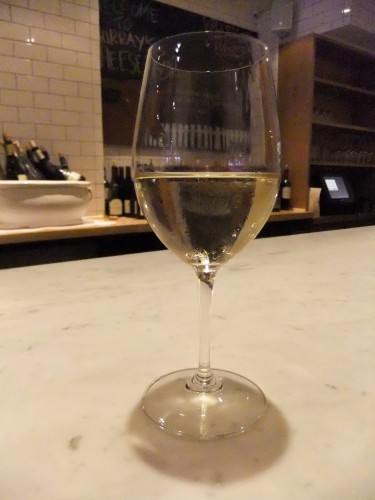 And if you just want to stop in for a glass of wine at the end of the workday, as they do in Europe? Order up a Buchegger 2011 Gruner Veltliner ($11) and pick one of the myriad cheeses. There's a seat at the cheese bar waiting for you.
Murray's Cheese Bar
264 Bleecker Street, between Leroy and Morton Streets
West Village
New York, NY
646-476-8882
murrayscheesebar.com
Reservations only available for parties of 6 or more. Menus available online.