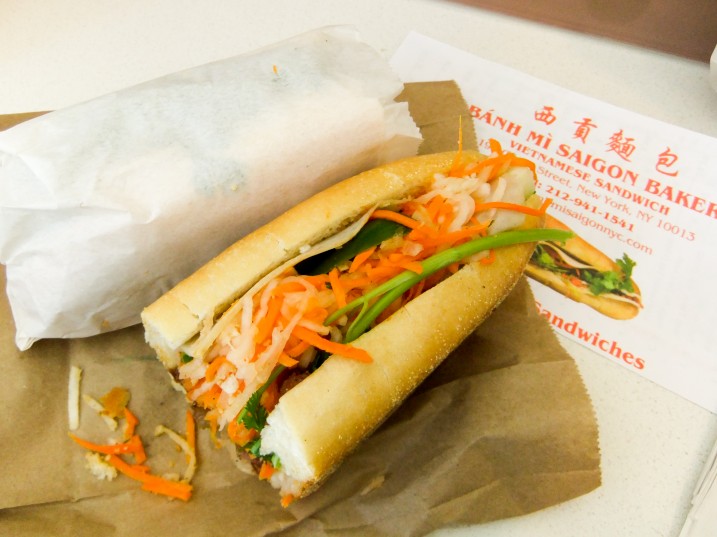 Crunchy, soft, spicy, sweet, vinegary, meaty, vegetal: If  banh mi is made just right, it's possible to get all these elements in one bite. The beauty of this Vietnamese sandwich is in the combination of disparate, contrasting ingredients that come together in one delicious whole. But get one part of it wrong, and you're liable to throw the whole thing off.
Banh Mi Saigon, an odd little sandwich-shop-and-jewelry-store on Grand Street, gets it right. The bread has a crunchy crust but a soft interior, like the modified baguette used in a real New Orleans po' boy (not just a coincidence, but due to the French occupation of both Vietnam and New Orleans). The bread is key, because if it's too soft, you don't get that crunch, and if it's too hard, this already unwieldy sandwich becomes completely unmanageable.
Get the barbecue pork sandwich (#1, $4.25), and get it spicy. This is not white-people spicy, it is real, eye-watering sriracha spicy. Any tears caused by the big chunks of barbecue pork will be soothed by the cooling pickled carrots and daikon, green onions and cilantro, the quintessential Vietnamese mashup of spicy meat and lots of fresh vegetables. Just watch out for the odd jalapeno pepper or two.
Though Banh Mi Saigon is in a number of guidebooks now, there are still a good number of locals stopping in for lunch at the basic counter seating among the tourists. Turnover is fast, and at 1:30 on a weekday there was no wait for a seat. We noticed a number of downtowners arriving by bike to grab lunch here – it's a short bike ride from Soho, Tribeca, the Lower East Side and the Village.
Which means it's easy to eat at Banh Mi Saigon on the spur of the moment. And if the mood suddenly strikes to buy some jade jewelry, they've got that covered too.
Banh Mi Saigon
198 Grand Street, between Mulberry and Mott Streets
New York, NY
Chinatown
212-941-1541
banhmisaigonnyc.com