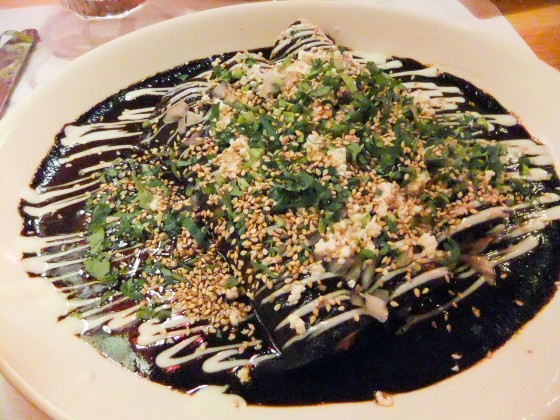 For chefs and diners, Mexican is often the food of compromise. It may be challenging to round up a gang for a meal of foie gras doughnuts in Bed Stuy, but I never have any problems getting anyone to go out for margaritas in Manhattan. And if the Mexican restaurant in question also happens to serve excellent food, everybody wins. 
At Fonda in Alphabet City, chef Roberto Santibañez's Mexican is neither a mind bending mashup of different cuisines or a dumbed-down version for gringos, it's traditional Mexican made with nuance.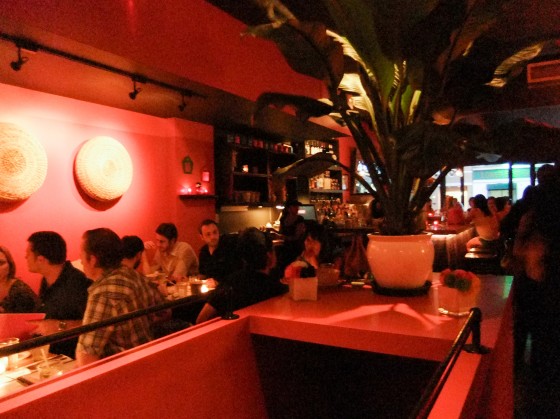 Though don't tell that to anyone at the bar, where some may be there just for the scene in the front room, where walls are lacquered red, potted plants dot the ledges and baskets hang on the walls.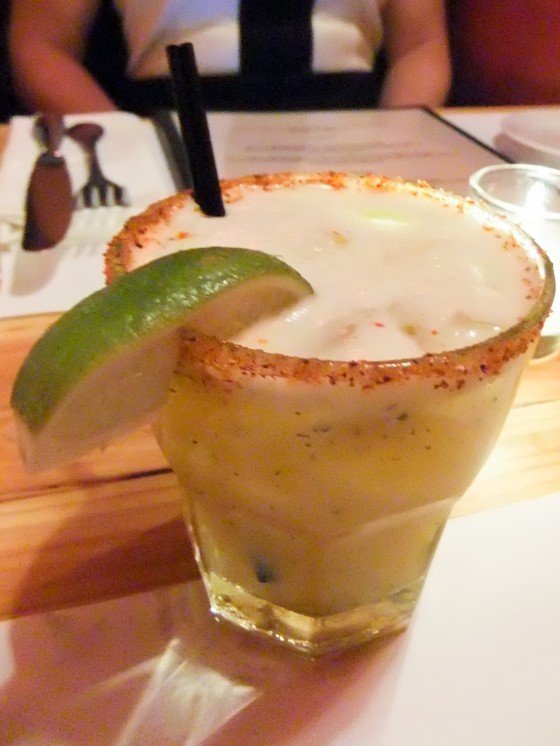 The tequila cocktails here go way beyond the margarita. Try the piña ($10), a smoky chipotle infused tequila blanco cocktail mixed with pineapple juice, the extra refreshing Paloma ($10) with grapefruit soda and tequila, or the hibiscus margarita, the Rosalita ($9).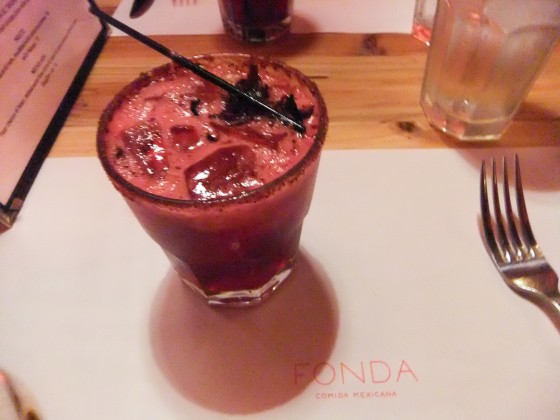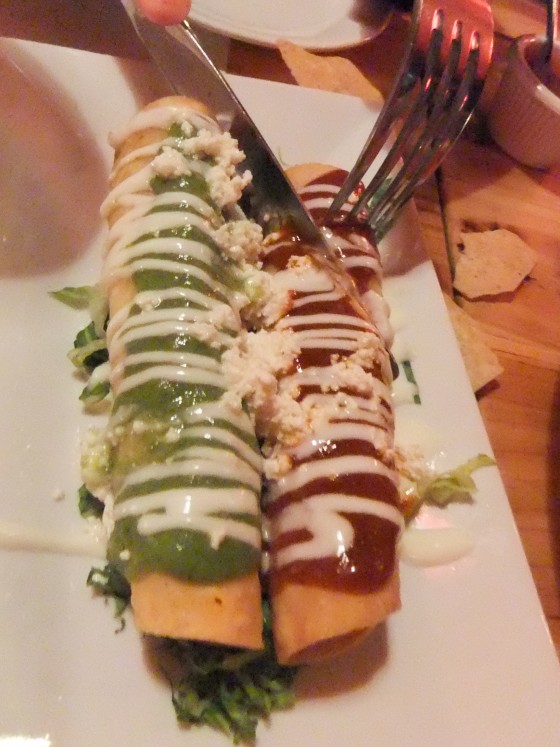 The back room combines vintage chandeliers with a wooden fence strung with colored lights for an East Village barrio feel. Settle down with some flautas de pollo ($8). They sound simple enough, and in an alternate Caliente Cab Cafe universe, might be fairly bland and predictable. But at Fonda each of the two crispy tortillas stuffed with succulent chicken is topped with a different salsa: a salsa verde that combines the vegetal sweetness of tomatillos with the heat of serrano peppers, and a red salsa that showcases the distinctive smoky, raisiny taste of Oaxacan pasilla chiles. At Fonda, heat is more than the mild-medium-spicy continuum, it's a wealth of flavors that just happen to fall somewhere on the Scoville scale.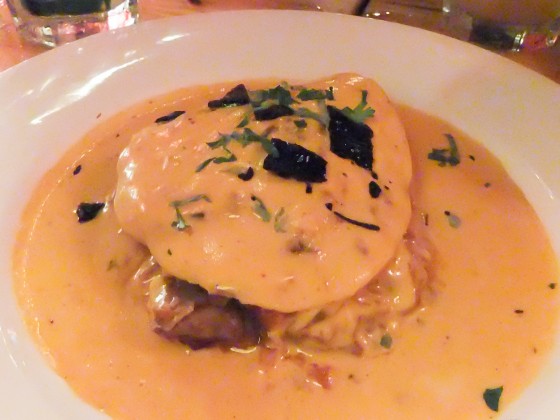 At other times, one of the excellent sauces here can conjure up another country altogether, like the cinnamon and cloves in a creamy tomato sauce on the smoked duck zarape ($11). It tastes like something from Curry Row around the corner – until the habaneros kick in.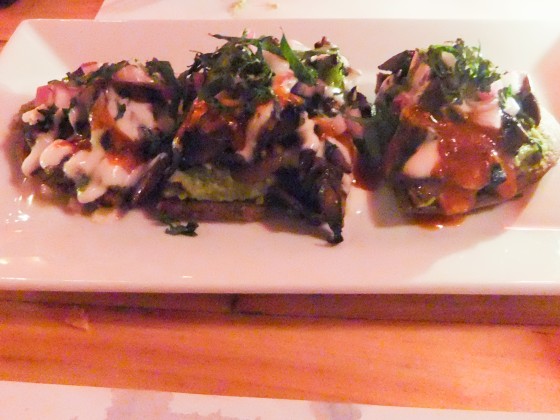 Santibañez elevates Mexico City street food with the tlacoyo ($8), a sort of mini huaracha with the same puff and crunch, made here with artisanal ingredients like black bean masa, spring pea spread, sauteed mushrooms, two types of salsa and crema.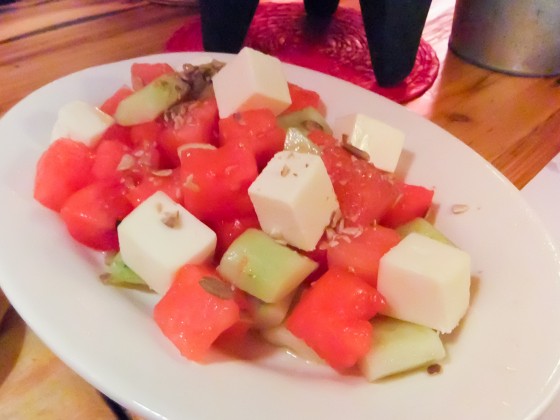 This summer's ubiquitous feta and watermelon salad gets a Mexican twist at Fonda, where it is made with cubes of queso fresco, dressed in a citrusy vinaigrette and garnished with nutty, crunchy pumpkin seeds ($8).
Excellent sauces figure prominently amid the entrees, too. Roasted cocoa is the head note in the rich, lustrous Oaxacan mole on enchiladas ($17), pictured at top, made with handmade corn tortillas stuffed with more of that delicious braised chicken.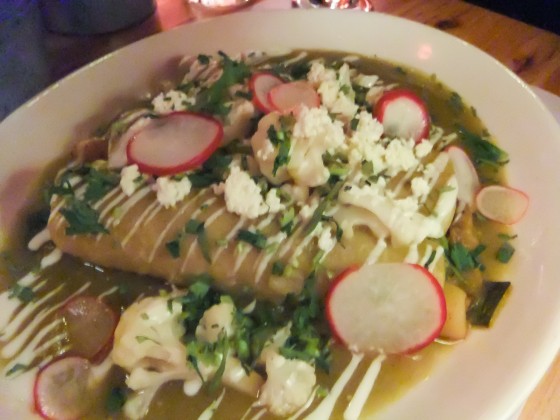 At one dinner, a friend ordered the vegetarian enchiladas ($16), seeking out something relatively mild. But a surprise lurks in that pretty green salsa: lots of serrano peppers. This is vegetarian food that could put hair on your chest.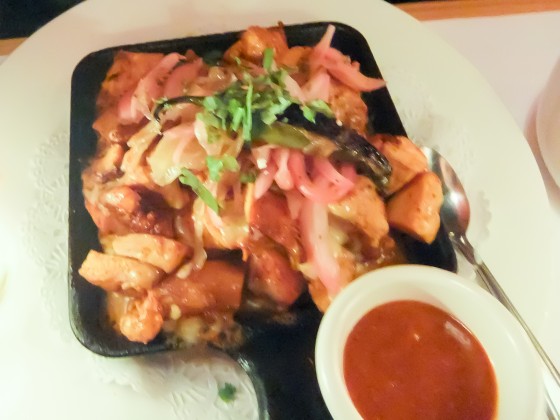 An impressive amount of chicken goes into the pollo norteno ($18), which arrives sizzling on a skillet. This time the keynote chile is the earthy achiote chile in the marinade that gives the whole dish the sweet and hot taste of Mexican BBQ.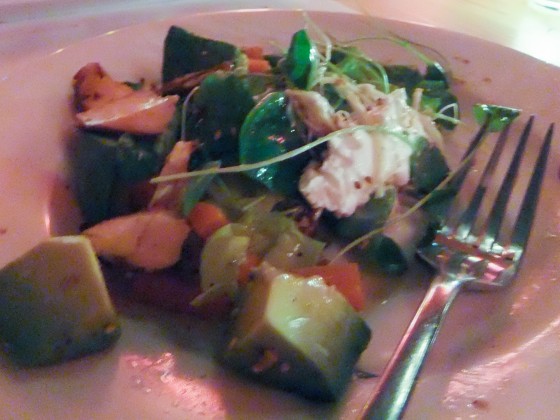 Fonda is decidedly not one of those restaurants that neglects its entrees in favor of appetizers, but if you must order a salad as an entree, as four of my friends did on one calorie-conserving night, they won't stint you here. The signature Fonda salad ($9) is filled with avocados, jicama, watercress, hot and sweet passion fruit and arbol chile dressing, and a side of chicken or steak for an extra $5 or $8.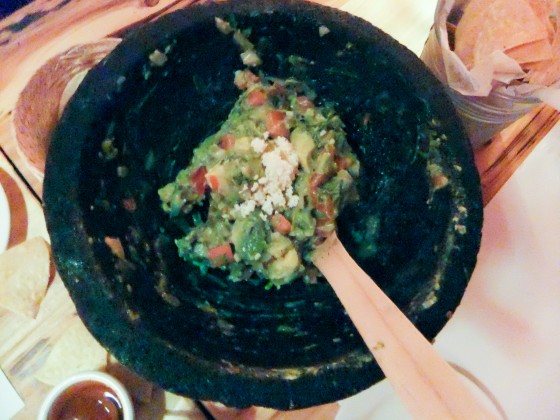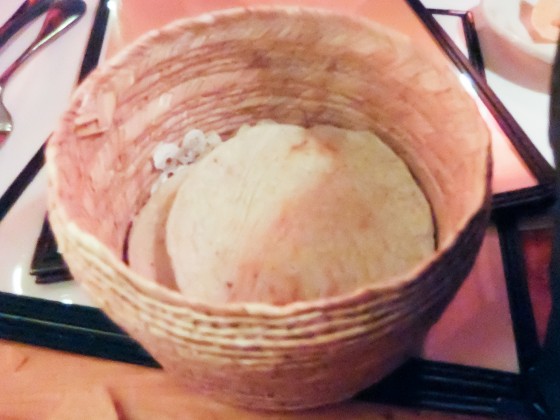 The steak won't necessarily be cooked to order though. This was one of a couple things that got lost in translation either on its way to or from the kitchen, like request for guacamole with no onions that came out with onions and the appetizer that didn't come out until after we started our entrees. Service is always friendly here, but reliability varies from night to night.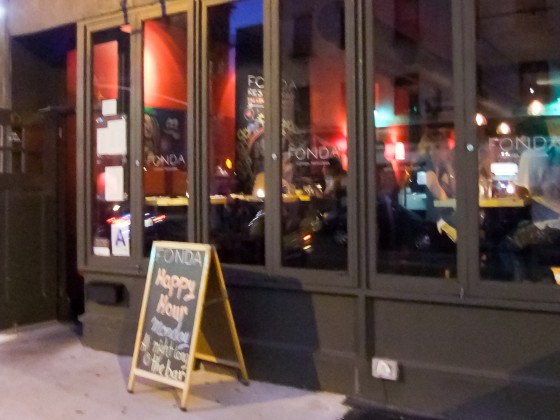 As Roberto Santibañez told the New York Times, he has had some difficulty getting American diners to put aside their expectations of what Mexican food should be and try the real thing – without a side of rice and beans. But interestingly, his restaurant represents a happy compromise between the two: if you just want chips, guacamole and margaritas, they've got that. But if you want to explore an entire culture through smoky salsas, tortillas made by hand, and a mole whose origins are as old and mysterious as the Oaxacan hills, they've got that too.
Fonda
40 Avenue B, between East 3rd and East 4th Streets
East Village
New York, NY
212-677-4096
fondarestaurant.com
Reservations available online.