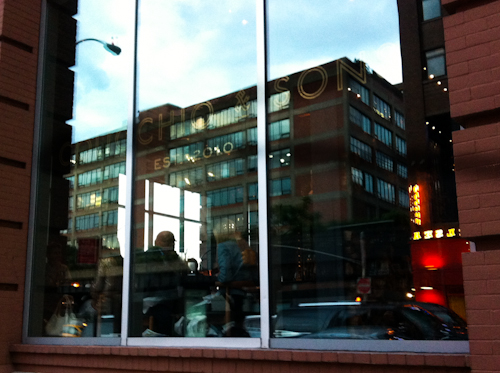 Despite the number of restaurants that have opened in the Meatpacking District in recent years, it's still hard to find a good place to go before or after an event in West Chelsea or Chelsea Piers. So many of the new places feel big boxy or inordinately expensive, and the old places can get a little old hat.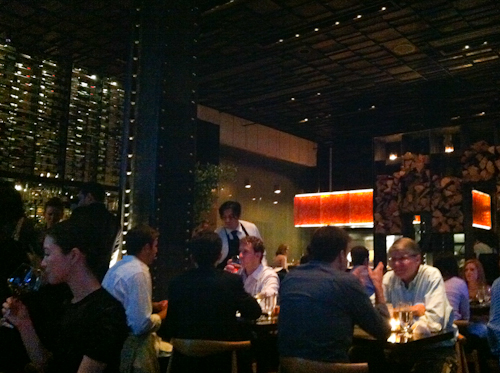 Fortunately Tom Colicchio opened Colicchio & Sons with an eye to both the expense account dining crowd and the casual visitor by splitting it into two dining rooms: the more formal restaurant in back, and the tap room in front. This was no accident but a replication of the formula at Gramercy Tavern, where he was chef before going on to start his Craft mini-empire.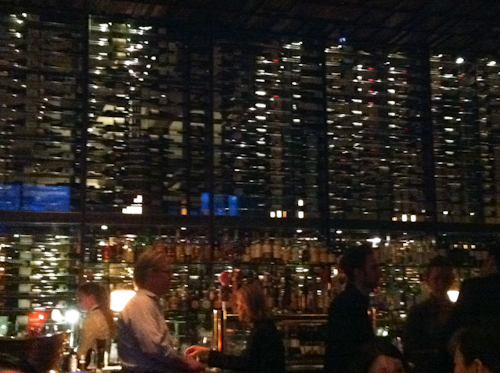 So it was here that we met for a quick dinner before proceeding to an event at Chelsea Piers later that night. The Tap Room may be the sibling of the main restaurant, but it doesn't feel like an afterthought. The windows are soaring, with views onto the Hudson, but the stacks of firewood and patchwork carpet homey, like a pub with ultra-modern bones.
The food is a relative bargain considering Colicchio's celebrity and the number of gastro-tourists who must cycle through here. The main dining room may offer a tasting menu of "Tom's Classics" for $120, but in the tap room you can get "Denver" steak ($23) in lieu of 30-day aged sirloin ($46), grilled asparagus ($14) instead of the main dining room's white asparagus salad ($23) or just a regular old burger ($17).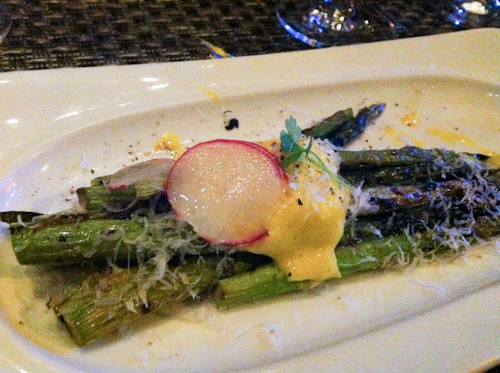 We started with that grilled asparagus, which has been such a welcome food trend in the past few years. At Colicchio & Sons, its cooked until almost falling apart, topped with a zingy lemon sabayon with parmesan.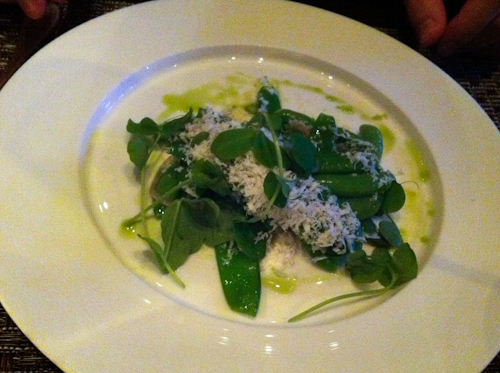 Much has been written about previous incarnations of the ricotta here, but the seasonal menu is constantly changing, so we couldn't find the original version of ricotta served with charred bread. Instead, there's a petite citrusy salad of sugar snap peas with ricotta salata ($14).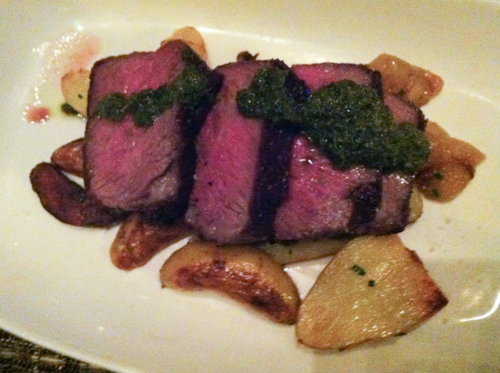 Though the provenance of "Denver" steak may be dubious – our friend at the table spent a year living in Denver, where it was never served – the perfectly cooked steak itself is quite good. It's intensely flavored with cipollini onions and garlic, however, and not for the faint of heart.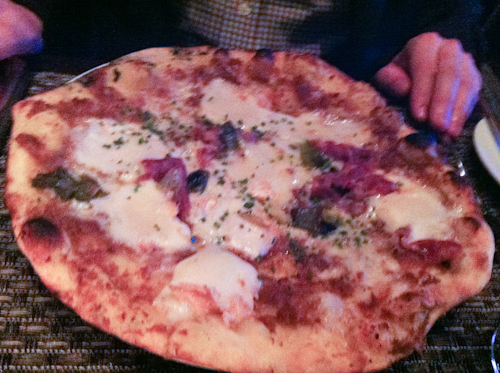 You'll get another flavor whack on the head with the taleggio, prosciutto, baby leek and soffrito pizza ($18), served only in the Tap Room. Taleggio is a potently stinky cheese to put on the delicate crust of a wood fired pizza, and prosciutto and soffrito do nothing to tone it down. For this reason I found the food at Colicchio & Sons to be super masculine and a little in-your-face. There's not a lot of subtlety going on here, but I guess that's Colicchio's brand and he's sticking to it.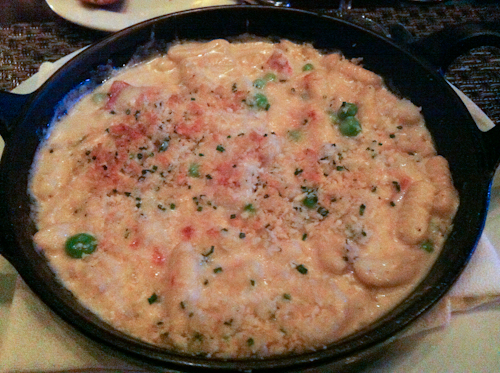 Fortunately my milder entree of ricotta cavatelli with lobster provided some respite, warm, creamy and just salty enough, stocked with tender chunks of lobster. I know, I know – macaroni and cheese with lobster is such a cliche, but sometimes you just want macaroni and cheese with lobster, especially on an inexplicably freezing June night. Colicchio is right and savvy to give the people what they want even if he's a world-famous chef who could pretty much do whatever.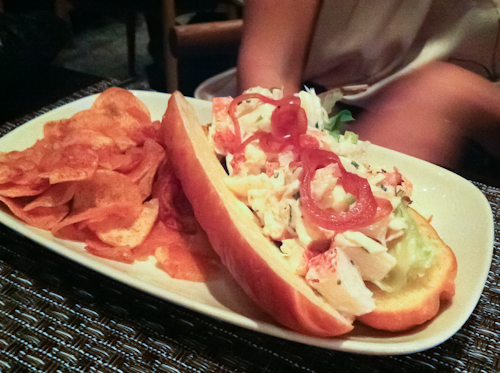 A special on the menu that night, the lobster roll, was somewhat of a disappointment. The lobster itself, though fresh, tasted oddly pickled, without much to bind it together as a salad. The brioche roll, which was supposed to be left off of our order but wasn't, is too cakey and structured of a roll for this delicate salad. Lobster rolls: they're for practiced experts, not for dabblers.
Service was good, though we had a few Lost in Translation moments in which we tried to indicate we were ready to sit at our table, which was somehow interpreted as our wanting to linger at the bar. Then a friend who would be arriving later at the table than the rest of us created all sorts of confusion. No one could believe that we wanted to just order and get on with it. Service was rather British in a way: when people are so polite, you can't understand what they're saying.
Nevertheless, it was a very pleasant meal in an attractive, warm space in the Meatpacking District, no less. Which was a pleasant surprise indeed.
Colicchio & Sons Tap Room
85 Tenth Avenue at West 15th Street
212-400-6699
craftrestaurantsinc.com/colicchio-and-sons/