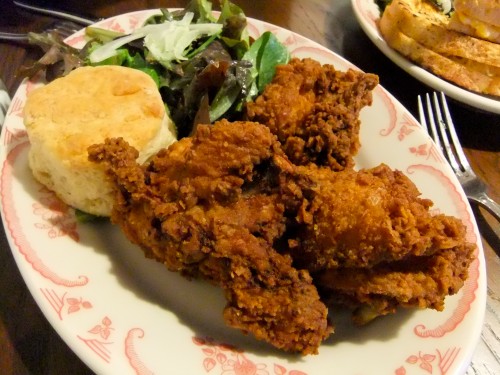 Remember when dinner and a drink in the East Village would set you back less than $20? Despite the number of more expensive places opening up in the neighborhood, one new restaurant has nostalgic appeal not just in the comfort food but in the price: Southern-themed Bobwhite Lunch & Supper Counter on Avenue C. 
Just a look at the menu will tell you this is the real deal: chow chow (relish made with green tomatoes), and Brunswick stew ($4.50, a Southern specialty made with beef, pork and chicken), are two items you rarely see north of the Mason Dixon line. But Bobwhite is best known for its three-piece fried chicken supper ($11.50, pictured at top), served with a side salad, a thick, flaky biscuit biscuit still warm from the oven, a squeeze bottle of honey and some Louisiana Crystal hot sauce. Crunchy and mildly spicy, marinated in sweet tea before frying, Bobwhite's fried chicken strikes the perfect balance between sweet and salty.
Another reason for the tastiness: all of the ingredients at this supper counter are responsibly sourced. The rotating sides are based on seasonal, local vegetables, and the meats are humanely raised. Maybe that's why the heritage pork chop sandwich ($8.50) is so addictive. A thin, juicy, herb-marinated slice of pork gets charred on the grill and slathered with mayonnaise and chow chow, which is kind of like a Southern version of the relish served at old fashioned burger places like Prime Burger. This sandwich is like haute junk food, so good you can't believe it's good for you.
It might be a stretch to call a grilled pimento cheese sandwich ($6) healthy, but the quality cheddar cheese in the mix brings it up several notches from the Southern original, as do the thick slices of artisanal bread with just the right amount of char.
A fried chicken sandwich ($8.50) is another way to enjoy Bobwhite's chicken, this time as a boneless breast topped with mayonnaise and pickles, flavors that add another layer of tastiness to the main ingredient.
Bobwhite does well with the sides too, particularly ones that Northerners tend to mess up. Grits ($3.50) have just the right milky texture and just a smattering of cheddar, not enough to overwhelm. This side looks and tastes like grits, not polenta.
Earlier this year, a side of black eyed peas, now rotated off the menu, arrived perfectly tender. "This is how they should be," Georgia native D. said. "Soft enough to eat with no teeth." They did suffer somewhat from the lack of fatback, a traditional ingredient that would have given it some porky goodness but would have made it non-vegetarian.
This Southern place exceeds restaurants in the actual South in other areas. Try finding a big, fresh green salad ($8.50) like this one at Cracker Barrel. Baby greens, shaved fennel, radishes and cheese get tossed in a creamy dressing and piled next to another one of those lofty buttermilk biscuits.
The words "lunch and supper counter" in the restaurant's name sets your expectations pretty much where they should be in terms of the decor. There's a counter with stools, tables with stools, achingly bright track lighting, and little else in terms of decoration, unless you count the vintage-y plates. The good news, though, is that none of this encourages lingering, and the high turnover means that you can usually get a seat without much hassle. A Southern guy seated at the counter confessed one night: "I come here pretty much once a week." Even more dangerous: Bobwhite also offers take out and delivery.
Service is friendly, but the rules are still unclear. Are you supposed to place your order at the register and wait for the waiter/busboy to deliver it to your table, or is he meant to come to the table to take your order? At one point we just shouted our order towards the register. But everything we ordered came promptly and gracefully, including the wine and beer Bobwhite has on tap – like Bluepoint Toasted Lager ($6 a pint).
Because of its location in the far reaches of Alphabet City, Bobwhite remains a neighborhood place. But with prices and food like this, it's a must-visit for Southern food fans – or anyone who wants a home-style meal on a budget.
Bobwhite Lunch & Supper Counter
94 Avenue C, between East 6th and East 7th Streets
East Village
New York, NY
212-228-2972
bobwhitecounter.com‎