A restaurant on the second floor of a Midtown hotel may not sound promising, but Ai Fiori has couple things going for it. Not only is it the latest project by chef Michael White, it's such a zen, air-conditioned oasis that you will forget you're on the second floor of a hotel in Midtown.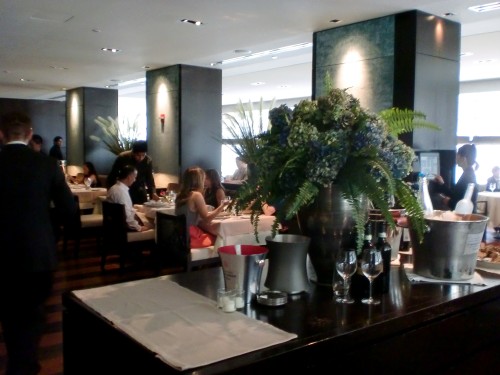 This is particularly good if you work in Midtown and can take advantage of the discounted Restaurant Week lunch happening there now. Step out of the steamy city, up to the second floor of the Setai and into an elegant, minimalist, flower-bedecked space that recalls the old days of hotel dining, when many of the best restaurants were in hotels. It's like walking out of the urban jungle and into civilization.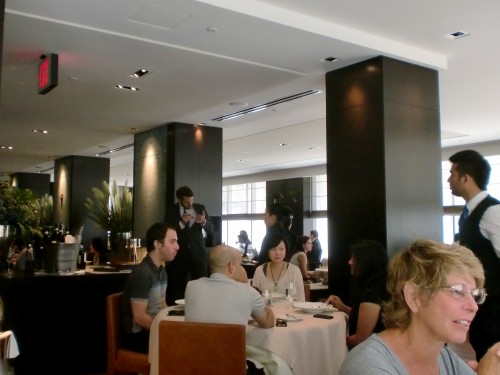 On the day we visited, one of us confined herself to the Restaurant Week prix fixe menu ($24.07), and the other opted for the regular two-course prix fixe ($38) – me, of course. The options on the regular menu were just too tempting.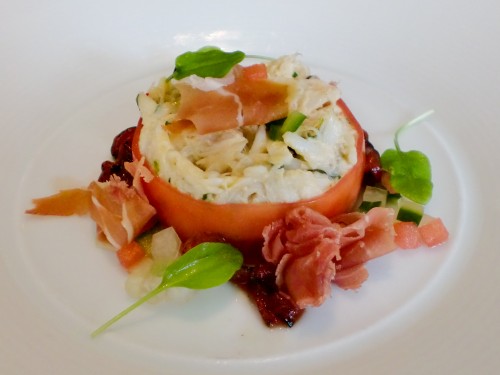 To begin with, Ai Fiori has a wonderful granchio appetizer that contrasts the sweetness of blue crab and watermelon with the salty tang of prosciutto. Most American chefs would not think to combine the three, but chef de cuisine Chris Jaeckle has found three great things that taste even better together.
The original tomato soup starter that was on the Restaurant Week menu seems to have been removed now in favor of gazpacho – not a bad idea, because the soup was fairly meh – not to mention hot on a hot summer day.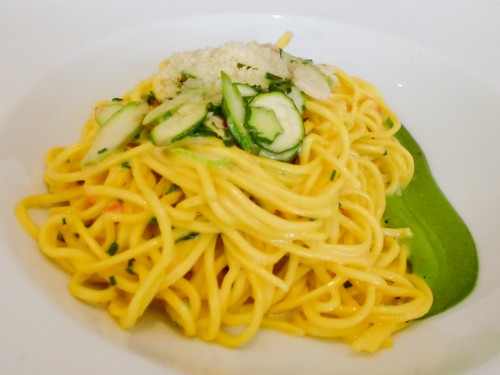 One star of the Restaurant Week menu, however, was the entree of spaghetti with zucchini, basil, asparagus and parmesan, which had that saturated yellow color you usually only find in Italy, where the egg yolks are saffron yellow, and the chitarra style cut of spaghetti made in house. I'm not sure where they get their eggs, but the pasta is pitch perfect – decadent, creamy and so rich that even in a modest portion size, it's hard to finish it.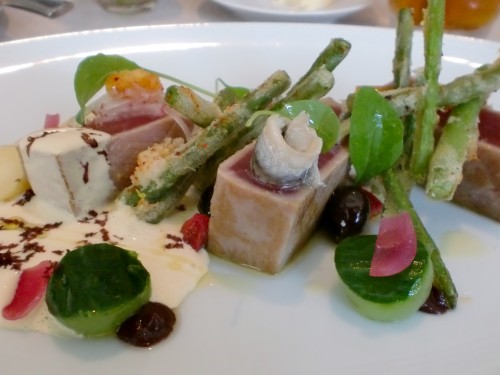 This is not to say that the tuna nicoise was at all lacking. Ai Fiori's interpretation is light but deeply satisfying, the slabs of fresh tuna overlaid with crunchy string bean tempura, a single furled anchovy and ingeniously rich fried egg mayonnaise – basically a mayonnaise that goes to eleven.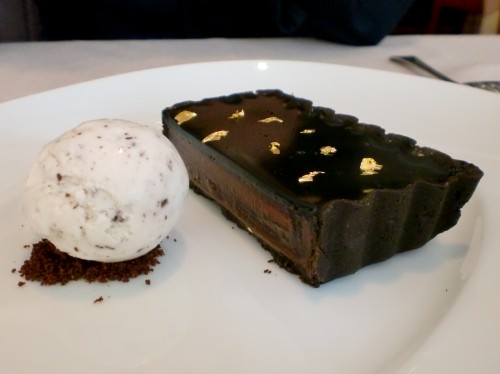 If you're thinking of sinking everything into gold, you might want to invest in the milk chocolate crémeux, a gold-flecked dessert that trumpets luxury no matter what may be happening on the Dow ticker a few blocks north in Times Square.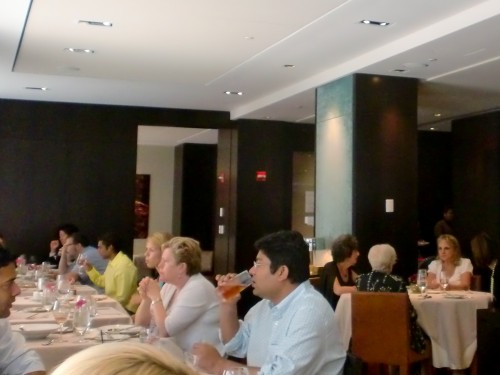 That seems to be the client Ai Fiori is targeting, like the Page Sixers that frequent the hotel above. Even if you are not the sort to wallow in luxury on an average work day, Ai Fiori has the great gift of making you feel as if you are.
Ai Fiori
Setai Hotel
400 5th Avenue, 2nd level
New York, NY
212-613-8660
aifiorinyc.com
Reservations and menus available online.