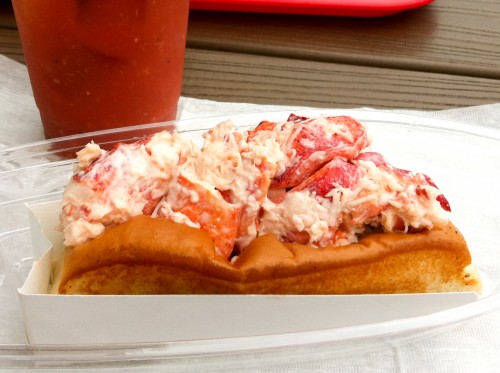 When it comes to lobster rolls, the more bare bones a restaurant is, the better. The best lobster rolls we've ever had were usually served grumpily through a kitchen window and eaten on picnic tables, often in a crab grass lot by the side of a major thoroughfare. Because why would you need table linens, atmosphere or attentive service? They would only detract from the main event. 
Nancy's snack shop, in Oak Bluffs, Martha's Vineyard, overlooks the harbor instead of a highway, and the eponymous restaurant above is quite nice. But at the outdoor area that specializes in lobster rolls, you sit at communal picnic tables, and a small family of twelve may try to share one with you. The lines can get unapologetically long, there's no waiter service and it takes real cunning to figure out how to order a drink. (Skip the line outside for the blender drinks, head inside for a great Old Bay Bloody Mary, and take it back outside.)
All this would keep a regular diner's expectations low, so it's even more of a surprise to bite into a lobster roll that's beautifully light, with just the right amount of celery salt and mayonnaise, served on a slightly sweet bun griddled in oil and butter. It's perfection, tasting even more like the sea because the fresh lobster seems to be cooked in heavily salted water or even sea water – an old New England trick.
If I could go back for just one more lobster roll on Martha's Vineyard, we would go to Nancy's. In the meantime, it remains the stuff of dreams.
Nancy's Snack Bar
29 Lake Avenue
Oak Bluffs, Martha's Vineyard
508-693-0006
nancysrestaurant.com/snack-bar