The past few years have seen a huge influx of "foodies" on the New York scene, Yelping, Chowhounding, and Four-Squaring about every bite. But don't worry, New Yorkers haven't been totally domesticated yet. For every one person jarring and pickling Union Square Greenmarket produce at home, there are probably four with nothing but a jar of pickles in the fridge.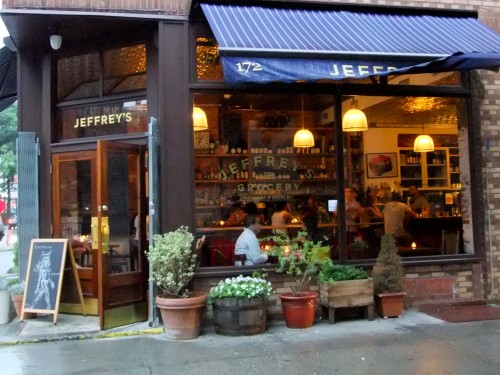 Jeffrey's Grocery in the West Village started out as a gourmet corner store with limited food service. Freshly cut flowers occupied the front, and the shelves were stocked with fancy pastas, olive oil and other top notch pantry supplies. Then the store closed and reopened as a plain old restaurant, with two- and four-tops where the flowers were. The lesson? As much as New Yorkers talk about food, they don't actually prepare it themselves. That doesn't mean we don't want to be homey. It just takes so much time/effort/know-how. Fortunately, Jeffrey's Grocery could be a kitchen away from kitchen for the culinarily challenged. There are stools at the luncheonette counter to park yourself and watch someone else cook for you, whipping up globalized comfort food that originates in the U.S. and touches down in France and Italy. The setting is a hazy 1950s dream of home, with tin ceilings, plain wooden shelves and floors, exposed brick and Mason jars for stemware. Like other Gabriel Stulman restaurants, it's also an interesting social experiment, bringing back the close interaction between staff and customers that characterized luncheonettes across the country in the first half of the 20th century. Many of the people dining at Jeffrey's Grocery on a recent night were regulars.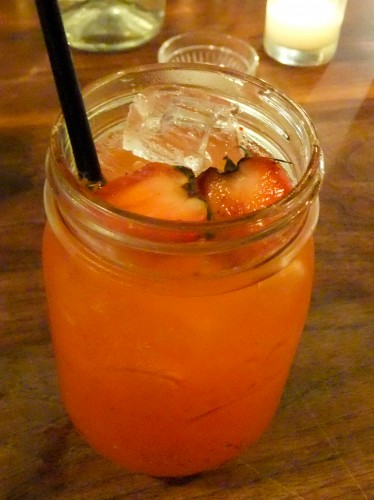 Better yet, this luncheonette serves booze, like the Bacchus Cup ($12), a sort of American Pimm's cup made with a mix of vodka, cava, Lillet and strawberries. For tequila fans, a bracing mixture of Cazadores Blanco, pineapple, lime and cilantro called "The Passport" ($12) should send you on your way.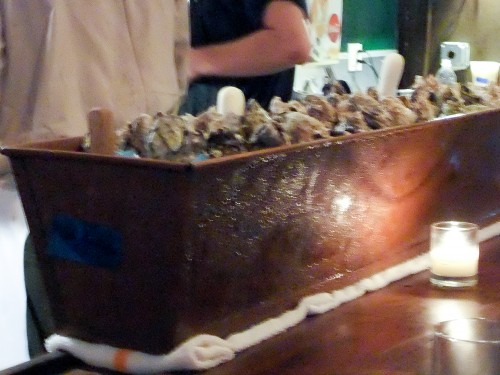 It only takes a glance at the bar to determine that Jeffrey's is a big oyster destination. A copper ice-filled trough in the center held five varieties of them on a recent night, including Washington State Steamboats ($2.85 each), New Brunswick Beausoleils and Long Island Blue Point oysters ($2.45 each).Our local Blue Points were the best of the bunch.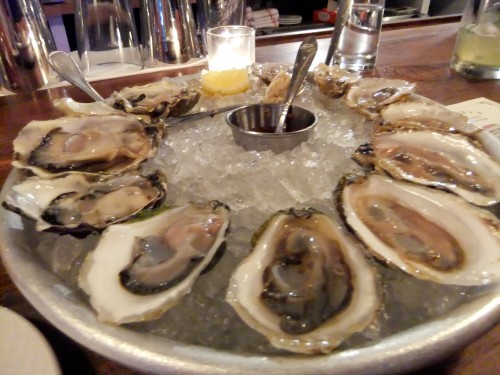 You can make a dinner out of a dozen oysters and some appetizers, like the English peas and burrata ($15) wrapped in a particularly good salty-sweet prosciutto. The fresh, al dente peas could inspire even non-cooks to shell their own peas and give it a whirl.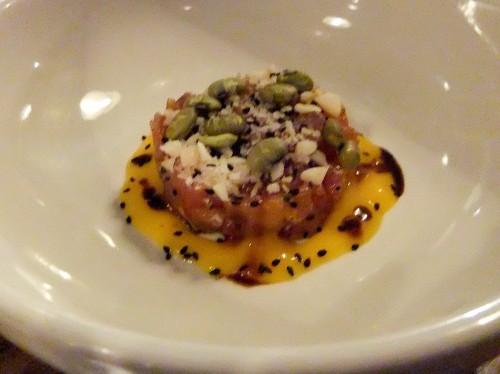 Yellowfin tuna tartare ($16) gets dressed in a thin slick of pureed mango and ginger and topped with crunchy roasted macadamia nuts and edamame, which add an interesting layer of texture to a dish that can be boring in the usual form.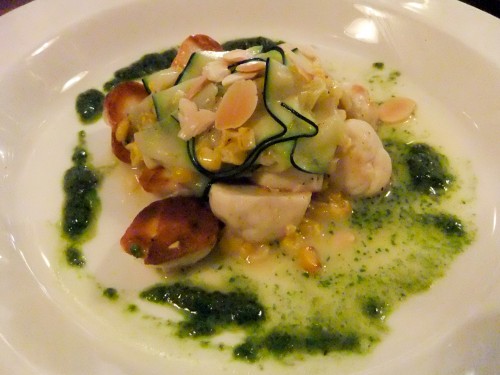 Toasted nuts also garnish the gnudi ($16) – toasted almonds in this case – which is listed as an appetizer but filling enough to be an entree. The farm fresh corn, thinly sliced zucchini and a basil puree graced a brown butter (and brown sugar?) sauce, though the ricotta gnudi themselves could have been a little lighter. (I couldn't help fantasizing about the gnudi down the block at the Spotted Pig.)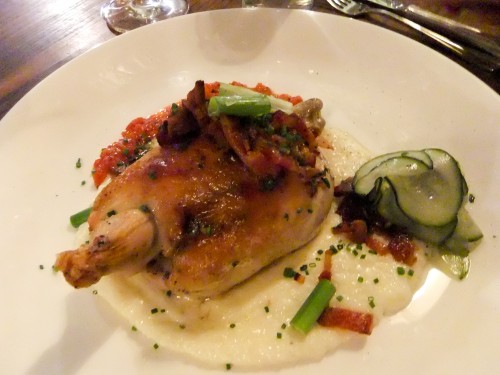 The design makes ingenious use of the extremely limited space, and the staff turns out all sorts of things from a salamander attached to a back wall. Chicken is roasted in a saute pan until crispy and buttery on top and set atop bacon-inflected grits whose only flaw was their scarcity, because as D. put it, "I was hoping for a whole mess of grits."
Service is very attentive and courteous, no matter how tough the customer may be, like the lady next to us who repeatedly challenged our server about his wine recommendation ($3 more per glass than another wine). But as anyone who has ever worked behind a bar knows, you have to be able to handle all types. Unlike a waiter, you have no means of escape if things turn ugly.
The groceries may not have worked out at Jeffrey's Grocery, but West Village locals have actual grocery stores for that. For a cozy neighborhood restaurant that doesn't require you to lift a finger to enjoy a sort-of home-cooked meal, there's Jeffrey's Grocery.
Jeffrey's Grocery
172 Waverly Place at Christopher Street
New York, NY
646-398-7630
jeffreysgrocery.com
No reservations. Menus available online.