As much as we hate to see old icons of the New York dining scene disappear, let's face it: not every place is worth saving. Take Fedora, the gay bar on West 4th Street that's been around since before gay bars were even legal. The atmosphere: fabulously decrepit, as was much of the clientele. The food: questionable. Fedora was a restaurant in the vein of the bygone bohemian Greenwich Village depicted in Mad Men, a style that only lives on in such stalwarts as Gene's on West 11th Street.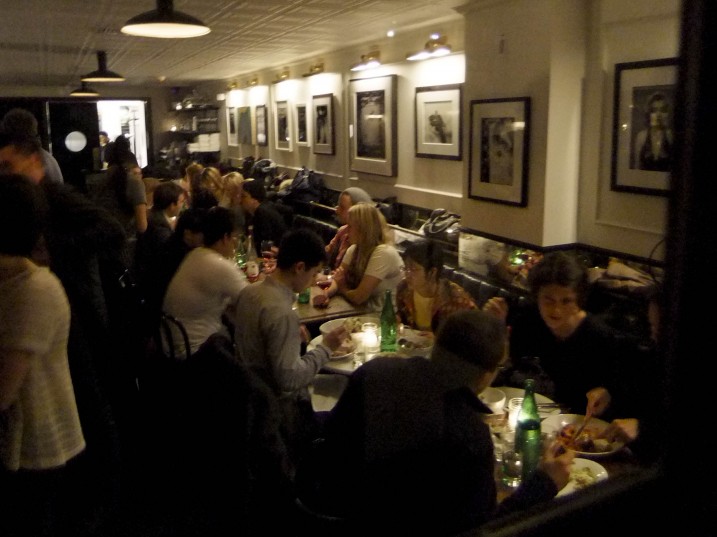 Fast forward to 2010, when new owner Gabriel Stulman of Joseph Leonard took over the Fedora space and reopened it this January. He kept the name and the iconic neon sign outside. A long wooden bar spanning one side of the spare, black and white room looks antique, but it's actually a new, custom-made bar that incorporates parts of the old Fedora bar. It feels as if it's been here forever, as does the impressive collection of black and white photos on the opposite wall. Even some of the original Fedora's regulars are now regulars here. Though Stulman's following is pretty straight, the original regulars can't be displeased by the eye candy in this good-looking, stylish crowd.
Stulman is the affable guy with Gene Shalit-like hair who actually works behind the bar, pouring drinks. He's managed to salvage the good parts of Fedora while improving on the not-as-good. Asked by two women next to us to pick the best thing on the menu, he said: "I can't. That's like asking a musician who's been working on an album for eight months to choose their favorite track. We've edited it down and edited it down. Everything that's left is my favorite."
The final product is tight. This is a menu in the shock-and-awe style of dining, with lots of words like "pig's head" and "tongue." The food itself turns out to be a distinctly New World interpretation of bistro food, a mix of local ingredients and classic French technique, with some Asian notes thrown in. The mix of French and northern-style country food is typical of Montreal, where chef Mehdi Brunet-Benkritly's was previously the chef of Au Pied de Cochon.
Though the pig's head ($12) sounds intimidating, in actuality it's just meatballs made from the same cut as guanciale, with similar earthy flavor and a stringy texture that makes the meatballs light. The tangy, mustardy gribiche sauce that accompanies them and a fresh green salad is French and a relative rarity in New York.
Wagyu tongue ($13) turns out to be not unlike gourmet Steak-Ums, sliced razor-thin and sauteed. Beside it is a delicious slaw made of apples and dressed with another tangy, egg-based sauce that takes an Asian turn.
This is no ordinary "bbq sauce" on the crisped duck leg ($24) but a Sriracha sauce with real Chinese fire to it. The rich, juicy duck itself is more confit than Peking, however, resulting in an interesting contrast of cultures on one plate.
I don't remember ever seeing "skate on the bone" ($25) on any menu anywhere, so Stulman explained it in detail for us. Rather than filleting it, Brunet-Benkritly leaves the skate on its long spine to retain more gutsy flavor. But the menu description is also a pun, because the fish is served alongside an upended shank bone with a demitasse spoon for scooping out the marrow and dolloping it on top. It is one of the most decadent fish dishes you will ever have, brilliantly executed.
Bourbon aficionados will find a lot to love at this bar, because Fedora has a huge selection of bottles, and the pour here is quite generous. The Boothby ($12), a riff on a Manhattan, is good enough that you may require two, and a lovely, butterscotch-y Hirsch single barrel bourbon ($11) is sweet enough to stand in for dessert. Fortunately, the bar at Fedora is now a lot larger than it used to be, so there's no reason not to stop in for a drink.
With its good vibes, charming service, sleekly masculine decor and creative bistro fare, Fedora is an instant classic. Which kind of makes us afraid. This place is gonna be packed.
Fedora
239 West 4th Street, between Charles and West 10th Streets
New York, NY
646-449-9336
View menu on Eater.com