There's a common misconception that a restaurant has to focus on things like fish, tofu and radishes to attract a female clientele. But what New York women want is often defined by what they don't want: multiple TVs over the bar, the smell of bleach masking the smell of stale beer, and guys in backwards white baseball caps. But red meat? Most of us are actually fine with that.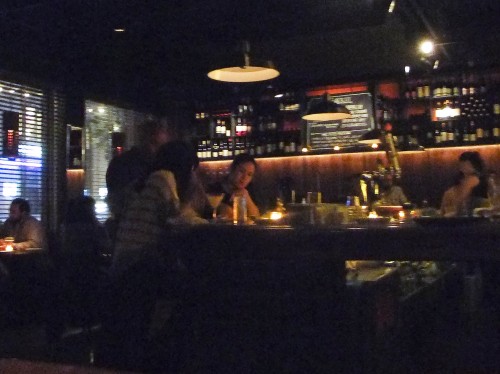 Burger and Barrel proves that a restaurant doesn't have to go on a diet to appeal to women, since we appreciate a good burger just as much as the guys do. We just don't want to eat one in a crap place.
The old New York, art deco feel of this new restaurant, with its lacquered cherrywood walls, spot lighting and Venetian blinds, is a welcome break from your standard brew pub, and on the night we visited, there were as many women there as there were men. Of course the emphasis here on "barrel," aka wine, is always a draw for the ladies. You could get diet dishes if you wanted – the baby greens salad ($10), shrimp ceviche ($14) or the roast halibut ($24) – but the best things at chef Josh Capon's new place are deliciously fattening.
We started with the classic iceberg wedge salad ($10), so big it's splittable. Burger and Barrel's could be a lesson in how to do this salad right, with garlicky blue cheese dressing atop the crispest, freshest lettuce and generous chunks of smoky country bacon.
As a Marylander, I'm very particular about crab and had some issues with the garlic herb butter preparation of the baked crab ($16), which, while it showcased the big, luscious pieces of crab, was a little too precious for my taste. Crab is a great conduit of flavor and benefits from a hit of spice like mustard powder or Old Bay – or at least a lot more garlic. This Yankee-style preparation could have used some more soul.
Though Burger and Barrel has seven different types of burgers, D. and I both ordered the classic ($14), a basic cheeseburger. This burger opened up like a perfume: first the top note of briny pickles, the mild crunch of tomato and shredded lettuce, a gooey layer of American cheese and finally the base note of the charcoal-y, juicy burger, perfectly cooked to medium rare. Though the other burgers, variously embellished with things like queso fresco and caramelized onions, looked tempting, but it would be hard to stray from the original.
In a clever twist, two oversized sweet, crispy onion rings were pinned to the top. These were better than the fries, which were a little on the dry side. For some reason French bistros seem to be the best at fries – maybe it's the duck fat.
Befitting its name, Burger and Barrel has 23 wines available by the glass, including 10 reds. A nice 2009 Susanna Balbo Malbec ($13) really classed up our burger, but I wished they'd had more beers on tap, since a pint of cold beer is still a great accompaniment to a burger, even in swanky Soho. There were only four tap beers, none of which really appealed, but the darkish Lake Placid Ubu Ale is a great NY State option by the bottle.
Though Burger and Barrel is located in a newish building on busy Houston Street, behind the wooden blinds it feels cosseted, a cross between a classic Americana Edward Hopper painting, a 1960s Mad Men cocktail den and a purely modern New York restaurant. The old-meets-new sensibility continues in cocktails like the Modernista ($13), a mix of scotch, rum, absinthe, Swedish punsch and orange bitters that tastes like an updated version of the whiskey sour.
There's so much good stuff going on here that even if a guy in a backwards white baseball cap shows up, as on that night, you may be willing to look the other way. And who knows? Maybe even the guys' guys who discover Burger and Barrel will start to expect more from your average burger joint.
Burger and Barrel
25 West Houston Street, between Mercer and Greene Streets
New York, NY
212-334-7320