New Yorkers were elated when Mario Batali and Lidia Bastianich's Italian food emporium Eataly opened last year. There was only one problem: Eataly didn't seem to be intended for New Yorkers. A massive marketing and PR effort across the U.S. and in Europe meant that Eataly instantly filled up with tourists – even the ones who can get decent biscotti at home.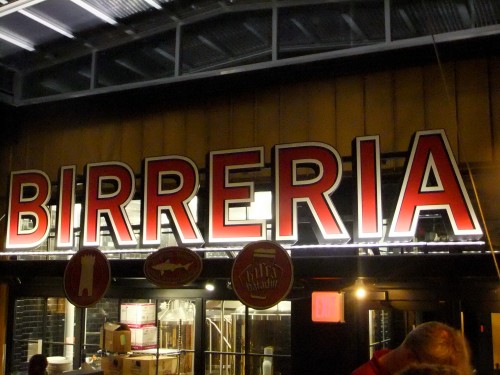 Fortunately, the Red Apple bus crowd does not seem to have discovered the new rooftop restaurant on top of Eataly yet. You'll still be elbowed by the crowds on your way to the bar at Birreria, but at least none of those elbows will be loaded down with Century 21 bags.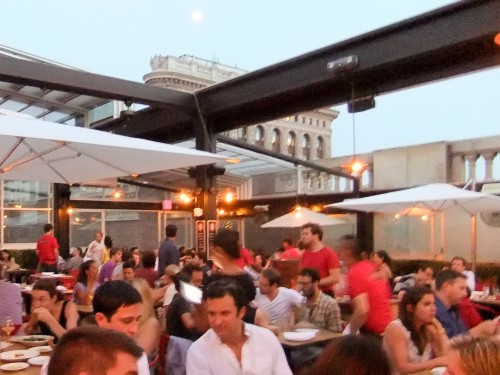 The more hotly anticipated any opening is, the more strident the complaints seem to be – like the ones on Yelp denouncing Birreria for its lack of views. I'm not sure what sort of engineering feat would have enabled Mario to build an entire new floor level on the top of the building where there was none, but maybe the Freedom Tower construction crew will be available soon. Birreria is buffeted by brick walls that were already part of the building and sheltered by a retractable awning. The Empire State Building, Flatiron Building and Met Life Tower still glow right above the restaurant. Kvetch now, but we'll be there for Oktoberfest.
It's possible to go to Birreria just for the bar. But the beer hall moniker is somewhat of a misnomer, since most of the square footage here is dedicated to the sit-down restaurant. Also, if you skip the food, you'll be missing the best part.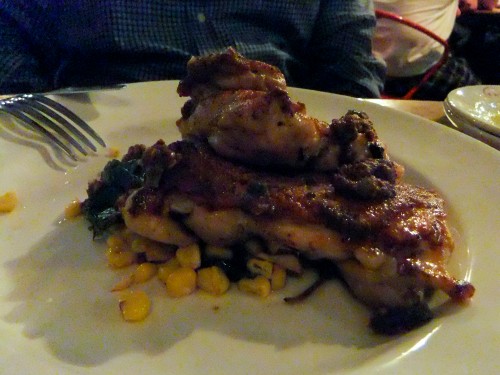 It was probably only a matter of time before the super umami flavor of anchovies met barbecue. At Birreria they come together in one brilliant whole in the pollo con pesto di olive verdi ($19), where barbecue sauce is replaced by a pungent green olive pesto thick with ground almonds, garlic and anchovies. It's chicken under a brick, made Italian-style with deboned chicken legs.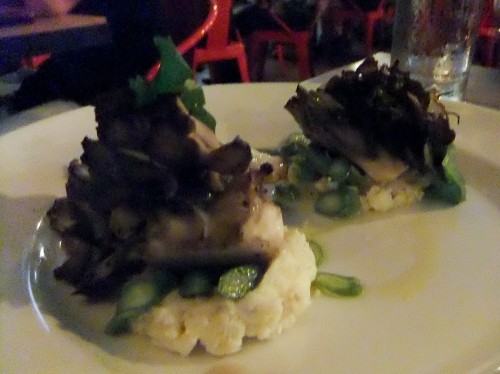 Meaty roasted maitake mushrooms sit on a shelf of asparagus spears in one of the funghi starters ($15). They have so much flavor on their own that the sharp pecorino crema underneath is a little jarring. You'd be better off tackling them separately, but the crema goes wonderfully with the lingonberry honey accompanying the bread.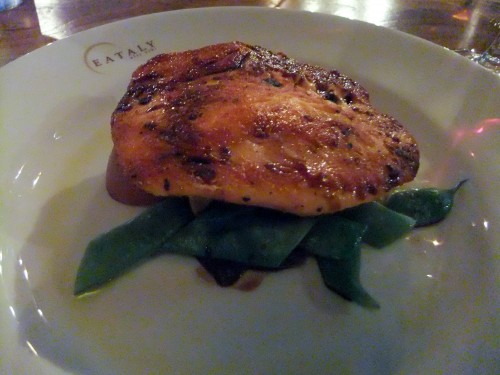 Wild-caught salmon as sweet and delicious as candy came slicked with a caramelized balsamic glaze, atop crispy snow peas. It's such a great take on a seasonal fish of the day that it's too bad the salmon season doesn't last forever.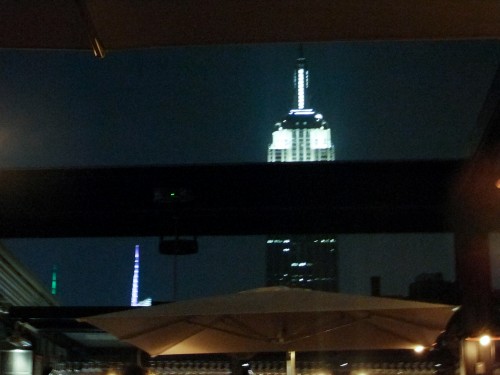 If you just try wandering in to Birreria the way you'd just wander into most beer gardens, you may have to endure a lot to get to a happy ending. The staff at Birreria has adopted the helpful system of texting guests as soon as their table comes ready – but it's more helpful if you actually hear your phone ding before you get lost in the din of the bar area, as I unfortunately didn't. Most diners, myself included, didn't know that this is one Eataly restaurant that actually takes reservations online, even just for parties of two. If you don't want to wait one to two hours for a table, make a reservation before just showing up.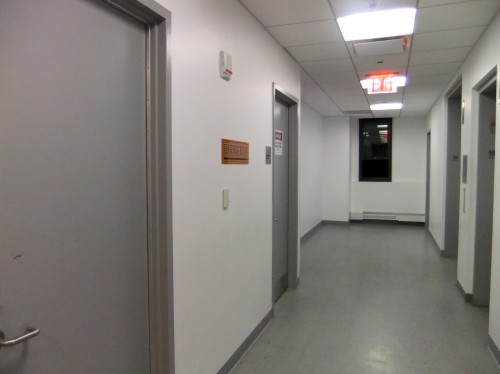 Other than the crowds, there are a few other kinks, like the stunningly unattractive office building hallway that leads to this multi-million dollar space. The lighting in here is a living nightmare, so bright and ugly it could turn even the best date sour. Egad!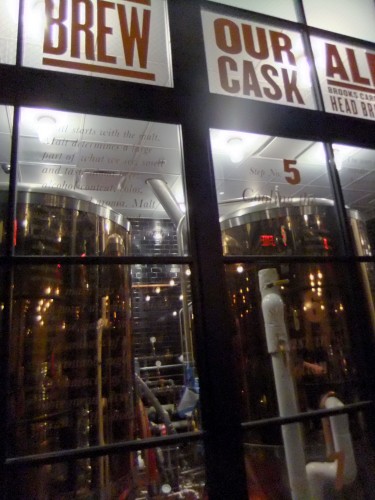 But then the no-expense-spared stuff makes up for it inside. Try feeding yourself and your date more of the excellent artisanal draft beers, like the refreshing, raspberry flavored Del Borgo Rubus Lamponi ($7 a glass). In addition to nine more draft beers, two cask beers and twenty bottled ones, Birreria also has casks of wine up on the bar in several varietals, though the reds tend to get a little warm in the hot weather.
Like a lot of things molto Mario, it's over the top, so it's perhaps fitting that Birreria is located on a rooftop. New Yorkers, join hands and pray that this piece of Eataly shall remain ours alone.
Birreria
200 Fifth Avenue at 23rd Street
New York, NY
eatalyny.com/eat/birreria
Reservations and menu online