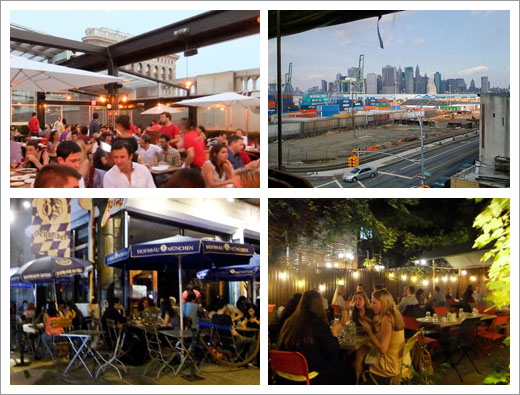 As much as we complain about the heat, it's so nice to be able to dine al fresco when summer finally comes to New York. But what we're looking for isn't any old table plunked on a sidewalk next to a major truck route, but a nice setting, fun scene and preferably some good food. Here is an opinionated guide to the best outdoor dining in town. 
Flatiron District
Birreria – rooftop. Unquestionably the hottest outdoor dining spot in new York right now (check back for a full review), Eataly's new rooftop space is more of a sit-down Italian restaurant than a German-style beer garden, despite the name. The long wait for a table is rewarded with delicious chicken with pesto ($19), seasonal grilled fish of the day, and an extensive charcuterie. If you don't want to deal with the dinner wait, get there early, hang at the bar and drink up the scene. 200 Fifth Avenue at 23rd Street, 212-229-2560.
Coffee Shop. So many food people love to hate this place, but – but! – it's one of the most profitable restaurants in the country, so they must be doing something right. Given the excellent people-watching, the Coffee Shop is one of the best places for lunch downtown, especially when the sidewalk seating opens up. Recommended dishes: sesame chicken and bok choy salad ($12.95), burger deluxe ($11.95), herb fries ($5). 29 Union Square West at 16th Street, 212-243-7969.
West Village
Bar Pitti – sidewalk. Cheap, cheap, cheap! One of the best things to love about Bar Pitti is that it's hard to run up a big bill here, and you get good food and wine in the bargain. Loyal following of downtown neighbors. Recommended dishes: pappardelle alla Fiesolana ($14.50), chicken liver crostini ($6). 268 Sixth Avenue, between Bleecker and Houston Streets, West Village, 212-982-3300.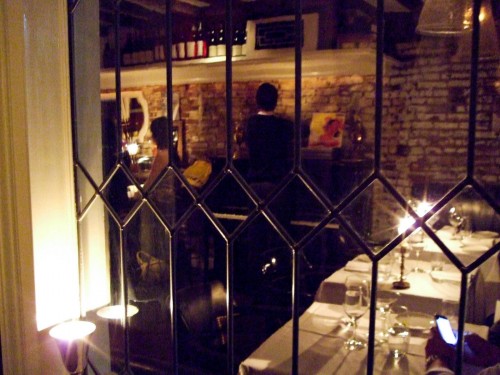 Bobo – courtyard. This West Village fave has a pretty back garden open not just for dinner but brunch, perfect for outdoor dining on a lazy Sunday. 181 West 10th Street at Seventh Avenue South, 212-488-2626.
Morandi – sidewalk. Keith McNally's first venture into Italian food is still a fun scene with the occasional celeb sighting. Plus, they have McNally's signature carafes of wine, perfect for whiling away a late sunny afternoon. Recommended dishes: fried artichokes ($13), fried green olives stuffed with sausage ($11), hand rolled spaghetti with lemon ($18), orata ($29), polpettine ($19). 211 Waverly Place at Seventh Avenue, 212-627-7575.
Sant'Ambroeus – sidewalk. The prices for the Italian food here are definitely on the pricey side, but the sidewalk seating on one of the prettiest corners of the West Village makes it all seem worthwhile. Dogs are welcome outside. Celeb hangout. Recommended dishes: panini ($14-16), risotto ($18-22), wine. 259 West 4th Street at Perry Street, 212-604-9254.
Meatpacking District
Corsino – sidewalk. This newish spot by the 'ino guys has been packing them in since it opened a couple years back. The location on the corner of Hudson and Horatio is ideal – not too close to the hoi polloi, but not too far from the action. Lots of small shared plates, including their signature crostini ($2.50 each), add to the conviviality. 637 Hudson Street at Horatio Street, 212-242-3093.
Barbuto – sidewalk. Critics rave about Jonathan Waxman's roast chicken at Barbuto, so why not enjoy it al fresco? Greenwich Street is relatively quiet, so in this part of town, you actually can get the feeling of sidewalk dining in Europe. Recommended dishes: seasonal pastas ($18-$19), pollo al forno ($19). 775 Washington Street at W. 12th Street, 212-924-9700.
Pastis – sidewalk. Say what you will about the trendiness of this McNally joint – by now it's been around so long, its very trendiness is a MePa institution. Plus, they have excellent oysters, croque madame, carafes of wine and interesting people watching, especially at lunchtime. Recommended dishes: oysters, croque madame ($14), carafes of wine ($24-$27). 9 Ninth Avenue at Little West 12th Street, 212-929-4844.
East Village
Tree Bistro – garden. Behind the unassuming exterior of this French-leaning bistro is a massive tented garden, prettily done up with sculptures, plants and indirect lighting. While the food here isn't mind-blowing, it's a nice accompaniment to the great setting. Recommended dishes: escargots ($10), seared sea scallops ($23). 190 1st Avenue between 11th and 12th Streets, 212-358-7171.
Quartino – garden. If you ever feel like you need serenity now! after a rough day at work, the petite back garden at Quartino is positively zen. Kick back with a glass of wine and a great caprese salad ($12) – it's outdoor dining without the hassle or the crowds. 11 Bleecker Street between Lafayette Street and the Bowery, 212-529-5133.
Back Forty – garden. The secret is out about Back Forty, so you're just as likely to find Upper East Siders here as locals. But with excellent burgers ($12) and apps like the artichoke spinach gratin ($10), an extensive beer list, friendly service and a sizeable garden out back, Back Forty is still keeping it real in the East Village. 190 Avenue B at East 12th Street, 212-388-1990
Zum Schneider – sidewalk. Before you write this place off as just another beer hall, note that they have significantly expanded their menu in recent years. Now you can get German classics like spaetzle ($5), bratwurst ($4), Bavarian cheese spread ($8), and fresh soft pretzels to go with that Hofbrauhaus lager under the umbrellas out front. 107 Avenue C at East 7th Street, 212-598-1098.
NoHo
Gemma – sidewalk. Gemma can be quite a scene during Fashion Week, when various models and stylists stay at the Bowery Hotel above. There are a lot of crowd-pleasers on the menu, and the sidewalk scene is quite nice, until that 18 wheeler goes by, and you suddenly remember you're on the Bowery. Recommended dishes: pizza ($12-$15), burrata caprese ($10), fava bean salad ($10), olive tapenade and goat cheese crostini ($5). The Bowery Hotel, 355 Bowery at East 3rd Street, 212-505-9100.
Lower East Side
Loreley – garden. One of the first of the new wave of beer gardens to hit New York, Loreley is still going strong several years into its tenure on the Lower East Side. You'll want to get here early to snag a table in the garden out back, but if you can't claim the whole table for your party at first, hegemony is encouraged and rewarded. A solid menu of brats, fries and salads will sate your appetite. Recommended dishes: beer, currywurst with fries ($10).  7 Rivington Street between the Bowery and Chrystie Street, 212-253-7077.
SoHo
Barolo – courtyard. OK, so the Eurotrash element is definitely a factor here, but if you don't mind dining with Gianni and Franz, Barolo's is one of the prettiest, most spacious courtyards in Soho. Recommended dishes: wine. 398 W. Broadway, between Spring and Broome Streets, Soho, 212-226-1102.
Mekong – sidewalk. We're not sure why Mekong is such a model magnet, but considering it also attracts male models, we're not complaining. Head here for drinks or a quick bite to eat on a warm weeknight. Recommended dishes: summer rolls ($6-7), crispy wok fried red snapper ($21), Vietnamese style shrimp ($16). 18 King Street at Sixth Avenue, 212-343-8169.
Financial District
Gigino at Wagner Park – patio. It's easy to forget Manhattan is an island until you find yourself on the water's edge. Gigino's, located on the Hudson at the southern tip of Battery Park, has great views of the Statue of Liberty, a classic Italian menu and a laid-back waterfront vibe. 20 Battery Place at Wagner Park, 212-528-2228.
Shake Shack – sidewalk. Can't get enough Shake Shack? Now there's a new one with outdoor seating and almost nonexistent lines at night – during the day it's a favorite of Goldman Sachs employees next door. The construction scaffolding surrounding it right now is somewhat of a detractor, but there are plenty of tables outside and consistently great burgers. Recommended dishes: single Shack burger ($4.50), cheese fries ($3.65), chocolate malted milkshake ($5.50). 215 Murray Street between West Street and North End Avenue, 646-545-4600.
Chelsea
La Bottega – garden. Can you find better pizza in New York? Yes. But can you find it in a garden that feels sequestered and special, even though you're steps from Ninth Avenue? Doubtful. La Bottega's wood-oven pizza has lots to recommend it, including the supply of pretty people here, thanks to the still-trendy Maritime hotel above. Recommended dishes: pizza ($12-$13). 363 West 16th Street at 9th Avenue, 212-243-8400.
Trestle on Tenth – garden. If you're ever checking out West Chelsea's art scene on a Thursday evening, it's a must to book a table in the back garden here for an excellent post-gallery dining spot. The ivy-lined walls are a pretty backdrop for beautifully executed American food. Recommended dishes: butter lettuce salad with buttermilk dressing ($9), salmon ($21), pork loin ($21). 242 10th Avenue at 24th Street, 212-645-5659.
Murray Hill
Riverpark – patio. This new Colicchio-owned restaurant is right on the river's edge, where a spacious patio overlooks the boats passing below. An international menu by chef Sisha Ortuzar incorporates Asian influences into Mediterranean classics, making for a great mashup of flavors. Recommended dishes: house cocktails, mackerel escabeche ($15), braised octopus ($14), lobster and artichoke salad ($18), pork chop ($24). 450 East 29th Street, between First Avenue and FDR Drive, 212-729-9790.

Upper West Side
Bar Boulud – sidewalk. Daniel Boulud's Upper West Side wine bar has a significant amount of sidewalk seating in prime people-watching territory. On a warm summer night, charcuterie, wine and salad may be all you need for sustenance – plus a view of the beautifully lighted Lincoln Center fountain. Recommended dishes: steak frites ($33), paté ($10-$12). 1900 Broadway between 63rd and 64th Streets, 212-595-0303.
Nice Matin – sidewalk. Nice Matin may not be the best French bistro or the best outdoor restaurant, but it's the best French bistro with outdoor seating on the Upper West Side. Even if you can't snag an actual sidewalk seat, they throw the windows of this sunny, cheerful restaurant open, so you'll have an open-air experience either way. Recommended dishes: chicken paillard ($18.75), steak frites ($27.50).
Upper East Side
Beyoglu – sidewalk. The Upper East Side has its strengths, but interesting, good food is not one of them. Thankfully, there's Beyoglu, the Turkish meze place that pleases nearly everyone. Much of the inexpensive but very good food is vegetarian, and its Third Avenue and 81st Street locale is prime people-watching territory. Recommended dishes: hummus ($6), cacik yogurt dip ($6), taramara ($6), char-grilled octopus salad ($8). 1431 Third Avenue, at 81st Street, 212-650-0850.
Williamsburg
Fette Sau – patio. Follow your nose, because it will take you to the source of the delicious wafting scent of barbecue meat in Williamsburg. It's worth getting to Fette Sau early to install yourself and your friends at one of the outdoor picnic tables. Recommended dishes: pulled pork ($18 per pound), Berkshire spare ribs ($16 half rack), Guss' half sour pickles, Bulleit bourbon. 354 Metropolitan Avenue at Havemeyer Street, Williamsburg, Brooklyn, 718-963-3404.
Vutera – garden. This tucked-away little spot in Williamsburg has a beautiful back garden (other than the front sidewalk seating pictured above). Go here for a casual but still enchanting date place. Recommended dishes: escabeche ($10), roasted whole poussin ($17), bavette steak ($18). 345 Grand Street, between Havemeyer Street and Marcy Avenue, 718-599-0069.
Boerum Hill
La Lunetta – garden. This Smith Street restaurant is so low key you could walk right by it, but that would be a shame because then you'd be missing their excellent small plates and pastas, plus the charming garden. Recommended dishes: formaggi or salumi ($12 each), orecchietti with sausage and broccoli rabe ($16). 116 Smith Street, between Dean and Pacific Streets, Boerum Hill, Brooklyn, 718-488-6269.
Robin des Bois – garden. At this neighborhood staple, the funky flea market decor and fireplace creates a great atmosphere in the winter, and brunch and dinner here are all the more enjoyable when the pretty, leafy garden is open. Recommended dishes: French toast ($8.95), oeufs au gratin ($8.95), croque madame ($9.50), homemade hummus ($6), duck rillete ($9), Berkshire pork chops ($16.50), skirt steak au poivre ($17.50). 195 Smith Street between Warren and Baltic Streets, 718-596-1609.
Cobble Hill
Alma – rooftop. Go here for unparalleled views of downtown Manhattan on a gorgeous sunny day or evening. One of the best bets is brunch, if you can manage to get there before the rest of the neighborhood wakes up at about 11:30. Recommended dishes: chilaquiles con huevos ($8.75), Bloody Marys. 187 Columbia Street at Degraw Street, Carroll Gardens waterfront Brooklyn, 718-643-5400.
Carroll Gardens
The Grocery – garden. This place is to summer in Carroll Gardens what Patois was to winter – the ideal seasonal backdrop. Feel like you're in the Hamptons (in a good way) in the minimalist, serene back garden. Bonus: Savoy chefs mean the food is seasonal and quite good. Recommended dishes: fried artichokes ($14), slow rendered duck breast ($29). 288 Smith Street between Sackett and Union Streets, 718-596-3335.
Greenpoint
Anella – garden. It doesn't get more farm-to-table than this Brooklyn spot: from an outside table, you can see your vegetables growing in the adjacent garden. The bucolic, serene backyard dining area trumps anything you'd find in Manhattan – but the prices can reach Manhattan levels. 222 Franklin Street between Green and Huron Streets 718-389-8100.
Bed-Stuy
Saraghina – garden. Saraghina's back garden is another little idyll off the beaten path. Quirkily decorated with old signs for defunct summer resorts and various antiques, the trellised, candlelit back yard is romantic but casual. Recommended dishes: grilled octopus salad, capocollo pizza ($15). 435 Halsey Street at Lewis Avenue, 718-574-0010.