Some of the most glamorous women in the world converged upon the Grand Palais in Paris last week for the huge, blockbuster Chanel show that won rave reviews. As ever with Karl Lagerfeld's shows, many guests wore Chanel from head to toe in a show of support (that verges on adoration) of the French master designer.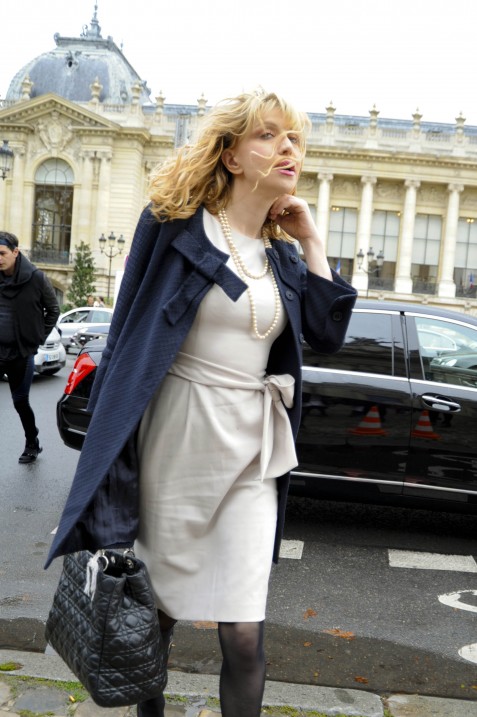 Courtney Love in a pale pink Chanel dress, Chanel bag and pearls.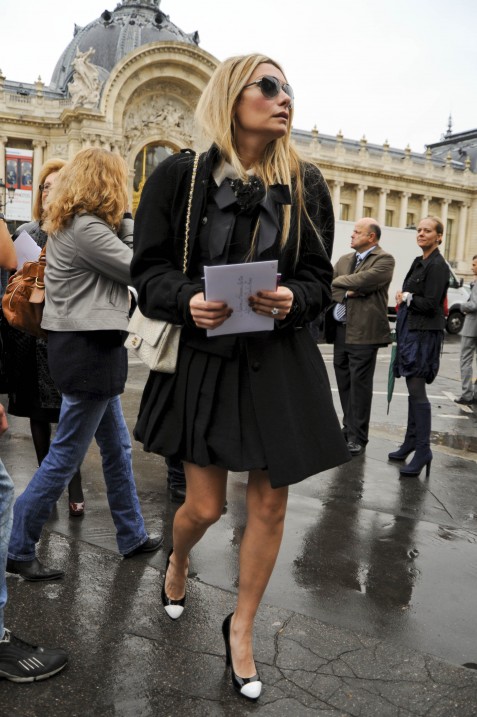 Appropriately clad in black and white, invitation in hand.
Sally Singer in black, white and navy.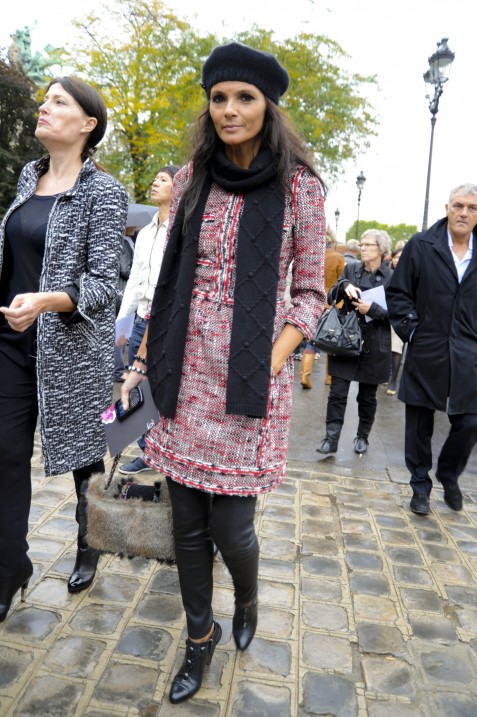 A Chanel red tweed dress, one of many on the guests. But I loved the way she wore it best – with black beret, scarf, and leather/PVC leggings. Modern French chic.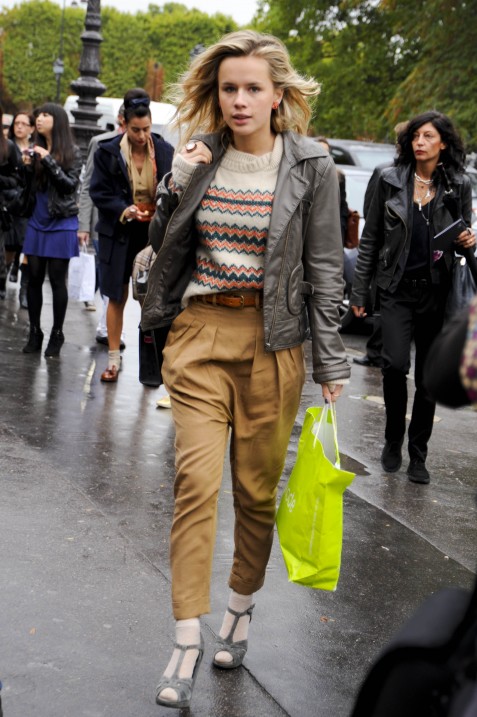 A perfectly styled sportswear outfit for fall 2010. Start with high-waisted camel trousers, add a cropped sweater with retro pattern, tuck it in at the front beneath a classic belt. The leather jacket keeps it urban, and the socks with gray suede t-strap heels are practical and schoolgirl-cute.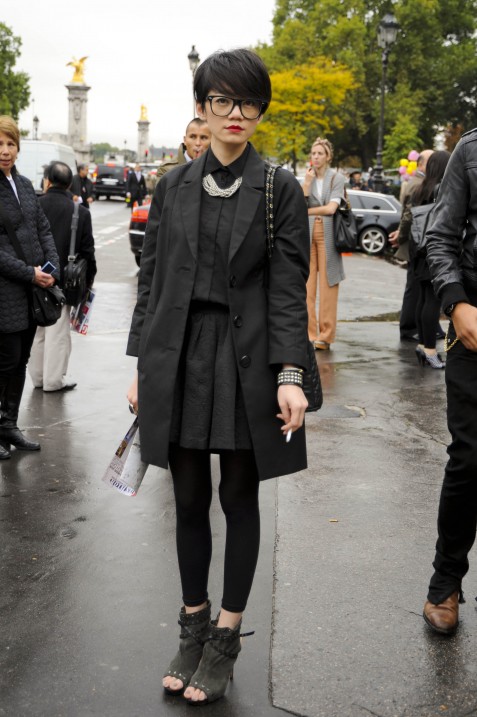 A great 2010 version of Chanel's classic LBD, the classic red lips supplemented with modern glasses. Note the collar buttoned all the way up.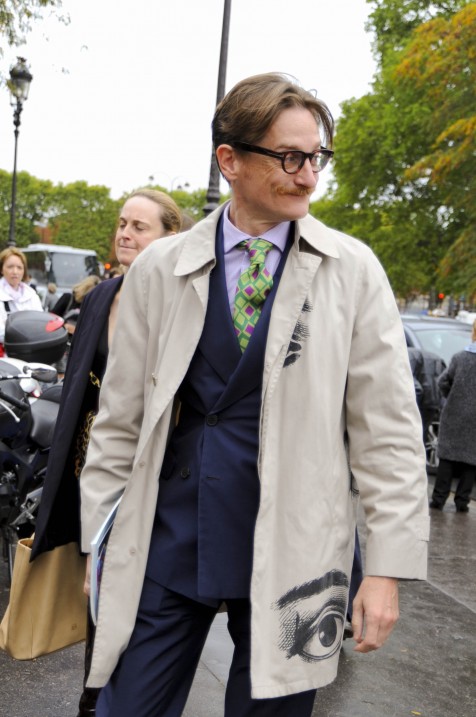 Hamish Bowles in his surrealist raincoat and a colorful lime green and purple check tie.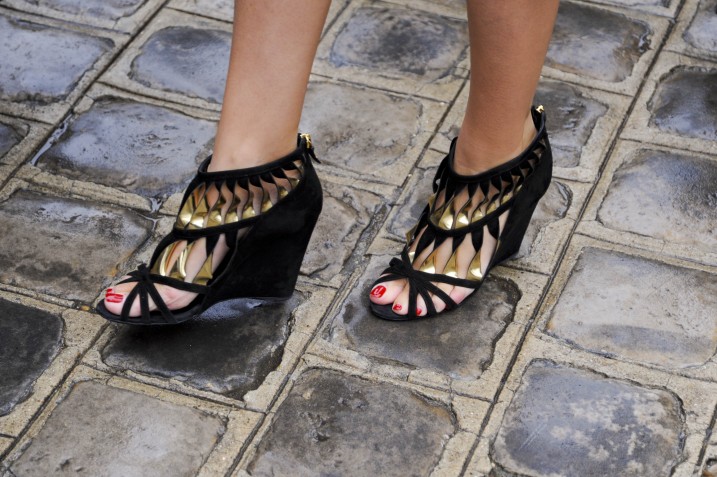 An excellent pair of black suede and gold woven wedges against the cobblestones.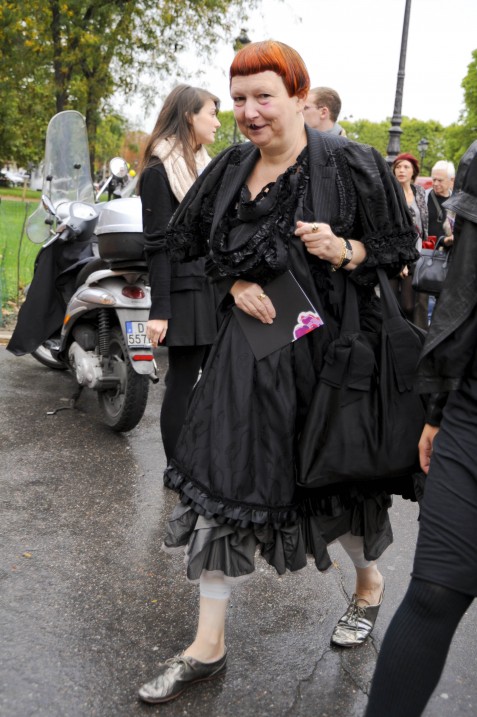 Lynn Yaeger in an elaborately beribboned and ruffled black silk crepe dress.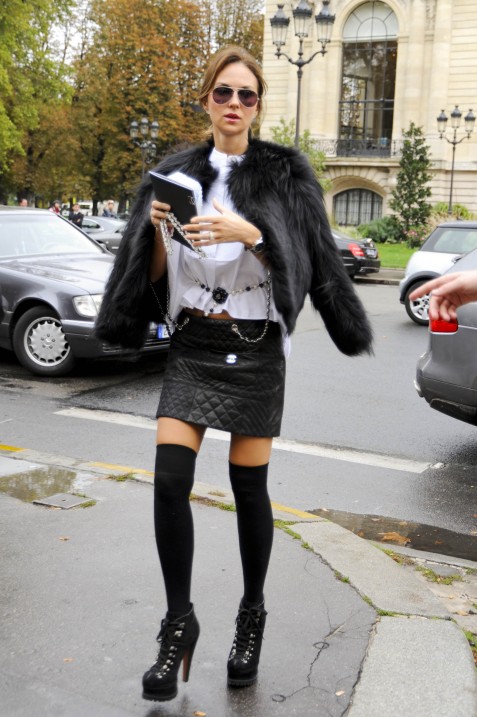 Chanel jewelry and quilted black mini. Love how she has put the combat heel boots together with over-the-knee socks. Tough but sexy.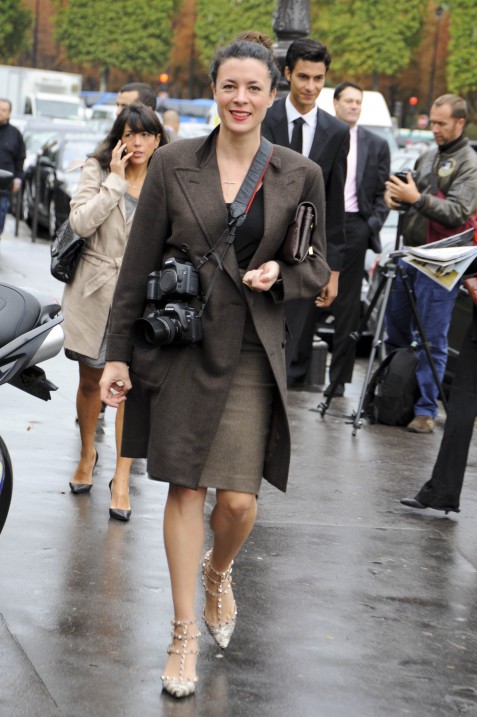 Garance Doré in brown tweed and jeweled shoes. How she manages to haul camera equipment around and carry only the chicest envelope clutch is beyond me – I can't do it!
Mysterious and windblown in a coat that mixes black wool felt and black fur. More leather leggings, with zippers undone just so at the ankle.
Overall the fashion at Paris Fashion Week seemed more individualistic and less trend-driven than in New York, as evidenced by this look with brown leather and a red checked skirt. Whenever women wore the same thing, it was to honor a particular designer, not to just follow the scripted trends for the season.
Great accessories are the icing on the cake.
A New York socialite in black silk rosette top and sparkly black cigarette pants, Chanel jewelry.
Faux fur leopard vest and an umbrella.
The seasonal work uniform of ivory silk blouse with tie and high-waisted trousers.
Cable knit sweater worn over a pale pink chiffon dress.
Anna Dello Russo in pink chiffon and black lace.
An elegant pale pink quilted dress with black leather belt and gloves.
Gray knitwear and bright colors.
Cool combination of a leopard coat and straw bag embroidered with a sequin Jolly Roger.
The gorgeous, luxe fabrics of non-fast fashion.
Giovanna Battaglia in an olive green leather jacket with a '70s vibe.
Extreme Chanel chinoiserie.
One of the best menswear looks: blue overcoat with a vibrant orange lining.
Telegraphing easy sophistication via an A-line camel coat.
Chic in all black with a transparent layered skirt.
An elaborate tweed and faux fur outfit straight off the Chanel FW2010 runway also looks great in real life.
A gray coat and bobby-style black felt hat with visor.
Model after the show in a fur vest and black mini. Like many models, she may wear heels on the runway, but she's wearing flat boots for getting around town.