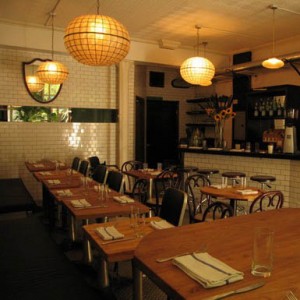 Rarely do you make the news for not making the news, but that's just what's happened with new restaurant The National, which quietly opened over a month ago and is literally off the (Google) map. According to WWD, first-time restauranteurs Julie Dickstein and Jeremy Hogeland wanted to get everything right before alerting the media – unlike so many new places that launch a multi-platform press attack.
Located next to Freeman's, The National looks like it has a quaint, homey vibe, with antique pieces collected over the span of five years. Chef Zoë Feigenbaum is also a first-timer and graduate of the French Culinary Institute, and is serving up a mostly-seasonal menu that Dickstein describes as "schizophrenic," because it runs the gamut, Blue Ribbon-like, from Korea to Maine.
So no press, next to Freeman's, very few seats inside. You know what that means: It's going to be mobbed.
The National
8 Rivington Street between Chrystie and the Bowery
New York, NY
212-777-2177