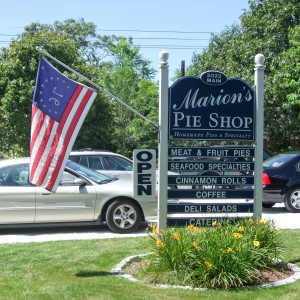 For such a small town (pop. about 6,500), Chatham, Cape Cod has a lot going for it food-wise. Not only are there good restaurants, but there are excellent take-out shops, from the humble to the gourmet, that will free you from the kitchen on vacation.
Chatham Cheese Company * Wequaussett Outer Bar & Grille * The Cape Sea Grille * Nantucket Wild Gourmet & Smokehouse * Marion's Pie Shop * Marine Cuisine

Chatham Cheese Company
This new shop provides everything you need for an upscale picnic or wine-and-cheese hour. Cheese ranges from the standard to the unusual, like Zamorano, a Spanish sheep's milk cheese with notes of butterscotch, and the very stinky Cowgirl Creamery Red Hawk, espied by the eagle eye of Marie Fromage. The gift baskets are great hostess presents, and the wine selection is well-curated and features vineyards like Joseph Carr. Add to that an airy, laid-back atmosphere and you'll start relaxing as soon as you walk into this place.
Chatham Cheese Company
902 Main Street
Chatham, MA
508-945-1605

Wequassett Outer Bar & Grille
One of several "grilles" in the area, Wequaussett Outer Bar & Grille is known for its beautiful harbor views (especially at lunch/brunch) and fun atmosphere—though this sometimes translates to "loud." Set in a pretty, colonial-style resort and golf club, the Outer Bar has an extensive cocktail list with potent favorites like the mudslide and the sea breeze. Light and crispy fish and chips, made with fresh cod, are a good choice for a nice inexpensive meal by the water.
Wequaussett Outer Bar & Grille
2171 Route 28, Head of the Bay
Harwich, MA
508-432-5400

The Cape Sea Grille
Nearly every place in town was booked solid on a recent August weekend, including the busy Cape Sea Grille, set in a 19th-century sea captain's gray shingle. Here we finally found the raw seafood platter ($15.50) we'd been craving, with brilliantly fresh clams on the half shell and mussels dressed in a creamy dill remoulade. The lobster with pancetta ($34) was slightly overwhelmed by the latter ingredient, but the combination of these two very non-kosher tastes was commendable. (Try it at home with prosciutto?) Striped bass served with gumbo was even better the next day, though if we had to do it all over again, we might have chosen the papardelle tossed with generous chunks of lobster, shrimp, scallops, and chili cream sauce ($28).  click for the slideshow
Cape Sea Grille
31 Sea Street
Harwich Port, MA
508-432-4745

Nantucket Wild Gourmet & Smokehouse
Still craving that smoked bluefish we had at the Squire, we headed over to Nantucket Wild Gourmet & Smokehouse, where the friendly owners smoke wild bluefish, tuna, and salmon on the premises. Specialty oils, vinegars, and other temptations line the shelves, and the fridge is stocked with homemade spreads like the redonculously good smoked tuna with kalamata olives, red onion, and brandy ($9).
Nantucket Wild Gourmet & Smokehouse
1223 Main Street
Chatham, MA 02633-2726
508-945-2700

Marion's Pie House
Sweet pies come served with a salty attitude at Marion's Pie Shop, but chances are the owner wouldn't have it any other way. Though Marion herself is gone now, she was known for her notoriously crabby attitude and excellent pastries, especially the chicken pot pie with vegetables and tooth-achingly good cinnamon buns, which usually sell out by noon or earlier. As at Briermere's on the North Fork of Long Island, there's often a line outside the door. The pies inside are worth the wait.
Marion's Pie Shop
2022 Main Street
Chatham, MA
508-432-9439

Marine Cuisine
Word has it that Marine Cuisine originally started so that the owners could use up the extra seafood from their original venture, Chatham Fish & Lobster. Now they're known just as much for the lobster rolls, fish sandwiches, and fried clams in the adjoining indoor/outdoor restaurant. The wait can be grueling, especially because the staff seems to live in an alternate universe. The resulting lobster roll, though it could use a little more seasoning, is one of the freshest you'll find anywhere, as advertised.
Marine Cuisine
Cornfield Market Place
Chatham, MA
508-945-1178