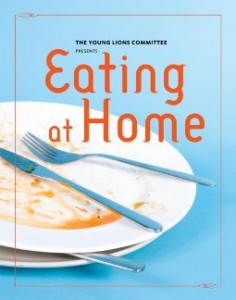 Last night the Young Lions of the New York Public Library hosted a panel, "Eating at Home," featuring Amanda Hesser, Rocco DiSpirito, Marion Nestle, and Julie Powell, author of Julie & Julia: 365 Days, 524 Recipes, 1 Tiny Apartment, the basis of an upcoming film starring Meryl Streep and Amy Adams. The most revelatory part of the evening? Though she was perhaps the first food blogger to get a book out of her blog postings, and certainly the first to get a movie starring Amy Adams as herself, Julie Powell does not consider herself a food blogger and feels "deeply ambivalent" about the whole food blogging phenomenon. "Food bloggers are clannish, slightly evil people sometimes." Et tu, Julie?
The Young Lions Committee often features excellent panels like this (I've also seen Mario Batali, Anthony Bourdain, and Bill Buford face off on stage there), so if you want to see excellent speakers first hand, please join and help them out: The New York Public Library just lost $57 million in funding.
More highlights from the talk, after the jump.
Opening Remarks
Amanda Hesser is launching a new food site called Food 52.
Julie Powell's next book will be about love and butchering meat [?].
On the Food Network
Rocco DiSpirito: Who's a fan of Rachel Ray? [silence]
Marion Nestle (author of James Beard Foundation award-winning Food Politics): The reason people watch the Food Network is because it doesn't have any calories.
MN: The Food Network isn't about cooking, it's about entertainment.
On Cooking at Home
MN: The availability of great ingredients is one reason people are cooking more now.
AH: Julia Child's book is the thing that changed everything.
AH corrects Julie Powell about how many recipes are in Mastering the Art of French Cooking: It's 426, not 425. I had to count them all once. That's an important thing to know.
AH: Why do you like to cook?
JP: It's time, it's focus, it's meditation.
Rocco DiSpirito is actually charming and funny in person. Teases Julie Powell for being a hipster.
AH: People are exposed to such sophisticated foods that it sets the bar too high for cooking.
Locavores vs. the Rest of America
Julie Powell talks about butchering and the Brooklyn Kitchen cookware store in Williamsburg.
RS: Who here needs to know how to butcher? People need to know how to open a package of spinach and saute it.
AH: It seems like you're saying it's more about the convenience than eating locally.
RS: I'm not saying Hot Pockets is the solution. But if that's what gets you to the table, that's great. Don't quote me on that.
JP on vegetarians: I get them more than I used to, but I still don't want to have them over to dinner.
On Grocery Stores
MN: Because of what happened to the economy, all these people are coming into grocery stores, buying food, and not knowing what to do with it.
AH: I love my local Key Foods, actually.
MN: That's good…. [laughter]
RD recounts a time when he was working in a four-star restaurant in New York in 1987, and the famous, unnamed chef, who is still a star now, used only frozen peas, not fresh.
RD: Frozen peas are a great example of frozen vegetables. They're better than fresh for almost the entire year.
JD visibly pissed about the freezer in Whole Foods [Citarella?] that only carried edamame. "I just want some peas!"
Cooking Tips
RD encourages people to use Organic Valley soups as the basis for any sauce.
AH suggests that you cook pot roast in mushroom soup.
JP recommends the cookbook Casserole Crazy by fellow Brooklyn resident Emily Farris.
RD: You can start any sauce with cherry marmalade. [Cherry marmalade?]
RD: Trader Joe's tomato sauce is excellent.
RD: I don't work for them, but Fresh Direct has some great prepared meals.
AH: If you only learned to cook one thing, what should it be?
MN: An omelet. You can eat it for breakfast, lunch or dinner.
RD: It's just messed-up scrambled eggs.
AH: If you had to give home cooks one tip, what would it be?
RD: Taste your food. You'd be surprised how many people don't taste the food as they're making it. Even chefs.
MN: We're in New York. People are just grateful to be invited to dinner!
Group consensus: If you want to be a good cook who cooks for other people, start by cooking for yourself.
On Restaurants
AH: I think Valentine's Day is the best time to go to a restaurant.
Remainder of group: What?!
AH: For the people watching!
True Confessions
JP confesses to falling asleep after drinking wine and waking up the next morning to eat the stew she'd made the night before, right out of the pot.
AH confesses to eating chicken stock.
On Food Blogging
AH: How do you think food blogging has affected everything?
MN: I have a blog. Foodpolitics.com
JP: I don't consider myself a food blogger. I feel deeply ambivalent about the whole thing. Food bloggers can be clannish, slightly evil people sometimes, which is OK I guess. I can be clannish and slightly evil too. [To see Julie Powell's blog, juliepowell.blogspot.com, click here.]
AH: So what's the issue, that it's not informational enough?
JP agrees.
RD says the word "infotainment." [Even more frighteningly, an iPhone corrects the spelling.]
RD: Infotainment is what America is like.
RD: Food bloggers won't be recognized on the streets, so they can say anything they like.
AH recommends the blog BettyLives.com
Questions from the Audience
Question from the audience: Do you have any recipes you'd recommend for entertaining?
RD: Prosecco with POM juice. People go crazy for it, because it's pink.
AH: You take a baguette and slice it, then put a piece of dark chocolate on top of each slice and broil it so that the chocolate melts and the bread toasts. Then you drizzle it with extra virgin olive oil and sprinkle a little sea salt on top. [Yum.]
Someone asks what molecular gastronomy is. MN gives a pitch-perfect explanation, then says: I think it's a guy thing.
A question about diets.
MN: The health aura makes people forget about the calories.
AH: That's an interesting term, "health aura." Is that yours?
MN: No, it's from Brian Wansink, a professor at Cornell. It's actually a proven phenomenon. [She is referring to her recent interview in The Atlantic on Kentucky "Grilled" Chicken.]
AH: I mean come on, do people really not know how many calories things are? [uncomfortable silence]
MN recounts a cookie from Le Pain Quotidien, a thin chocolate cookie that weighed in at 670 calories.
Question: What cookbook/cookbook authors would you recommend?
MN: The Joy of Cooking. That's how I learned to cook.
JP: Nigella Lawson. Not all of her recipes work, but she has real enthusiasm. And she's a great writer.
RD: Everyday Food. Don't laugh, but Martha Stewart's cookbooks are actually really good.